Not growing old – gaining experience
Experience is gold in handball, and if you take a look at our team built of VELUX EHF Champions League players who have passed their 33rd birthday, you will see the cream of the crop. This lot have won it all, are still eager for more trophies and are ready to teach the up-and-comers a thing or two about our beautiful sport.

Goalkeeper: Thierry Omeyer – 40

Are there any attributes left to describe the phenomenon that is 'Titi' Omeyer? The world's best keeper is not your average 40-year-old, but someone who can still make the most crucial difference. He is the one you call when you need a decisive performance.

If Titi invited you to his place for a drink from all the cups he has won, you would be in big trouble.

Left wing: Jonas Källman – 36

The Swedish giant celebrated his 36th birthday this summer, but he is still one of the most versatile wings in the game. Källman may be the most important player for MOL-Pick Szeged, as the two metre Swede is not only a goal machine, but also a key figure of Juan Carlos Pastor's various defensive formations.

Left back: Karol Bielecki – 35

You quickly recover from the shock of finding as many as four vowels in a Polish athlete's family name when you see Bielecki in action. The 35-year-old marksman has not become any less of a scoring genius after his horrible accident, which cost him an eye.

Most would have retired after the clash with Josip Valcic, yet the human cannon continues to impress and inspire young handballers all over the world.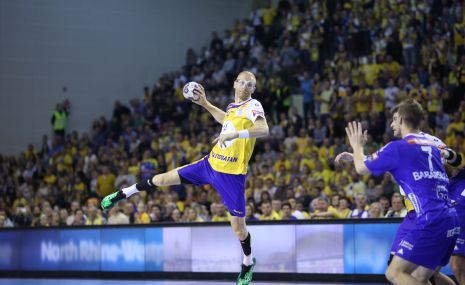 Line player: Rastko Stojkovic – 36

Stojkovic was 32 when he left Kielce and some may have thought his career was as good as done, yet the Serbian pivot is not only active but has become a real leader of the young Meshkov Brest side.

Though Stojkovic has a million-dollar smile, you do not want to mess with him – in fact, the hardest choice for a handball player is whether to defend him or be covered by him.

Centre back: Andre Schmid – 34

They say life begins at 30 and while this may not be true for athletes, the Swiss wizard certainly proves it. Since his 30th birthday, Schmid won his first major international trophy (the EHF Cup) and was voted player of the season in the Bundesliga each and every year from 2013 on.

Löwen wisely contracted him until 2020 and there is no doubt Andy will be a force to be reckoned with at the age of 37 too.

Right back: Laszlo Nagy – 36

The safest pick for your fantasy team does not seem to age at all: Nagy (which means 'grand' in Hungarian, as he is from all points of view) is still a 60-minute player, who can be the leader of both attack and defence.

The Veszprém skipper is not only a handball superstar, but also a fan favourite and a dream son-in-law for most Hungarian mothers with daughters. He is already thinking of management roles, though not until his contract finishes in 2019 – that promises two more seasons of handball magic.

Right wing: Luc Abalo – 33

The youngest player of the team has just turned 33, but it seems he has been around forever. The golden wrist of Ivry belongs to one of the most decorated players of all time, and he is far from done yet.

When you watch Abalo play you can never tell what is going to happen next. Like a great artist, he can always surprise and you just cannot get enough.

On top of that, he is an artist in the true sense of the word – the accomplished graphical artist designed a wristband of which over 1.5 million pieces have been sold in France.
Author: Bence Martha / cg