Record win for Elverum as Skjern's success continues
With their biggest win ever in the VELUX EHF Champions League, Elverum strengthened their position in Group C, improving their chances for a play-off berth. Fresh off a win against Kadetten, Dinamo collapsed in the second half, the disharmony in the team being more than clear.
Skjern showed their strength against Leon, stretching away in the second half. The Spanish team will need an immaculate last six rounds to hope for a play-off berth, while Skjern were again unstoppable in attack, scoring 33 times.
Elverum scored 40 goals, the most ever in the Champions League
Leon have now recorded three defeats in four rounds
Skjern are now tied at the top of the group with Gorenje Velenje
GROUP C
Elverum Handball (NOR) vs Dinamo Bucuresti (ROU) 40:32 (19:15)
The win against Kadetten, secured by the final shot of the game, should have buoyed Dinamo and kick-started their campaign.
But the Romanian side were again apathetic and never got their attack going against Elverum, with their defence being totally outplayed by the Norwegian side.
It was a case of an underperforming side, as Elverum's right back, Nikolaj Vestergaard Mehl, and right wing, Kevin Gulliksen, running riot for the hosts. Their five goals apiece in the first half helped Elverum build a healthy lead, 19:15, at half time.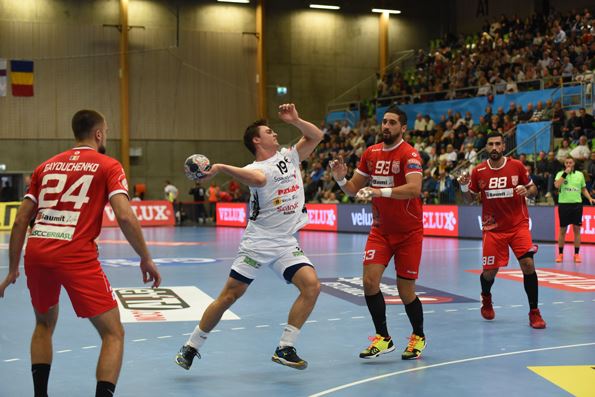 There was no coming back for Dinamo, who collapsed in the final 15 minutes. As the difference increased, the Romanian defence continued to let easy goals in.
The 40:32 scoreline meant that Elverum had their biggest ever win in the EHF Champions League and also scored the most goals in one game. Their previous records were a six-goal win, 29:23, against Metalurg and 32 goals scored against Montpellier, both last season.
Few mistakes
Elverum coach Michael Apelgren said he was "very happy" with the result.
"We are very proud of what we are doing and how we played. We were good in all phases of this match. I'm very proud of my team, we were running a lot, but only had four technical fouls, and it is easy to play handball when you make few mistakes. Hats off to my guys today!" Apelgren added.
Skjern Handbold (DEN) vs Abanca Ademar Leon (SPA) 33:25 (18:15)
With just one win under their belts so far, their match against Skjern was a do-or-die clash for Leon. The Spanish team enjoyed one of their best starts of the season, taking an early lead, surprising Skjern with their speed.
But a 3:0 partial for Skjern turned the game on its head, giving the Danish side had a 6:4 lead after 10 minutes.
It was a question of Leon containing Skjern's offence, the most powerful in this year's VELUX EHF Champions League after three matches. But Skjern managed to score goal after goal to take a 18:15 lead into half-time.
A 5:1 run to start the second half was enough for Skjern to throw Leon into disarray. The Spanish defence did not find the answer, as the hosts scored from every position, reaffirming their offensive prowess.
In the end, Skjern earned a 33:25 win, topping the rankings in the group, while Leon are now tied for the last place with Dinamo and Elverum.
Better defence
Skjern coach Henrik Kronborg said his team gave Leon too much space in the first half, but adjustments after the break made the difference.
"All in all our defence became the key to win the game," said Kronborg. "It gave us confidence that we stepped up there and to know that Ademar Leon had trouble scoring goals.
"This win was very important for us. There will probably be a close race in our group to reach the knockout stage, and therefore we will have to get 10 out of 10 points on home ground. After this win, we can still do that. All the points and all the wins we can get are very important to us," Kronborg said.
Author: Adrian Costeiu/jh