Toft Hansen vs Toft Hansen: "Points and taunting rights go hand in hand"
Rene Toft Hansen and his younger brother Henrik have played against each other many times during their careers. In recent years, their matches against each other have been in the traditional north German derby between THW Kiel and SG Flensburg-Handewitt.

On Sunday evening, the brothers – who also play in the Denmark national team and won the Olympic gold medal together in 2016 – meet again when the Schleswig-Holstein region hosts another derby between Kiel and Flensburg, this time in the VELUX EHF Champions League.

Even though the brothers, both of whom are line players, have met so many times – first in the Danish league and now in the Bundesliga and the Champions League – those family reunions are still special.

"It is still fun and these are matches I look forward to. I lost count long ago as to how many times we have met, but the first times were more special," says Rene Toft Hansen. "It has turned into a more normal thing, as we have played against each other so many times."

"It is always fun to play against Rene and, especially in recent years, there has been a lot of tension in the derbies between Kiel and Flensburg, as those matches are something very unique," agrees Henrik Toft Hansen.

Family hoping for a draw

Henrik once said that the loser of matches involving both him and his brother could look forward to being taunted at family parties until the next on-court meeting.

"Now that we have met so many times, it is more the points that count than the rivalry between us brothers, but of course, the one who wins will always feel more on top. The rest of the family always hopes for a draw," says Henrik.

"At the beginning, we often bet a Faxe Kondi [a Danish soda] ahead of the matches, but we have abandoned that. These days, I do not think that much about the right to taunt," says Rene. "The points mean more to me, but still, points and taunting rights go hand in hand."

While they play together in the Denmark national team, the Toft Hansen brothers have only briefly been on the same side at a club level – with AG Kobenhavn in the 2011/12 season.

"It is not exactly something I dream about doing again, but it would be cool if we could gather all three Toft Hansen brothers in the same team someday," says Rene, referring to the fact that the third and youngest Toft Hansen brother, Allan, plays in the Danish league with Mors Thy Håndbold. Like his two older brothers, he is a line player.

"It could be fun to play in the same team again and, fortunately, we have the chance in the national team. I do not see it as being likely for us to play in the same club again, but one should never say never of course," says Henrik.

Derbies are always special

Kiel and Flensburg meet often during the season, as the north German derbies are not usually confined to just the two annual Bundesliga meetings. This season for instance, the two teams meet at least four times – twice in the Bundesliga and twice in the Champions League.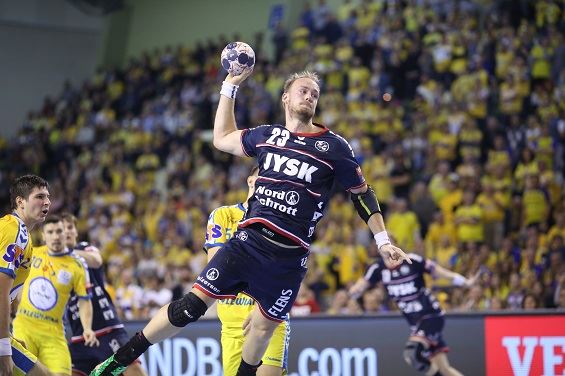 Still, the Toft Hansen brothers agree that the derbies are something special.

"The matches against Kiel are always cool. You feel that at soon as you enter the arena. It is still a derby that neither of the teams wants to lose," says Henrik, and his older brother has the same experience:

"It is true that we meet Flensburg often, but it is always special because of the history of the clubs and these derbies," says Rene. "I am sure that both teams will be keen on winning when the referees blow their whistle on Sunday."

An unusual situation

The situation ahead of Sunday's derby is unusual, as Kiel find themselves last in Group B with only two points after their first four matches, but Rene Toft Hansen sees no cause for alarm:

"I do not think we are under pressure. Losing away against Kielce and Veszprém is no disaster. Paris have a world-class team, so that would not have been an easy match at home or away.

"We won against Aalborg, even though it was not a secure win, but it is obvious that we want to get away from eighth place so, of course, we go for a win against Flensburg on Sunday.

"We are at home, so that match simply must result in two points," says Rene.

"It will be a tough match as always against Kiel, and it will probably not be decided until the last minutes," says Henrik.

"They have improved lately, and they did very well in Veszprém, even though they lost at the end.

"However, no matter how the previous matches turned out, such a derby is always something different."
Author: Peter Bruun / cg