Scrappy win sees Leon level with Skjern and Velenje at the top
It was a scenario not for the faint-hearted in Schaffhausen on Thursday night, as Kadetten and Abanca Ademar Leon toughed it out until the final seconds in what proved to be a pivotal game for VELUX EHF Champions League Group C.

The Spanish side took an early 11:3 lead and looked like they had the win in the bag, only for the hosts to muster an unbelievable comeback, taking the advantage with four minutes to spare. As Kadetten never scored again, Leon earned a 24:23 win, which puts them on par with Skjern and Velenje at the top of the group.

Velenje managed a 33:29 victory against Dinamo and will try to maintain their 100% home record against Kadetten, who are out from contention for a play-off spot, in Round 9.

• Velenje and Leon level with Skjern on 10 points at the top of the group
• Left wing Niko Medved top scores for Velenje, with eight goals
• Kadetten are four points behind the leading trio, with no chance left for progression
• Wings Juan Garcia Lorenzana, with seven goals, and Mario Lopez, with six goals, are Leon's top scorers against Kadetten

GROUP C
Rk Gorenje Velenje (SLO) vs Dinamo Bucuresti (ROU) 33:29 (17:15)

With a play-off berth on the line, Rk Gorenje Velenje had no room for mistakes against a weakened Dinamo Bucuresti.

The Romanian side had several players missing, including goalkeeper Ionut Irimus, who did not travel to Slovenia due to family reasons, injured Vadim Gayduchenko, and Novak Boskovic, the Serbian right back who had his contract cancelled after an underwhelming season.

But it was Dinamo who took an early lead, as Vitaly Komogorov proved unstoppable from the nine-metre line.

A 4:1 run between the 19th and the 22nd minute was enough for the hosts to apply the pressure needed for Dinamo to crumble. Feeding off the Romanian champions' mistakes, Velenje completed a flurry of counter attacks and took a healthy 17:15 lead by half-time.
Prva nujna zmaga v boju za eno izmed prvih dveh mest v skupini C #veluxehfcl je tu! @CSDinamo smo premagali s 33:29. Bravo! 🐝🖤💛 #črnorumeno pic.twitter.com/ddKY4Sx3FS

— RK Gorenje Velenje (@GorenjeVelenje) November 16, 2017
Already eliminated and with no pressure whatsoever on their side, the Romanian team had one of their best games of the season, as all the back players clicked. The score was quickly levelled at 19:19 after the restart.

However, an unstoppable Niko Medved led the charge for a 5:0 partial that saw Velenje run the show, take a commanding lead and never look back.

"We did not play well, especially in a defence. In previous games, when we won, we played a bulletproof defence, which stopped the rivals with a low number of goals," said Medved. "This time we were more successful in offence and we ended match with a win. We can be happy."

The 33:29 win was Velenje's fourth from four games on the home court. The Slovenian side will face Kadetten and Skjern in the last two rounds as they attempt to secure a play-off berth.

Kadetten Schaffhausen (SUI) vs Abanca Ademar Leon (ESP) 23:24 (10:15)

Kadetten built their play-off hopes upon their amazing home form, but a visit from relentless Leon proved the ultimate test for the Swiss side, who lost their first game in their own BBC Arena.
"There were two different halves in this game. At the end, it was very long until the finish!" said Leon coach Guijasa Castillo. "In the last two minutes we were lucky. Now we will enjoy the moment."

The experienced Swiss champions saw their chances slimmed from the start, despite the motivation of a play-off berth on the line, as a perfect start from Leon allowed the Spanish team to pull away quickly.

As Kadetten stumbled in attack, with a catastrophic 25 per cent shot efficiency in the first 15 minutes, Leon punished their mistakes with easy goals from wings Mario Lopez and Juan Garcia Lorenzana, who scored nine of their team's first 11.

It looked like it was already 'game over' for Kadetten, who found themselves in a 11:3 rut, only for the Swiss side to cut the lead back to five goals at half-time, 15:10.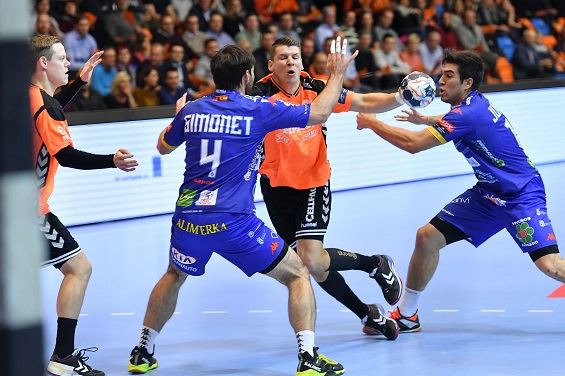 While an inexperienced team would surely have lost the plot, Kadetten never panicked. An off-day for top scorer Gabor Csaszar did not mean hurt the Swiss side, as the hosts managed to dig deep, relying on Zoran Markovic. Leon's lead was reduced to only two goals, 17:19, with 15 minutes to go.

It could have been the comeback of the year for the hosts, as Kadetten took the lead at 22:21 with four minutes to go. But the end reflected their start to the game.

With no goals scored in crunch time, the hosts lost control of the match, as Leon finished it off with a 3:0 partial to earn a 24:23 win, which sees Kadetten out of contention for a play-off berth.
Author: Adrian Costieu / cg