Kielce earn late draw, PSG confirm top position
Paris Saint-Germain closed in on winning Group B of the VELUX EHF Champions League by defeating Celje 31:26.
Things got even better for the group leaders after runners-up Flensburg dropped a point following an equaliser (31:31) by Kielce's Blaz Janc in the closing seconds of a spectacular match later Sunday.
PSG need only one more win out of their last three matches to win the group

PSG left wing Uwe Gensheimer scored seven times to raise his total to 75 goals

Like in the first leg, Kielce let a six-goal advantage over Flensburg slip

Three of the four last duels between Kielce and Flensburg have ended in a draw
GROUP B:
RK Celje Pivovarna Lasko (SLO) vs Paris Saint-Germain Handball (FRA) 26:31 (13:17)
As expected, PSG were too high a mountain to climb for Celje, but the hosts fought until the end.
Though Paris had to replace injured EHF EURO All-star Mikkel Hansen, last year's VELUX EHF FINAL4 finalists had enough options, mainly in the back-court area.
In the first half, unstoppable Nikola Karabatic netted all his five attempts to become the clear leader of a mostly dominant PSG side, in cooperation with his younger brother Luka, who scored twice.
On the other hand, mainly left back Borut Mackovsek found gaps. The Slovenian international scored five of his seven goals before the break.
PSG were ahead 16:9 in minute 24 after a flying 6:2 start. But despite some crucial saves of Spanish European champion Rodrigo Corrales for PSG and boosted by their 'Florijani' fans on the stands, Celje reduced the gap to 17:13 at the break.
Celje coach Branko Tamse found the right words in a time-out as his side scored three unanswered goals to come as close as 20:18.
Celje's defence was extremely movable in that period and allowed Paris only three goals in the first 14 minutes of the second half.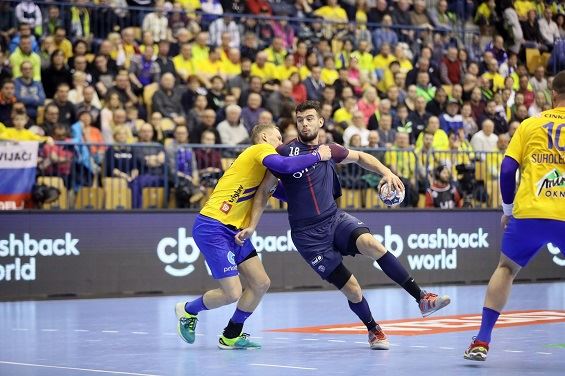 However, the visitors were stronger with a player less on the court. The current Champions League top scorer, Uwe Gensheimer, extended the gap to 23:19 with a double strike when Nikola Karabatic was off with a two-minutes suspension.
With Corrales again on a high, Paris had the match decided while taking a 25:19 lead.
Celje's youngster Tilen Kodrin showed a strong performance after the break, netting five times in total. It didn't prevent former Celje and current PSG coach Noka Serdarusic from having a perfect homecoming.
"We can be satisfied with the first half but not so much with the second," PSG line player Jesper Nielsen said. "We missed some chances and Celje knew how to fight back."
Celje goalkeeper Aljaz Panjtar said his team had "eagerly awaited today's match."
"But in the early minutes we were not Celje like we know it," he said. "When we started to play, PSG already had the game in their hands."
SG Flensburg-Handewitt (GER) vs PGE Vive Kielce (POL) 32:32 (17:21)
History repeated itself in Flensburg: Like in the 25:25 draw at home last autumn, Kielce let a six-goal lead slip away after being ahead most of the time.
On Sunday night, the team of Talant Dujshebaev seemed to be on the winners' way while leading 31:27 in the 49th minute but then failed to score for just over 10 minutes.
Boosted by crucial saves of goalkeeper Kevin Möller, the hosts rallied and took the lead (32:31) with Rasmus Lauge's ninth goal.
But Kielce's youngster Blaz Janc remained cold as ice in the last attack and scored from a narrw angle to provide his side with what coule be a highly important point.
The first half was pure run-and-gun as both sides played almost without any defence, fully focussing on attack and speed: 38 goals in 30 minutes speak a clear language.
Kielce beat Flensburg with their own weapons: running waves of counter-attacks onto the goal of Mattias Andersson.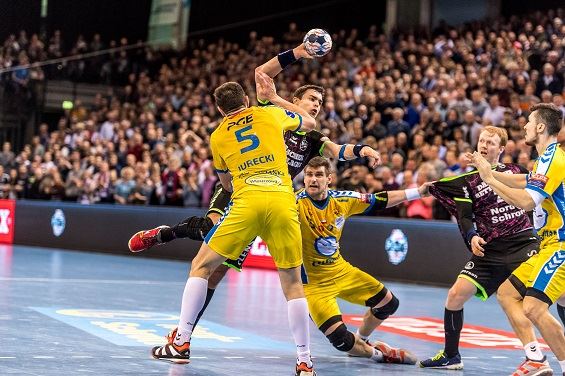 After equal opening minutes, Kielce pulled ahead from 8:7 to 15:9. In that period, experienced Michal Jurecki netted from almost every shot, having already seven (of his total of eight) goals scored after 30 minutes.
Thanks to an incredible performance by Danish centre back Rasmus Lauge, who provided both goals and crucial assists, Flensburg reduced the gap but could not turn the match around before the break (21:17).
The duel between the Champions League winners of 2014 and 1016 initially did not change in the second half - except for both teams strengtening their defence.
Flensburg replaced Andersson with Kevin Möller, and in attack fellow Danes Lauge, Lasse Svan and Anders Zachariassen took control.
Until minute 50, Kielce were always ahead by four or five goals before they seemed to run low on their batteries.
With five minutes to go, two strikes by Zachariassen and Lauge made it 31:30 for the fans to go crazy. But in the end, Flensburg were not sure they had won or lost a point.
Author: Björn Pazen / ew