Gonzalez: "Work is more important than talent"
After coaching Vardar for three seasons, Raul Gonzalez joined Paris Saint-Germain this summer. After travelling three times to the VELUX EHF FINAL4 without success, the French side hopes the arrival of the 2017 winning coach will help bring them over the line.
However, 47-year-old Gonzalez does not want to think about that at this stage, with so much work to be done in order to achieve this ultimate goal, as he reveals to ehfCL.com.
How has your time with PSG been so far? How is the team reacting to your style of coaching?
Raul Gonzalez: I think that I am a new coach and there are some things we need to practice so the team plays how I want it to. Even with good players, you need some time to work, things do not come so easily.
Since you arrived, you keep repeating that you need time. When you are in a club such as Paris, is it complicated to take this time?
Raul Gonzalez: Yes, it is. For me, the first thing was to learn a little bit of French so I could explain my philosophy to the players. I have made a lot of effort, it is not an easy thing for me, but I know I will improve. The problem is that I am new and that makes things even harder. But if we work hard in training, it will be alright.
Is the pressure of coaching here different compared to Vardar?
Raul Gonzalez: Totally. If you only take a look at the league, here it is very good and all the teams can beat you if you do not play well. In Vardar, I could focus more on the Champions League. The organisation in the club is very different as well.
Was the VELUX EHF Champions League title in 2017 the highest point of your career?
Raul Gonzalez: One of the highest points, yes. For many reasons. We worked a lot to achieve this goal and everything we put in every training paid off, so I am very proud of that. And it is the Champions League, which means beating many very good clubs in Europe and there are not many things like this in handball.
What did you learn in Skopje int the three years you spent there?
Raul Gonzalez: That you always must try to do what you want with the team. You have to think together, coach and players, and not be isolated from them. You also always need some time to make things work.
With a squad featuring so many handball stars, is it difficult to change their routine?
Raul Gonzalez: It is very complicated. They are used to working with some methods and when I arrived, they had to change everything in their heads. That is very hard for them and for me, because I have to adapt and understand that nothing will change in a day.
You worked with Talant Dujshebaev in the past, how useful is it in your everyday work?
Raul Gonzalez: I think that you have to learn from every situation you go through. I am very happy to have worked with Talant for seven years, I learnt a lot with him. He knows how to handle a team very well. But I also learnt a lot of things in Skopje here already as well. That is life, you become richer with every experience.
Any idea why all the Spanish coaches do so well abroad?
Raul Gonzalez: There is no magical potion. Some time ago, we had to leave to find jobs, either in France, Hungary, Poland or Germany. Ten years ago, we were all in Spain, but just because some Spaniards come to a country does not mean we are better than anyone else. There are a lot of good coaches in France, like Thierry Anti and Patrice Canayer.
Still, you have a capacity to adapt that is quite impressive.
Raul Gonzalez: But everyone does. I don't think we Spaniards are better at working abroad than anyone else. Look at how successful Nordic coaches are in Germany, like Gislason in Kiel for instance.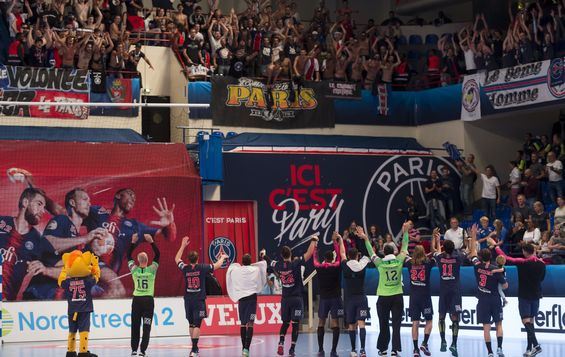 Is this kind of job, coaching the superstars in Paris, something you dreamt about when you were a young coach?
Raul Gonzalez: Of course, you always want to work with the best ones. It has always been a big motivation for me. The city is very nice, the players are very good, what more could I ask for? I am very happy to be here.
Is it easier to work with those very good players you talk about?
Raul Gonzalez: To me, it's the same thing. I worked for three years with Vardar, with a completely different mentality and different players with different characteristics and I still managed to do a good job. And here, we work very well, we make progress. The most important thing, in my opinion, is work, not the talent. You can be as skilful as you like, if you do not work hard, you will not go far.
What would be the perfect season for PSG?
Raul Gonzalez: I do not know and I do not want to think about that. I want to focus every day and we will see where it leads us. Hopefully somewhere good.
Author: Kevin Domas / cor