Banhidi: "In today's handball, anything is possible"
When he first opened the dressing room doors in Szeged, Bence Banhidi was considered a young, flourishing, yet inexperienced player. After two years with tactical mastermind coach Juan Carlos Pastor, he has grown into one of the key figures for the VELUX EHF Champions League team.

The 23-year old line player faces a difficult task ahead of the return-leg Last 16 clash against THW Kiel on Sunday, but hopes to cause a major upset.

An effective working system

Banhidi started with handball quite late – and on the back court – at the age of 14 in his home town, Györ. He spent five years in Balatonfüred, before moving to Szeged upon Pastor's personal request in 2016. There, Banhidi quickly became one of the key players in the team despite his young age.

"I can thank my teammates a lot, and the system that we are playing, which emphasises greatly the role of the line player. I work very hard in trainings and benefit from it in the matches," says Banhidi.

Banhidi scored 46 goals in his first VELUX EHF Champions League season, and has tallied the same number up to this point in 2017/18.

"I am young, I play a lot, I have the trust of the coach – these are very important factors for me. I love this city and the atmosphere in the team."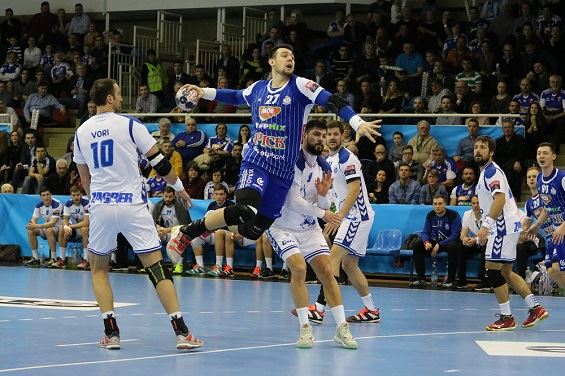 Physical assumptions

At a height of 204 centimetres and weight of 110 kilograms, Banhidi is the tallest and heaviest player in Szeged's squad. His efficient connection with the shorter, agile Slovenian centre back Stas Skube provided the base for goals in the first half of the first leg, together with the Hungarian team's flexible yet aggressive defence.

"I feel that our connection with Stas is better and better this year in comparison to last season, but there is always room for improvement."

While the first half of the first-leg Last 16 match was very positive, something changed for Szeged in the second:

"We made numerous technical mistakes, which a team like Kiel uses instantly. They made the difference of five to six in 10 minutes. The thing we have to learn is to play smarter and with more patience, fully concentrate on the match until the very end," says Banhidi.

"In today's handball, anything is possible"

Attempting to overcome a seven-goal deficit from the first leg is a giant task – something Szeged have never achieved in the VELUX EHF Champions League knock-out matches – but Banhidi is confident they have a chance.

"In today's handball, anything is possible. If we believe we can make it, then we can make it. The fans of Szeged always help us a lot. They give us a big push if there is trouble, they push us to our limits," says Banhidi.

Banhidi's form after the international break suggests why the young Hungarian is a vital piece in the puzzle for Pastor. "I am happy that I was playing well in the past matches, but I believe I can still develop a lot and gather experience in the VELUX EHF Champions League. I think all young players dream about playing at such a top level."

Finding a way past Landin

If Banhidi's side is to repeat last year's quarter-final success, Pastor's men will need a robust display on Sunday in Varosi Sportcsarnok. Kiel have never been eliminated in this stage of the competition, and finding a recipe to beat the magnificent goalkeeper Niklas Landin will be key for Szeged.

The second most efficient attack of group phase need to prove their offensive firepower. "It is not easy to play against an open 3-2-1 defence. You need more patience and focus, but our plays worked. We created numerous goal scoring opportunities but missed the finishes against a very good-saving Landin," says Banhidi.

Szeged have met Kiel twice in the knock-out stage, in 2014/15 and 2015/16. Kiel advanced on both occasions, but Szeged won each of the home matches.

"I watched both matches in the Szeged sports hall, even though I was not a member of the team yet. They played great matches, it was a magnificent experience for me. My teammates consider it a nice memory," concludes Banhidi.
Author: Tomas Cuncik / cg