Not giving up is the key in best quotes of the week
PSG remain the only unbeaten team in the VELUX EHF Champions League 2018/19 and of course, their players were really happy about it.

But also after losses, coaches and players from various teams provided us with good statements this weekend. From Veszprém to Riihimäki, losers spoke nice words. While in Nantes and Barcelona, winners praised their opponents.

5. Gintaras Savukynas, Riihimäen Cocks coach

"We saw once again that small details are very important on this level, and so is doing the homework about the opponent. In this respect Elverum outclassed us today. Of course this is our first year in the Champions League, but we need to learn how important these things are if we are to get successful."

Cocks are still chasing their first victory the season. After losing by three at home against Elverum (28:25), their coach Gintaras Savukynas was not too happy about the preparation of the game by his players. And he wants them to improve so they can finally get that elusive first win.

4. Ola Lindgren, IFK Kristianstad coach

"At half-time we decided to give it a chance and to work hard, run and try to get back into the game. I'm proud of the players for not giving up. So it feels like we won a point and not lost a point with this draw."

IFK Kristianstad grabbed their first point of the season by drawing at home with Montpellier (29:29) on Saturday. Trailing by five at the break, the Swedes improved their defence and got back into the game, making their coach proud.

3. Xavi Pascual, Barça Lassa coach

"Kielce are one of the greatest teams in the Champions League, and I think we've played a very good game today. But it's very difficult to close out the game against a team like Kielce. In my opinion, they must be in Cologne."

Barça may have won their fifth straight game in the VELUX EHF Champions League this season, they had to deliver a fierce battle against Kielce to reach their goal. And Xavi Pascual, their coach, definitely saw the Polish side as one of the contenders for the VELUX EHF FINAL4 in June 2019.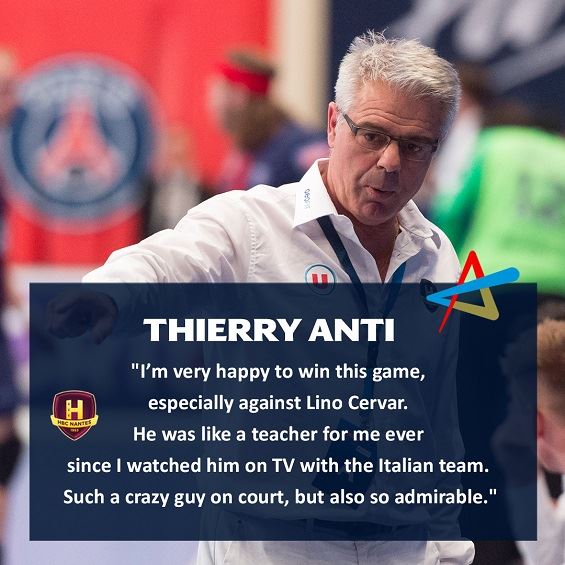 2. Iman Jamali, Telekom Veszprém HC left back

"Thank you to our fans, we got your message and it was really motivational for us. I am sad that we lost the game, but soon we will reach our goals and see the results. Veszprém will be a top handball club again."

Veszprém lost at home against Rhein-Neckar Löwen (29:28), but their fans didn't stop chanting nonetheless. And Iman Jamali knows that with their support, his team can get back to winning again.

1. Thierry Anti, HBC Nantes coach

"I'm very happy to win this game, especially against Lino Cervar. He was like a teacher for me ever since I watched him on TV with the Italian team. Such a crazy guy on court, but also so admirable."

Nantes secured their third home win this season on Saturday, against HC PPD Zagreb (23:20). The spectators and fans witnessed a true tactical battle between Thierry Anti and Lino Cervar. The winner later praised his opponent for inspiring him since the early years of his own coaching career.
Author: Kevin Domas / ew