Kielce pile pressure on Kiel, Veszprém secure second place
The VELUX EHF Champions League's final group phase began with an expected home win for PGE Vive Kielce against Brest on Saturday afternoon. With those two points, the 2016 champions jump into fourth position and now wait to see whether THW Kiel can respond in Paris on Sunday.
Thanks to a hard-earned 29:22 win against Celje, Veszprém secured second position, leaving Flensburg and Kiel behind.
Kielce take revenge for loss in reverse fixture
Alex Dujshebaev scores all his six goals in the second half
Veszprém will face the winner of Sunday's play-off between Skjern and Zaporozhye in the Last 16
GROUP B
PGE Vive Kielce (POL) vs HC Meshkov Brest (BLR) 33:28 (20:17)
After losing to Brest in this season's opening match, Talant Dujshebaev's Kielce hit back with a clear and important victory.
The visitors stayed on level terms for 20 minutes, before Kielce pulled ahead with five unanswered goals.
A goal-laden first half, lacking much defensive work from either side, ended with Kielce up by three and they never looked back, shocking Brest with a 6:1 run at the beginning of the second period.
The resistance of the Belarusian champions was broken as only Siarhei Shylovich (six goals) and Petar Djordjic (four) managed to find the gaps in a much improved Kielce defence.
Brest did go on a four-goal run to make it 26:22, but that was as close at they came, thanks to six second half goals from Alex Dujshebaev, who lead the scoring for Kielce in a match which saw all of their court players find the back of the net.
2018 has been very kind to Kielce so far as they went undefeated in their four group matches, scoring three victories and a draw.
"This was a very important match for us. We wanted to get fourth place and now we have to wait for tomorrow's match, it is out of our hands," said Kielce line player Julen Aguinagalde.
They finished the group phase with 15 points on their account and now they wait to see if this will be enough to secure fourth place. If Kiel draw or win against PSG on Sunday, Kielce go down to fifth and will face Rhein-Neckar Löwen in the Last 16, if Kiel lose, then the Poles will face Szeged.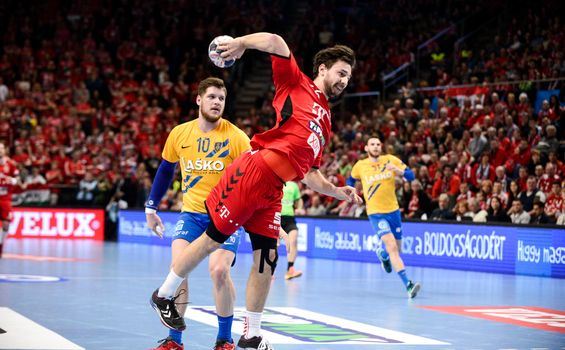 Telekom Veszprém HC (HUN) vs RK Celje Pivovarna Lasko (SLO) 29:22 (13:11)
The final result does not reflect the true nature of this contest as Celje challenged their hosts for most of the match, before Veszprém's deeper squad took control in the final quarter.
The first half was a back and forth affair with Celje ahead 7:6, followed by a 4:0 run for Veszprém.
With both goalkeepers, Roland Mikler (Veszprém) and Urban Lesjak (Celje), performing at their best, both sides had problems scoring.
Unexpectedly, the hosts could not cast off the Slovenian record champions, for whom nothing was at stake as they were out of the Last 16 race. The duel of the Marguc brothers Gasper (Veszprém) and Gal, three other former Celje players finally decided the encounter: Veszprém's top scorers Mate Lekai (six goals), Dragan Gajic (five), and Blaz Blagotinsek (four) had all worn the yellow jersey of the "Brewers" in the past.
With the score at 20:20, everything was open with 14 minutes to go, then Veszprém's coach Ljubomir Vranjes found the right word in his time-out and the hosts forged ahead to a decisive 26:21 lead, conceding just two goals in the last 14 minutes, to take their 12th win and secure second place in Group B.
"We knew that it would be a difficult game as Celje play very good handball. Our defense was really good from the beginning. It was not an easy game, but we managed it at the end," explained Veszprém right back Kent Robin Tonnesen.
Author: Björn Pazen / cor