One debutant, eight nations and 9,911 goals
After 180 matches, we move on to the knockout stage of the VELUX EHF Champions League, filled with a number of familiar faces and one Last 16 debutant - IFK Kristianstad, who claimed the last available ticket on Sunday.
ehfCL.com has analysed the group phase and gathered the most impressive and important facts and figures.
0 Last16 pairings feature sides from the same country meeting - compared to two last season.
0 teams won all their group matches or remained unbeaten: Paris, Vardar and Montpellier were defeated twice en route to their group victory.
0 teams lost all their matches. In Groups C/D, Dinamo Bucuresti earned one victory, in Groups A/B, the lowest points total (5) belonged to Aalborg.
0 teams so far managed to defend their title at the VELUX EHF FINAL4, or even reach the event the following season, since its implementation in 2010. Vardar still on course to make history this season.
1 team is a Last 16 debutant: Swedish champions IFK Kristianstad celebrated their biggest international success in their third Champions League season.
1 team, Motor Zaporozhye, was eliminated for the second time in a row in the Group C/D play-offs - by Skjern on Sunday and by Montpellier last season.
1 player has defended the trophy at Cologne so far since 2010 - and is still in contention to complete a hat-trick: Ivan Cupic. After winning the 2016 title with Kielce, the Croat won again with Vardar last year.
2 times now, Vardar (after 2016/17) and PSG (after 2015/16) progressed directly to the quarter-finals as Group A/B winners. Barcelona have also achieved this twice in the past, 2015/16 and 2016/17.
2 times in a row Montpellier qualified for the Last 16 as one of two Group C/D play-off winners.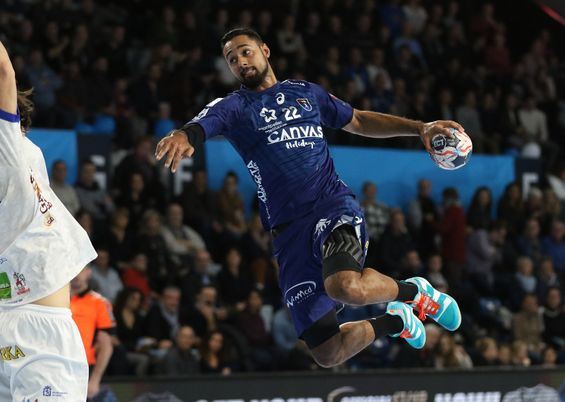 3 times in a row (every year since the new playing system was implemented), a Spanish team was eliminated in the Group C/D play-offs. This time it was Leon after La Rioja fell at this hurdle twice.
3 times, 70 goals or more were scored in a group phase match.
4 matches were attended by 10,000 or more fans - three at Kiel, one at Nantes.
5 group matches of Rhein-Neckar Löwen ended in a draw, one more than the next highest SG Flensburg-Handewitt. In total, the three German teams were involved in 11 of 18 group phase draws in Groups A/B.
5 times, 45 goals or fewer were scored in a group match, including the play-offs.
6 former or current EHF Champions League winners, combining for 15 titles, still have a chance to win the trophy again: Skopje, Kielce, Barcelon, THW Kiel, Flensburg and Montpellier. Two losing finalists - Veszprem (2002, 2015, 2016) and Paris (2017) are also in contention.
7 coaches still involved in the competition have won the EHF Champions League at least once: Talant Dujshebaev (Kielce), Alfred Gislason (Kiel), Xavi Pascual (Barcelona), Patrice Canayer (Montpellier), Noka Serdarusic (PSG), Ljubomir Vranjes (Veszprem) and Raul Gonzalez (Vardar).
8 of those 14 teams still involved in the competition have been part of at least one VELUX EHF FINAL4: Kiel (six participations, two trophies), Barcelona (six participations, two trophies), Veszprem (four participations), Kielce (three participations, one trophy), Paris (two participations), Vardar, Flensburg (each one participation and one trophy), Löwen (one participation).
8 of last season's quarter-finalists (all of them) have made it to the 2017/18 Last 16: Vardar, PSG, Veszprem, Barcelona, Montpellier, Flensburg, Kiel and Szeged.
8 nations are represented by the Last 16 participants, nine nations in total: France, Germany (three teams each), Hungary (two) and FYR Macedonia, Belarus, Denmark, Spain, Poland and Sweden by each one team. Compared to last season, Sweden has replaced Croatia.
9 of 176 group matches (including play-offs) ended with victory of ten or more goals.
10 rounds, featuring 60 matches, had been played in Groups C/D to confirm the four top ranked teams, who fought to reach the Last 16. Montpellier and Skjern qualified from those teams.
12 of the 14 teams still part of the competition, were been among the 14 teams at this stage last season. Only Skjern and Kristianstad are new, replacing Zagreb and Bjerringbro.
13 points on home court were won by PSG and Vardar - both tied in their final home matches, which were dead rubbers.
14 years since Skjern last reached the Last 16. In 2004 they faced and lost to Magdeburg in their only appearance at this stage until now.
15 goals in a single match was the lowest score of a team in the group phase, when Kristianstad lost 15:31 at Skopje.
16 goals was the largest winning margin, when Vardar beat Kristianstad 31:15.
21 of 175 group matches ended in a draw, ten of them in Group B, eight in Group A, three in Group D and none in Group C.
23 points, earned by PSG, was the highest points total, ahead of 21 (Vardar) and 20 (Barcelona and Nantes).
24 matches are remain ahead until the competition's 25th champions will be confirmed on 27 May in Cologne. 12 Last 16 matches, eight quarter-finals and four matches at the VELUX EHF FINAL4.
28 unbeaten matches in a row on home court is the impressive run belonging to Paris Saint-Germain since a 27:25 loss to Kiel in November 2014.
35 group matches - all in Groups A/B were attended by 5,000 fans or more.
39 goals scored in the Group C/D play-off Montpellier vs Leon (20:19) was the lowest combined score of the group phase.
40 was the highest number of goals scored by a team in a single match, when Elverum beat Buchurest 40:32.
45 matches saw 60 goals or more scored.
57 away victories occurred in the 175 group matches, 18 in Group A, 17 in B, 9 in C, 12 in D and one in the play-offs.
72 goals was highest combined score in the group phase - which occurred twice: Szeged's 37:35 away win at Löwen and at Elverum's 40:32 victory against Buchurest.
+79 goals was the impressive goal difference of Skjern including playoffs. With +49 goals, Vardar had the best goal difference in Groups A/B.
80 goals (in twelve matches) were scored by reigning top scorer Uwe Gensheimer (PSG) to top this ranking. The German left wing is ahead of his former Löwen teammate Andy Schmid (75) and Veszprém's Mate Lekai (72).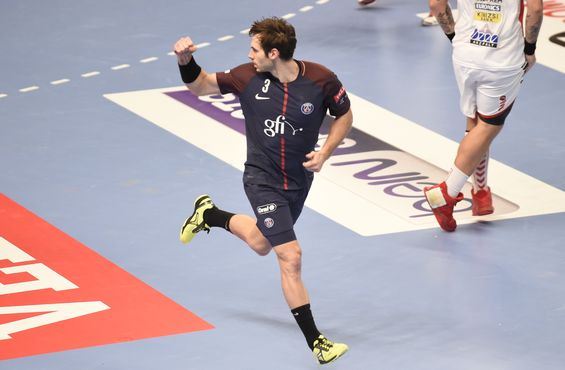 98 times in 176 group matches, the home side was victorious, 30 times in Group A, 29 times in Group B, 21 times in C, 15 times in D, three times in the playoffs. Last season saw 102 home wins in the group phase.
180 matches have already been played in the 2017/18 VELUX EHF Champions League season: Four in qualification, 112 in Groups A/B, 60 in Groups C/D and four in the play-offs.
341 goals conceded by Vardar was the fewest in Groups A/B (in 14 matches), while Skjern and Montpellier, including play-offs, were level on 310 goals conceded in twelve matches.
424 goals scored by Paris was the most in Groups A/B (14 matches), while Skjern topped the C/D ranking with 389 goals (12 matches).
9,911 goals were scored in the group phase – 3,161 in Group B, 3,121 in Group A, 1,722 in Group D, 1,695 in Group C and 212 in the play-offs. This is an overall increase of 104 goals compared to the 2016/17 group phase (9,807 goals).
10,146 goals, including the qualification tournament at Presov, have been scored this season. This means an average of 56.37 goals per match.
10,285 fans at the match Kiel vs Kielce was the highest number of spectators so far this season.
66,483 fans attended the home matches of THW Kiel, an average of 9,497.
Top 3 rankings of the group phase:
Highest combined score:
72 goals: Rhein-Neckar Löwen vs Szeged 35:37
72 goals: Elveerum vs Bucuresti 40:32
70 goals: Celje vs Veszprem 31:39
Lowest combined score:
39 goals: Montpellier vs Leon 20:19
40 goals: Kiel vs Flensburg 20:20
42 goals: Löwen vs Vardar 21:21
42 goals: Kiel vs Veszprem 22:20
Biggest margin of victory:
16 goals: Vardar vs Kristianstad 31:15
15 goals: Skjern vs Velenje 35:20
13 goals: Kristianstad vs Löwen 22:35
13 goals: Bucuresti vs Skjern 23:36
13 goals: Zaporozhye vs Medvedi 36:23
Most goals (A/B in 14 matches):
424: Paris
421: Szeged
418: Kielce
Fewest goals conceded (A/B in 14 matches):
341: Vardar
361: Kiel
377: Barcelona
Best goal difference A/B after 14 matches:
+49: Vardar
+46: Paris
+31: Barcelona
Top scorers:
80 goals: Uwe Gensheimer (PSG)
75 goals: Andy Schmid (Löwen)
72 goals: Mate Lekai (Veszprem)
Author: Björn Pazen / cor