Seeding for the group phase draw released
All 28 teams directly seeded for the group phase will learn their fate in the new season on Friday 29 June at 12:30 hrs as the draw both for the Groups A&B and Groups C&D is to be conducted at the Erste Campus in Vienna (live on ehfTV.com).
There are eight pots of two teams in the Groups A&B and six pots in the Groups C&D. The defending champions Montpellier Handball will be drawn from the Pot 6 together with the Ukrainian champions HC Motor Zaporozhye.
The last season's runners-up HBC Nantes will be in the Pot 8 together with the German runners-up Rhein-Neckar Löwen, while the the third team of the previous season and French champions Paris Saint-Germain Handball are seeded in the top pot alongside the the 2016/17 trophy holders HC Vardar.
The teams will not be able to face opponents from the same country in the group what applies to sides from France, Germany and Hungary.
The only exception will be Nantes, who will play against one of the two French rivals in the group.
During the draw of Group A and Group B the five pots will be completely open, but due to the country protection three pots will have to be allocated.
Following an open draw of the first four pots Telekom Veszprem HC in the Pot 5 will go to the group with the 2016 winners PGE Vive Kielce to avoid MOL-Pick Szeged, while Montpellier in the Pot 6 will land in the group with Vardar to prevent them from meeting PSG.
The seventh pot will be open again and in the last pot Rhein-Neckar Löwen will join the group with Barca Lassa to avoid SG Flensburg-Handewitt.
All six pots for Group C and D will be drawn as teams come from 12 different countries.
The group phase will commence with the first round matches on 12-16 September, the last round in A and B is scheduled for 27 February - 3 March 2019.
Seeding for the group phase draw: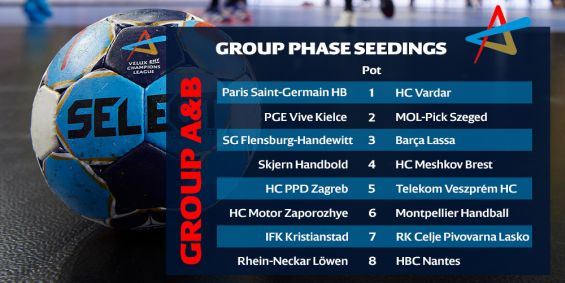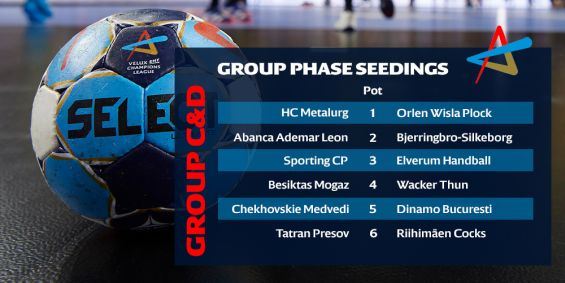 Download the file with the seedings and all dates of the new season here

Author: EHF / br