Quarter-finals open in Flensburg, Kielce hosts Match of the Week
Just 120 minutes of handball separate Europe's elite eight teams and the biggest weekend in club handball. After a Last 16 round full of surprises, the quarter-final pairings have thrown up some fascinating clashes, which you can now put in your diary.
It all begins on Wednesday 18 April in northern Germany with Flensburg against Montpellier. Both sides fell short at this stage last season, Flensburg to eventual champions Vardar and Montpellier to Veszprém, and both will see this as a golden opportunity to reach Cologne.
Montpellier will hope to keep things tight in the Flens Arena and give themselves a serious chance of becoming the first side to reach the VELUX EHF FINAL4 from Groups C/D, when the return leg takes place on Sunday 29 April.
Match of the Week in Poland
2016 champions Kielce cruised past Rhein-Neckar Löwen in their Last 16 clash, but will have to be in top form when they welcome PSG to town for Match of the Week, with live commentary from Chris O'Reilly, on Saturday 21 April.
PSG had a bye in the Last 16, thanks to their Group B victory, and are as keen as ever to make this their year, following the heart-breaking final loss to Vardar in 2017.
Speaking of Vardar, they face a trip to Kiel for the first leg of their quarter-final tie on Sunday 22 April, aiming to become the very first defending champions to return to the VELUX EHF FINAL4 the following season.
After reaching Cologne five years on the trot, Kiel were knocked out at this stage last year against Barcelona. If Alfred Gislason's men can progress, it will be a remarkable achievement considering the struggles they have faced both in Europe and domestically.
Newcomers guaranteed
The final match of the first leg sees two quarter-final newcomers come face to face in France. HBC Nantes have shown FINAL4-worthy form all season and will hope for a big home performance to help them on their way to Cologne in just their second season at this level.
Skjern produced the shock of the season by accounting for Veszprém in the Last 16 and now stand on the verge of history, as they, alongside Montpellier, could become the first side to progress from Groups C/D all the way to the final weekend. If they can keep themselves in the tie after 60 minutes in La Trocardiere, it is all to play for at home the following week, where they hold a 100% winning record this season.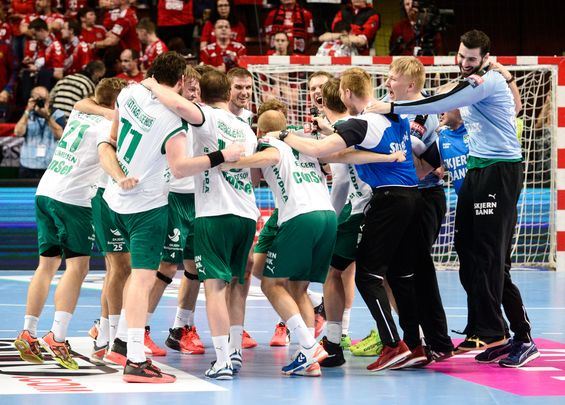 VELUX EHF Champions League Quarter-final fixtures
FIRST LEG
SG Flensburg-Handewitt (GER) vs Montpellier HB (FRA)
Wednesday 18 April , 19:00 CEST
PGE Vive Kielce (POL) vs Paris Saint-Germain Handball (FRA) – Match of the Week
Saturday 21 April, 18:30 CEST
THW Kiel (GER) vs HC Vardar (MKD)
Sunday 22 April, 17:00 CEST
HBC Nantes (FRA) vs Skjern Handbold (DEN)
Sunday 22 April, 19:00 CEST
SECOND LEG
Paris Saint-Germain Handball (FRA) vs PGE Vive Kielce (POL)
Saturday 28 April, 17:30 CEST
Skjern Handbold (DEN) vs HBC Nantes (FRA)
Sunday 29 April, 16:50 CEST
HC Vardar (MKD) vs THW Kiel (GER)
Sunday 29 April, 17:00 CEST
Montpellier HB (FRA) vs SG Flensburg-Handewitt (GER)
Sunday 29 April, 19:00 CEST
Author: Chris O'Reilly