Everything to play for in wide open Group C
There is no clear favourite in VELUX EHF Champions League Group C, with all teams setting the bar high and aiming for a place in the knockout phase.
Kadetten Schaffhausen can rely on their experience, Skjern have had one of their most impressive transfer campaigns, Ademar Leon are bringing the Spanish spice to the group, while Dinamo hope proceed to the next phase of the competition for the first time.
Dinamo started with an away draw in Denmark last year (against TTH Holstebro) and will look to achieve at least a similar result against Skjern this time

Former Champions League winner Anders Eggert will make his debut for Skjern in the competition following his transfer from Flensburg

Kadetten's have bad memories of Elverum as the Swiss side failed to reach the next phase two years ago following a home loss to the Norwegian team
GROUP C
Kadetten Schaffhausen (SUI) vs Elverum Handball (NOR)
Thursday, 20:15 hrs local time, live on ehfTV.com
Kadetten Schaffhausen have become a regular participant in the VELUX EHF Champions League, but have qualified from the group stage only once in their last five seasons.
The Swiss side have a more promising path to the Last 16 than last season, when they were the weakest team in the competition with only two points from 14 games.
An experienced side, which added two important cornerstones in their roster, Kadetten will be no pushovers this season.
Ivan Stevanovic, the 35-year-old Croatian goalkeeper, will strengthen that position in the Swiss side, while Vladyslav Ostroushko is certain to add firepower to a nine-meter line that had its issues last season.
Retaining last season's top goal scorer Gabor Csaszar was a huge boost for Kadetten, who will have a new coach in Peter Kukucka, a former Schaffhausen player.
The two sides met in the 2014/15 season when they each won their away game. It was the narrow loss (31:30) against Elverum that ended Kadetten's pursuit of a top-two finish in their group.
Elverum will try to emulate that win on Thursday. The Norwegian side have earmarked the game as a stepping stone for a successful campaign.
After two seasons in which Elverum failed to progress to the next phase, the team are ready to achieve their best ever result in the European top competition.
"It is an exciting group. As we saw last season we can beat almost every team. I think this is the case too this year. We have a fantastic team," said Audun Breen Roragen, the 19-year-old left back from Elverum.
However, the Norwegian side's self-confidence suffered a setback after an unexpected 35:35 draw against Halden in the domestic league.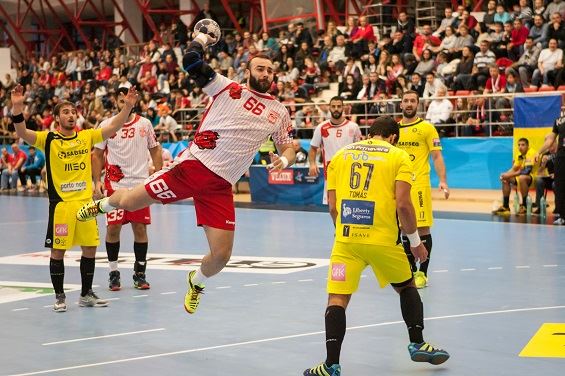 Skjern Handbold (DEN) vs Dinamo Bucuresti (ROU)
Sunday, 16:50 hrs local time, live on ehfTV.com
Having advanced from the group stage two years ago, Skjern know what it takes in the 10 group matches.
This time their ambitions are even higher after they completed one of the transfer coups of the season, making Skjern surely a team to watch in this group.
The start of their season has not been without its ups and downs, as the team is slowly starting to gel.
Two consecutive 29:29 draws against GOG and Ribe-Esbjerg underlined Skjern's woes during this part of the season.
"We need to seriously improve. The time is on our side right now, but we definitely have to be better. We have to be calmer in certain aspects of the game," said Andres Eggert, the biggest transfer Skjern landed this summer.
But the game against Dinamo will certainly not be the best one for Skjern to overcome their problems.
The 'Red Dogs' lost the Romanian Super Cup but bounced back in the league, earning three impressive wins to top the table.
There was no shortage of big signings for Dinamo as they continued to build their nine-metre line alongside Sajad Esteki, the Iranian who impressed last season.
Bringing left wing Hugo Descat, one of the best scorers in the French League in the past few seasons, was also a coup for Dinamo, who are looking to improve from their fourth place last season.
RK Gorenje Velenje (SLO) vs Abanca Ademar Leon (ESP)
Sunday, 17:00 hrs local time, live on ehfTV.com
Three years away from the VELUX EHF Champions League have been enough for Velenje, who are attempting a successful comeback.
Velenje were a regular in the Last 16 between 2010 and 2014 and the Slovenian team are eyeing the same performance this time.
However, the Slovenian side will have their work cut out as the young team might struggle against more experienced sides. But with an extremely important weapon on their side, coach Željko Babić, Velenje could contend for the first two places.
A spotless home record is a must for any team in order to achieve a play-off berth, but Velenje face a tough opener on home court against Ademar.
The first two games of the season have ended in defeat for Velenje as the Slovenian runners-up lost against local archrivals Celje Pivovarna Lasko (22:25) and against Vardar (19:32) in the SEHA League.
"It will be a very interesting and challenging season for us," said Velenje coach Željko Babić.
"Of course, we have a number of objectives and this means we have to do well both in the domestic league and in the VELUX EHF Champions League. I would like to see a focused and disciplined team, with a tough defence."
The Spanish side are back in the European top competition after a four-year absence and are vying to proceed to the next phase to follow in Naturhouse La Rioja's footsteps for the last two seasons.
Their team have not undergone many changes and coach Rafael Guijosa is trying to build up a side that can sustain a two-pronged challenge, both in the ASOBAL and in the VELUX EHF Champions League.
Leon has started the season with a win in their domestic league (30:26 at Morrazo Cangas) and will hope to add another victory in Slovenia.
Author: Adrian Costeiu / ew