Pivotal games in Groups C and D
With three teams currently level on six points at the top of the VELUX EHF Champions League Group C table, Rk Gorenje Velenje will try to break the deadlock with a win in Norway in Round 5. A victory for hosts Elverum Handball will take the Scandinavian side to six points, entangling the group even more.

In Group D, Montpellier are looking for their fifth consecutive win in Portugal, while Besiktas and Motor rekindle their rivalry from the 2016/17 season with a crucial game in Turkey.

• Montpellier appear unstoppable with a tally of nine wins in the domestic league and VELUX EHF Champions League
• Gorenje Velenje could simplify the maths in Group C, as a win against Elverum would take them to the top of the table
• Dinamo look to be in a dire position after losing the Romanian derby against CSM Bucuresti by 13 goals

GROUP C
Dinamo Bucuresti (ROU) vs Abanca Ademar Leon (ESP)
Sunday 15 October, 18:00 local time, live on ehfTV.com

As they are currently four points behind the group leaders, Round 5 sees Abanca Ademar Leon already under pressure to keep their play-off phase hopes alive.

It will be a battle between two wounded sides, as both Dinamo and Leon have suffered painful defeats in the VELUX EHF Champions League, as well as in their domestic competitions.

Dinamo's fall from grace has been thoroughly documented in the top European competition, but the 'Red Dogs' found a new low on Wednesday when they lost 20:33 against their local rivals, CSM, in the Romanian League.

Leon also suffered a heavy midweek defeat, as they lost 20:26 to Guadalajara in the Asobal League. Their only chance for survival in the VELUX EHF Champions League is to bounce back against Dinamo.

Leon are yet to win an away game this season, with their only victory coming after a hard-fought game, 29:28, against Kadetten.

Dinamo and Leon are equal at the bottom of the group and a defeat on Sunday would mean they are almost out of contention for a play-off berth.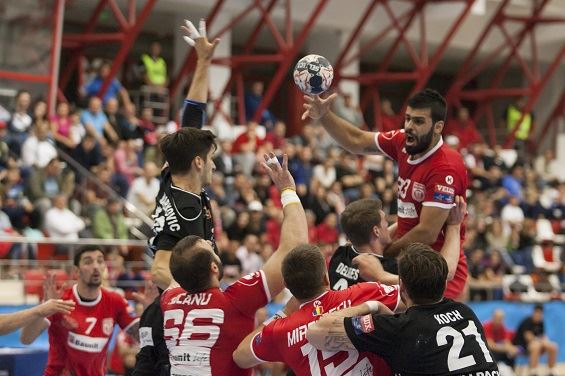 Elverum Handball (NOR) vs Rk Gorenje Velenje (SLO)
Sunday 15 October, 17:00 local time, live on ehfTV.com

This could be a game that makes Group C even more complex. A win for Elverum would put the Norwegians level with Skjern, Kadetten and Velenje on six points with five games to go.

After starting their season with two defeats, Elverum won two games in a row, against Leon and Dinamo, scoring 70 goals in the process. Now, the Norwegian side look for their third consecutive win, which would be their longest victorious run in Europe's premier competition.

But the hosts will have a difficult time putting offensive pressure on Velenje, who have the best defensive record in the group, with only 108 goals allowed in their first four games – an average of 27 per match.

Efficiency has been the key for the Slovenian side, who won against Dinamo and Leon by only one goal, and defeated Skjern by two. Their ability to cope under pressure to finish with a positive result was there to be seen in midweek, when they earned a 29:29 draw against RK Celje Pivovarna Lasko in the Slovenian derby.

Previous Group C results in Round 5:
Kadetten Schaffhausen (SUI) vs Skjern Handbold (DEN) 25:24 (9:13)

GROUP D
Besiktas Mogaz HT (TUR) vs HC Motor Zaporozhye (UKR)
Saturday 14 October, 16:00 local time, live on ehfTV.com

With Montpellier on a winning streak with four victories so far, it is looking increasingly likely that HC Motor Zaporozhye, Besiktas Mogaz HT, Sporting CP and HC Metalurg will have to fight for second place on the table.

Therefore, the match between Besiktas and Motor appears to be a pivotal one when it comes to final ranking in the group.

The Turkish side placed third last season, only four points behind Motor, who sealed their qualification for the play-offs after winning their home game against the 'Eagles' 34:28. However, Besiktas will be motivated by their 23:22 home win against Motor exactly one year ago.

There are not many changes in the two teams from last season, with the Eagles so far performing well in their home games, while Motor are likely to be better at crunch time.

Veteran right back Ramazan Döne should be in top form for the home side again, with his 33 goals in the first four games propelling him to the top of the goal scorers ranking. But Motor's defence knows how to contain Döne, who tallied only seven goals in the two games against the Ukrainian side last season.

Sporting CP (POR) vs Montpellier HB (FRA)
Sunday 14 October, 18:00 local time, live on ehfTV.com

Chekhovskie Medvedi (RUS) vs HC Metalurg (MKD)
Saturday 14 October, 16:00 local time, live on ehfTV.com
Author: Adrian Costieu / cg