Elverum win brings stalemate in group
It could not get more interesting in VELUX EHF Champions League Group C, after Elverum snatched another win at the expense of Gorenje Velenje. Skjern, Kadetten Schaffhausen, Gorenje Velenje and Elverum are tied with six points on the top of the group, with Ademar Leon looming behind them, with four points.
Every round will become pivotal after another set of results that entangled the maths of the qualification berths even more.
Nikolaj Mehl Vestergaard scored five for Elverum
Elverum right back Tine Poklar dealt decisive blows to Velenje
Ademar still in the hunt for a play-off berth
Dinamo drops to last place in the group
GROUP C
Dinamo Bucuresti (ROU) vs Abanca Ademar Leon (ESP) 24:28 (13:17)

In a battle between two sides which came to this tie with three losses and just one win each, Leon's experience helped them get the better of Dinamo Bucuresti.
The Spanish side took an early 4:1 lead and never looked back, as they managed their best offensive performance of the season with a 71% shot efficiency in the first half.
Leon's 40-year old veteran Juan Antonio Garcia Lorenzana was in particularly fine form, scoring six times to help his side to a 17:13 lead at half time.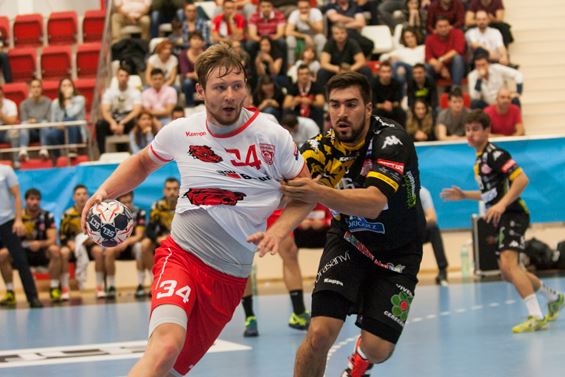 With their season in the VELUX EHF Champions League on the line, Dinamo proved to be no pushover in the second half.
An ultra-aggressive Romanian team took their goalkeeper out to have a 7:6 advantage in attack, but they did not manage to cut their deficit to less than two goals.
As Leon claimed their second win of the season, the Spanish side are still in the hunt for a play-off berth, while Dinamo's chances look slimmer round by round.
Leon goalkeeper Ignacio Biosca Garcia described their game as "complete".
"In defence we were very good and in the attack we didn't had problems, as in our last matches in the Spanish league and the Champions League," he added.
Elverum Handball (NOR) vs Rk Gorenje Velenje (SLO) 29:28 (17:14)
It was a typically strong start from Velenje against Elverum. The visitors had a 3:1 lead after only five minutes and were looking increasingly strong to earn their fourth win in the group.
But Elverum's offensive prowess, already shown last week in their 40:32 win against Dinamo, was there to be seen immediately.
The in-form Norwegian side had a 6:2 run to throw the game on its head, and were then unstoppable, firing from all cylinders.
With 10 players scoring in the first half, the hosts had a 17:14 lead, but Velenje managed to slow the game down in the second half. It was not a coincidence that the Slovenian side managed to claw their way back, as the game went down to the wire.
When Gorenje had cut the lead to only one goal, Slovenian right back Tine Poklar proved to be decisive for Elverum, scoring two of his four goals in the last five minutes. Poklar's run brought the Norwegian club their third consecutive win.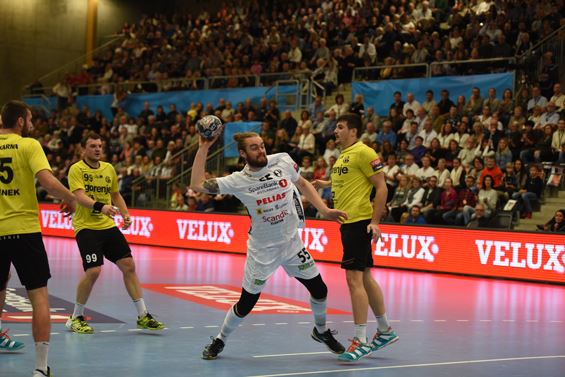 Elverum coach Michael Apelgren said the team were concerned by a back injury sustained by captain Morten Nergaard before the match.
"But he showed us passion today, he played from the start, and I think he showed all our players that he would fight all the way, making our guys excited and making them believe they had a chance," Apelgren added.
Velenje coach Marko Ostir said: "I expected a tough match, because I know that Elverum is a very great team, and they are fast.
"Today we had a lot of problems with Elverum's fast breaks, we played softly in defence in the first half. We played better in second half, but made too many mistakes in an important phase of the match, we shot badly. We had opportunities, but could not turn the match the last 10 minutes," Ostir added.
Author: Adrian Costeiu/jh