A round of answers
After six rounds, five teams are still in the hunt for a play-off berth, with any mistake proving costly. While Skjern Handbold and RK Gorenje Velenje lie top of the group on eight points each, Kadetten Schaffhausen, Abanca Ademar Leon and Elverum Handball are waiting eagerly hoping for a slip-up that they can capitalise on.

Danish side Skjern are, however, looking like favourites against Dinamo and another win will bring them closer to their objective, as the game between Elverum and Kadetten could dash their hopes.
There is no room for mistakes for both Elverum and Kadetten, who are looking to keep up with Skjern and Velenje in the group
After six games, Skjern and Velenje have eight points, Kadetten, Elverum and Ademar Leon are on six, Dinamo have only two
Elverum have won their last two home games, while Kadetten have lost their three away games this season
GROUP C
Elverum Handball (NOR) vs Kadetten Schaffhausen (SUI)
Wednesday, 8 November, 19:00 local time, live on ehfTV.com

The 32:22 defeat at Skjern on Sunday (5 November) was the heaviest one of the season for Kadetten, a team who had lost both their previous two away games by the same scoreline, 29:28 – against Leon and Bucuresti.

Now, the Swiss champions carry on with their Scandinavian trip, looking to put their woes behind them as they travel across to Norway, just three days after the match in Denmark.

It looks like a do-or-die game for both teams, who are tied with six points in third place, only two points behind Skjern and Velenje.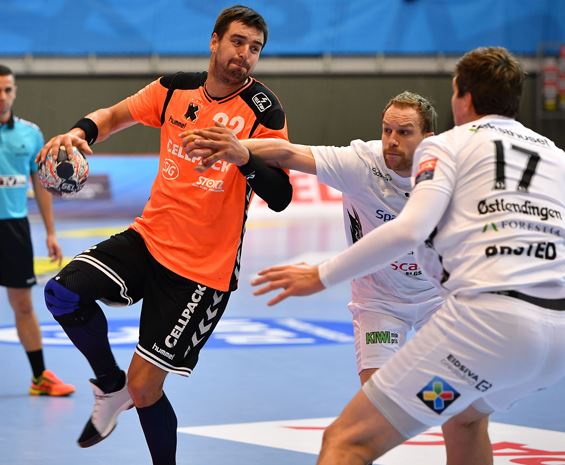 A loss will certainly hamper their efforts for qualification, so the high stakes will add salt and pepper to an already intriguing game, which will confront one of the most experienced teams in the competition, Kadetten, with an average age of 27 years, to Elverum, who has one of the youngest, with 23.4 years average.

The two teams already met two seasons ago in the VELUX EHF Champions League, with two close away wins ensuing, as Elverum and Kadetten both won by a one-goal margin.

There will be a packed, sold-out, arena once again in Elverum, as the Norwegian side will be looking for their third win in a row on their home court.

Dinamo Bucuresti (ROU) vs Skjern Handbold (DEN)
Thursday, 9 November, 19:00 local time, live on ehfTV.com

An underwhelming season for Dinamo could see the Romanian side mathematically out of contention for a play-off berth if they were to lose on Thursday and should Velenje prevail against Ademar.

The game is equally important for the Danish team, who are looking to strengthen their grip on the top of the group, after a straightforward 32:22 win against Kadetten.

With two defeats in their past two away games Skjern will be eager to turn it around and earn another win against Dinamo, a team whom they beat in outstanding fashion, 39:28, in the first game of the group.

Skjern will rely heavily on their attack, the second-best in the competition after six rounds, with 189 goals scored, and an average of 31.5 goals per match, which is inferior only to Montpellier's, the French team who scored 190 goals.

But the Danish side have also improved their defence, as highlighted by 20-year goalkeeper Emil Nielsen, who had a 16-save game against Kadetten on Sunday. "It could not get any better," said Nielsen. "We struggled a bit on defence in past games, but we were better against Kadetten."
The team with the second worst defence in the competition, Dinamo, has little to play for, being virtually eliminated from contention, after a disappointing showing this season.

But the 'Red Dogs' have their pride and will be looking to cause an upset. "We need to win at least one game, because our motivation is still high," concluded Dinamo's coach, Eliodor Voica.
Author: Adrian Costeiu/amc