Elverum beat Kadetten to boost play-off chances
Progressing from the group phase cannot be done without an away win and Kadetten Schaffhausen knew that they needed points against Elverum on Wednesday if they were to continue their hunt for one of the top two places in the group.
However, the points stay in Norway after Elverum won 26:22, securing their fourth victory in five matches.
Elverum have bounced back admirably after two defeats in their first two games and are now level on par with Skjern and Velenje at the top of Group C, albeit the two sides have a game in hand.
· Andre Lindboe, scoring eight goals, and goalkeeper Morten Nergaard were Elverum's heroes
· The Swiss side had a 50 per cent shooting efficiency and missed a number of great chances
· Elverum travel to Skjern in Round 8, a match which could be decisive in the group
GROUP C
Elverum Handball (NOR) vs Kadetten Schaffhausen (SWI) 26:22 (12:9)
The game was always going to be decided by the team who was going to impose their playing style upon the other and for the first five minutes, it looked like Kadetten's more calculated, defence-first approach, was going to win, as the two teams traded mistakes, until the Swiss side managed to score the first goal of the game.
As the two evenly matched teams continued to patch their offensive woes, with their goalkeepers starring, it was Elverum who finally opened up a lead at the end of the first half, taking a 12:9 advantage into the break.
A seven-minute drought in Kadetten's scoring, thanks to Morten Nergaard's amazing saves for Elverum, saw the Norwegian side build a 16:10 lead, but overall it was the ultra-aggressive style both in defence and attack, which brought the win for the hosts.
Kadetten did not help themselves with a 50 per cent shooting efficiency, failing to score clear cut chances.
The hosts controlled the game in the final minutes and coasted to a 26:22 victory, much to the delight of the 2,400-strong crowd at Terningen Arena.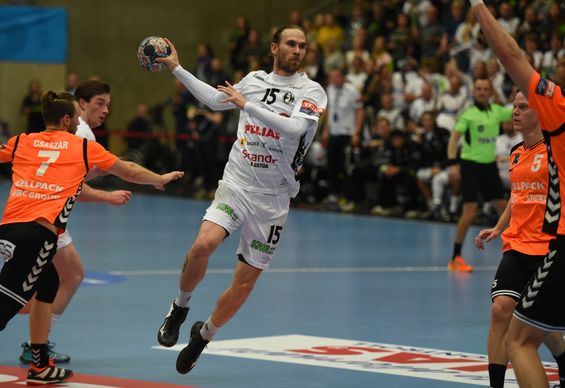 Author: Adrian Costeiu / cor