Gulliksen: "We believe in the chance as long as it is there"
"Of course, we believe in our chance!" Elverum Handball's young right wing Kevin Gulliksen does not hesitate to answer, even though the Norwegian team's hopes of advancing in the VELUX Champions League are only based on theory at this point.

Despite a 35:25 away defeat to Skjern Handbold in the Scandinavian derby last Sunday, Elverum still have a theoretical chance of qualifying from the group phase of the Champions League for the first time ever. However, several results will have to go the Norwegian champions' way to make it happen.

First of all, Elverum will have to win their last two group matches – away against Dinamo Bucuresti on Sunday and at home versus Abanca Ademar Leon on the last match day, December 3. Furthermore, they need Rk Gorenje Velenje to earn no more than one point in their last two matches.

If all this happens, the Scandinavian neighbours Skjern and Elverum will be the two Group C teams to qualify for the play-offs. This would also mean that the two smallest towns in the Champions League are represented in the knock-out phase.

"Yes, of course we believe in it, and anyway, we enter the court before every match with the clear intention of winning. Then we will have to see what that brings us," says Gulliksen.

"We may not be the biggest favourites, but still we have managed to spring a few surprises. I do not think many people would have expected us in Elverum to still have the chance to proceed from the group phase with only two matches left.

"Our goal before the tournament was to take more points than we did last season. So far we have taken just as many already, and we still have two matches left."

The need for change

It is the third year in a row that Elverum contest the Champions League, but it is 21-year-old Gulliksen's first season in the prestigious tournament. Gulliksen joined Elverum from league rivals BSK Handball Elite, better known as Bækkelaget – a very successful women's handball team in the 90s – ahead of the 2017/18 season.

"I felt that I needed a change and a different way of living in order to continue to develop as a handball player. The fact that Elverum play in the Champions League obviously also played a big part in my decision to move.

"It gives me the opportunity to show myself in more arenas than just the ones in Norway," Gulliksen explains. So far, he has had no reason to regret the change.

"The change from Bækkelaget to Elverum has been very good for me. I had a fine start in my new club, and I feel very good in Elverum.

"Here, I have the opportunity to train and play at a higher level than I was used to, and furthermore, I have been received very well in the club and in the town.

"It has been fun and I have learned a lot. Playing the Champions League has been a goal for me ever since I was a little boy. To me personally, it has been great to play in the Champions League for the first time.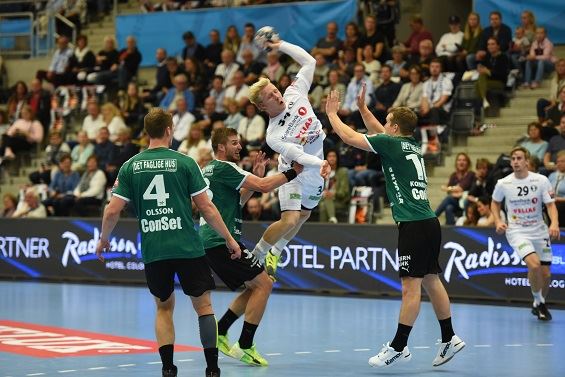 "My performances may have varied a bit, but in general I think I have presented myself in a good way, and I am really looking forward to the last two group matches.

"It has also been challenging, as we have ended up in a very tough and even group, where all the teams have been taking points from each other," says the talented wing, who is content with his team's efforts so far.

"I think we have done well in the group phase; maybe with a bit of lack of consistency in a couple of matches, but in general, I think we can be very content."

Big ambitions

Gulliksen caught the eye of Norway coach Christian Berge long ago, and has since made his debut for the national team. Based on this and his success with Elverum, it is no wonder that he has big ambitions for the future.

"Yes, I have huge ambitions, and I want to play in one of the major leagues in Europe eventually. I want to contribute in the biggest arenas, and I want to make my mark in the national team as well in some of the big clubs in Europe.

"My ambitions go far at a national team level as well as at a club level, but first and foremost, it is all about finishing the Champions League Group Phase well – and as I said, we still believe in the chance!" he concludes.
Author: Peter Bruun / cg