Loss to Szeged sets record winless streak for Löwen
It all seemed going well for Rhein-Neckar Löwen with a 14:10 lead against Szeged in the closing minutes of the first half of their VELUX EHF Champions League match.
But their defence went asleep in the second half and the German hosts ended up losing the game 37:35.
Löwen is on a five-game run without a win, losing three games and drawing two

The German side only hold a one-point advantage over Szeged in fourth place

Szeged stopped a two-game losing run and will face Vardar next week
GROUP A
Rhein-Neckar Löwen (GER) vs MOL-Pick Szeged (HUN) 35:37 (17:15)
It was the defence that let Löwen down against Szeged. The 37 goals conceded marked their second-worst performance in the VELUX EHF Champions League, only one goal less than the 38 goals received from Barcelona in 2011.
The hosts, however, had enjoyed a good start of the game, and a 6:0 run engineered by Mads Mensah Larsen saw Löwen grab a 10:6 lead.
It looked like a game without any trouble for the hosts, who were looking to restart their challenge for one of the top two places, especially after Vardar's loss against Barcelona.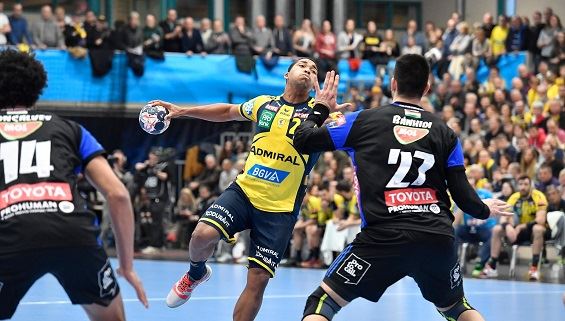 However, Szeged did not back down and the ultra-aggressive style imprinted by coach Nikolaj Jacobsen bite back Löwen in agonizing style.
The Hungarian side took the lead back early in the second half and Löwen could hardly do anything to avoid a loss.
The German side levelled again at 30:30 with eight minutes to go, thanks to goals from Mads Mensah Larsen and Hendrik Pekeler. But an off-night from goalkeeper duo Andreas Palicka and Mikael Appelgren and a lack of defensive nous saw Szeged earn the win, 37:35.
"I am disappointed with our performance," Löwen coach Nikolaj Jacobsen said. "We failed to find our own game and and too many technical mistakes. Szeged took advantage well and deserved to win."
The Hungarian side consolidated their fifth place with 11 points, just one behind fourth-place Löwen, which hope to break their winless streak next week on home court against Kristianstad.
"We knew we needed a good day to get points at Rhein-Neckar Löwen," Szeged coach Juan Carlos Pastor said. "I am proud of my team, of how they have presented themselves here."
Author: Adrian Costeiu / ew