After dream debut, Srsen "thrilled" to be at Szeged
MOL-Pick Szeged snatched a surprise win against Rhein-Neckar Löwen in Round 11 of the VELUX EHF Champions League on Sunday. One player stood out with seven goals, and he is the new face of the Hungarian runners-up: Ivan Srsen.
Just a few weeks ago, the 25-year-old right back came to Szeged on loan from Nexe Nasice to replace fellow Croatian Denis Buntic.
The match against Löwen was his debut in Europe's top-flight club competition. He did an amazing job, which earned him a place in this round's 'Best 7' selection.
"I did not expect this"
"I was secretly hoping to get a chance in the first match but I did not expect this. I am really grateful for that," Srsen tells ehfCL.com.
Born and raised in Opuzen and Metkovic, Srsen had the best possible environment to develop as a handball player. Having started at local club Opuzen, he moved to Metkovic and Varazdin to find himself playing for Croatian vice-champions Nexe Nasice from mid-2015 on. He has also been part of the Croatian national youth and junior teams.
Szeged are the fifth, but first international club in Srsen's career.
"I was surprised by the opportunity that came and I am thrilled," he says. "Thank God I am healthy because it is a great opportunity and a step forward in my career. Moving to Hungary was good primarily because of my teammates, who have a lot of patience with me."
The 196-centimetre-tall right back became the best scorer of Szeged on Sunday but he acknowledges that he had been a bit nervous ahead of his debut.
"There were a lot of nerves and those positive jitters but my teammates were of great support so I am very grateful to them," he says.

Emphasis on tactics and detail
Srsen is now working with well-known Spanish coach Juan Carlos Pastor, who has been on the Szeged bench since 2013.

"Pastor gives a lot of emphasis to tactics and detail. That is the segment where I can make the most progress and learn," Srsen says. "He insists very much on the details and talks a lot with the players. That is his specialty."
Szeged are currently ranked fifth in Group A, just one point behind Löwen. In the next round, they will visit Skopje on Sunday and cross swords with leaders Vardar which will be streamed live on ehfTV.com.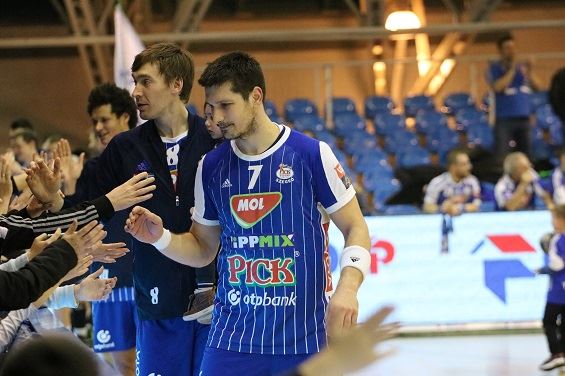 Since Vardar suffered their first defeat in this Champions League season against Barcelona, Szeged will come to Skopje boosted with confidence after their win against Löwen.
"This victory meant a lot to us," Srsen says. "We have again a difficult away match in Skopje against Vardar but we can hope for a positive result. We have a few days to prepare for that game. That team will not give us anything and we will have to do our best to achieve a good result."
Playing against the top teams
Szeged are close to qualifying for the Last 16, where they would be playing for the fourth straight time. After their trip to Vardar, they will host PPD Zagreb and play Barcelona in Palau Blaugrana.

"The goals for the Champions League are to go from match to match because all teams we are playing against are top teams," Srsen says.
While the right back is at Szeged on loan until the end of the season, he will "concentrate on my assignment here. In the summer, we will see what to do next."
Author: Jelena Bagarić / ew