Superb Montpellier earn first win of season
They had to wait seven games until they got their first win (31:26) of the VELUX EHF Champions League season, but Montpellier kick-started their season with a sturdy performance against Rhein-Neckar Löwen, avenging their 37:27 defeat from one week ago.

A flawless defensive performance, a pinch of luck and inspiration in attack were enough to bring the current title holders back into contention for a Last 16 berth.

While Montpellier impressed, Löwen produced their worst game of the season, especially in defence, as they are now further away from the first place, as Barça Lassa can now jump to a four-point gap if they win against Vardar in the weekend.
Montpellier stopped record seven-game winless streak

Löwen had three-game winning streak snapped after disappointing performance

Guigou and Richardson both scored seven for Montpellier, the latter picked up a groin injury in the 52nd minute
GROUP A

Montpellier HB (FRA) vs Rhein-Neckar Löwen (GER) 31:26 (16:12)

An unprecedented rut for a title holder saw Montpellier in dire straits before the last seven games of the group, as the French side was running out of chances to win.

But they jumped to a 5:1 lead after only seven minutes against Rhein-Neckar Löwen, in the reverse fixture of last week's 37:27 German win.

These were the best seven minutes Montpellier produced in the current season of the VELUX EHF Champions League, as the excellent Löwen offense was stopped in its tracks by goalkeeper Nikola Portner.

While Löwen tried their best to mount a comeback, not even two timeouts taken by coach Nikolaj Jacobsen could help the German powerhouse cut the gap.

A flawless game from right back Melvyn Richardson, who scored five goals and is slowly finding last season's form, helped Montpellier take a 16:12 lead into half-time.

Best all-round performance of the season brings Montpellier first win

Things went from bad to worse for the guests, whose defence crumbled under the pressure, as a 4:1 start of the second half brought Montpellier closer to their first win, 20:13.

Without goalkeeper Mikael Appelgren and left wing Gudjon Valur Sigurdsson, who scored 11 goals one week ago, Löwen had little success in troubling Montpellier, as a 3:0 run right at the heart of the second half was quickly wiped out by the French side.

Moreover, line player Jannik Kohlbacher was sent off, leaving Löwen with even less options.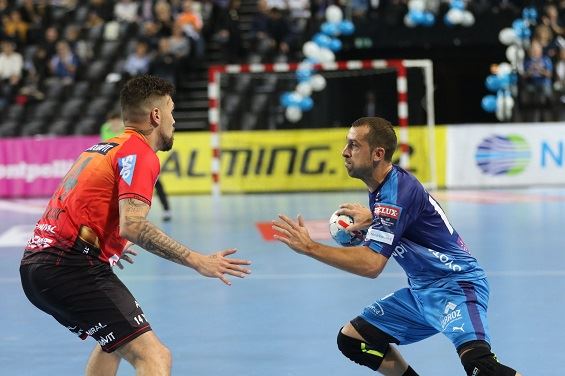 The best all-around performance from this season for Montpellier was enough to hand the French side the first win, 31:26, and they are now dreaming again about a Last 16 berth, tying Kristianstad in the seventh place with three points, only one shy of Brest, who are in sixth.

The title holders will host Kristianstad next week in a crucial game for their season, while Löwen, who are in fourth place with 10 points, host Veszprém.
Post-match statements:
Patrice Canayer, Montpellier coach: "We are delighted to have won, it has been a long time coming. The image we gave tonight is more conform to that of our club. We played a non-match last week in Mannheim, but tonight we played to our strengths and played as a team. We had our backs to the wall, but sometimes teams wake up when they find themselves in that situation…"
Valentin Porte, Montpellier captain: "Last week we were poor (...) but tonight we put in a much better performance to reassure ourselves, we proved to Rhein-Necker that we were better than that. We saw a good Montpellier team tonight, combative and that's good."
Nikolaj Jacobsen, Rhein-Neckar Löwen coach: "Montpellier's victory is fully deserved, we never played to the right tempo, particularly in attack. If you don't put in the right ingredients in a Champions League match you won't win."
Jesper Nielsen, Rhein-Neckar Löwen line player: "We never got into the match and were chasing the score throughout the match, so Montpellier's win is perfectly logical."
Author: Adrian Costeiu / ew