Family matters at EHF FINAL4 events
"It's quite incredible for both of us," CSM Bucuresti right back Camille Ayglon-Saurina says.

Two weeks after the Romanian side had qualified for the Women's EHF FINAL4 in Budapest, her husband Guillaume Saurina repeated that feat as his club, HBC Nantes, advanced to the VELUX EHF FINAL4 in Cologne.

"I don't know if it is a first but somehow it is nice," Camille Ayglon-Saurina says.

Well, it is the first time that wife and husband both play at an EHF FINAL4 in the same season - although the two events this month feature more family affairs.

Irina Dibirova will coach the Vardar women in Budapest this weekend, while husband Timur Dibirov will play as a left wing with Vardar's men's team in Cologne two weeks later.

The EHF FINAL4 is not all about husbands and wives, though. Two Russian siblings will face each other in Budapest as Vardar left wing Polina Kuznetsova will play against her younger sister Anna Vyakhireva, right back at Rostov-Don, in the semi-final.

"Going to Cologne with Nantes is the perfect farewell gift"

The occasion is probably most special to 37-year-old Guillaume Saurina, who will end his career after the season and is bound to go out on a high, no matter the result in Cologne.

"For him to go to Cologne with Nantes is the perfect farewell gift," Camille Ayglon-Saurina says. "A lot of players haven't had the chance to step on the court in the LANXESS arena. He will be able to say he has done it."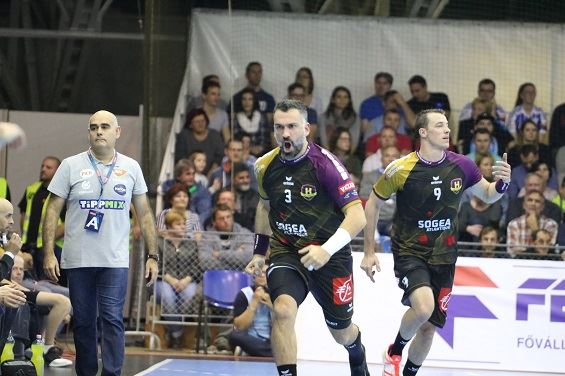 Guillaume Saurina smiles when thinking back to his move from Bucharest to Nantes in October in the wake of Olivier Nyokas' injury.

Going to the VELUX EHF FINAL4 "is something I didn't hope for. If you had told me that back in September, I would have had a good laugh," the left back says. "There is nothing better than a FINAL4, especially for a player like me, who has played only a couple of Champions League games. It is actually hard for me to find the words to describe it."

The pair, of course, is full of support for each other though Guillaume Saurina won't be able to travel to Budapest this weekend, where CSM take on defending champions Györ in the first semi-final on Saturday at 15:15 hrs (live on ehfTV.com). However, his wife will be in Cologne two weeks later.

"Even though I won't be there by her side, I will be her No. 1 fan. I am in awe with what she does as a professional," he says.

"We always put our family first, not our careers"

The pair moved to Romania in the summer of 2016 after Ayglon's club, HBC Nîmes, went bankrupt.

"We always put our family life first, not our careers. But when the opportunity came to move to Bucharest, I told Camille to go," Guillaume Saurina says. "To play the Champions League and the FINAL4 is not something you can do every weekend, so we all went there."

The couple are happy parents of a four-year-old son, Milo. His presence provides extra motivation to give their best on the court.

"It changes a lot of things. He understands that handball is our passion, but also our job. There is a huge sense of pride when we see him courtside," says Guillaume Saurina, before adding that being a parent as a top athlete is not always easy.

"He just doesn't tolerate losing. I don't know if it is a good or a bad thing, but he has definitely taken that from us," he says.

Time will tell whether Milo Saurina will be seen playing handball one day. For now, he will be just happy to watch both of his parents take part in the marquee events for European club handball.
Author: Kevin Domas / ew