Champions Montpellier lead power ranking
With the VELUX EHF Champions League just days away, the time for talking among Europe's elite clubs is almost over and soon we will know what these teams are made of.

Journalists of ehfCL.com have been keeping a close eye on pre-season and early domestic league action as they give their verdict on which 10 teams look in the best shape as they embark on a new journey to reach Cologne.

Here is the first power ranking of the season:

10. PGE Vive Kielce

Luka Cindric's arrival in the centre back position will give Kielce a much-needed new dimension, but he needs to get fit first. Kielce find themselves with an injury crisis at the moment, only 10 players were available for their most recent Polish league match, and their opening three matches against Veszprém, Löwen and Montpellier will tell us a lot about their ambitions for this season.

9. Telekom Veszprém

There is no way to sugar-coat Veszprém's disappointing elimination last season, but coach Ljubomir Vranjes loves a good challenge and he now has more of the tools he deems necessary for a successful season. The addition of Arpad Sterbik, Kentin Mahé, Manuel Strlek and René Toft Hansen is a big boost to a brilliant squad, but now it is up to them to execute the game plan their coach has in mind for them and their pre-season performances suggest there is still some work left to be done.

8. MOL-Pick Szeged

Last season's surprise Hungarian champions are a genuinely exciting prospect. Juan Carlos Pastor has picked up two fine players from Skopje in Joan Canellas and Jorge Maqueda as well as the returning Dean Bombac from Kielce. If Bombac can rediscover the form he had before leaving Szeged, then this additional spark could be elevating this side to new heights.
7. HBC Nantes

The return of left wing Valero Rivera to replace Dominik Klein is the only major change to the squad of last year's finalists, which means the French side will be ready and raring to go for their big opening match against Flensburg on 16 September. Remaining humble is a key factor Nantes have identified ahead of this season and if they can do that, there is nothing to suggest they cannot go deep into this competition once again.

6. Meshkov Brest

Belarus' outstanding club dream of lifting the VELUX EHF Champions League trophy one day and the progress they continue to make shows they are taking this dream seriously. New coach Manolo Cadenas is set to modernise the team's playing style and he has no time to waste as big tests are on the horizon in a daunting Group A.

5. Barça Lassa

A 50:24 victory in their first league match is a serious statement of intent from this Barça Lassa side, which exited the competition at an unusually early stage last season. Champions League-winning line player Ludovic Frabregas and Bundesliga top scorer Casper Mortensen are exciting additions, while goalkeeper Kevin Møller and Gilberto Duarte should help to stabilise the defence.

4. SG Flensburg-Handewitt

The Bundesliga winners are in a state of transition again this season with a number of young talents coming in to replace departed stars, but Maik Machulla appears to be doing wonders with this team. A derby win at home against THW Kiel and a victory away at Füchse Berlin already proves that this club is making no excuses and should play a big role in Group B.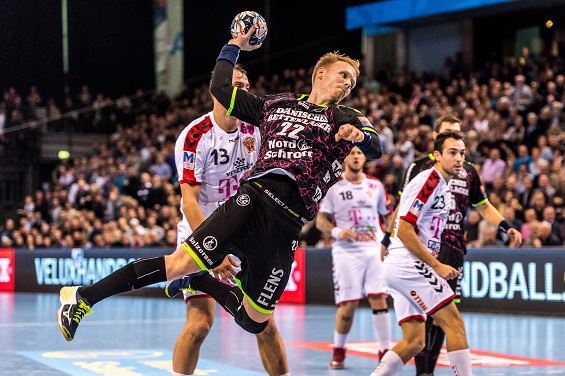 3. Paris Saint-Germain

Defeat to Saint-Raphaël in the 'Trophée des Champions' semi-final was not an ideal start to the season for Raul Gonzalez and PSG, but it is too early to be writing this star-studded team off. ehfCL.com journalists highlighted this squad as having the best attack, defence, counterattacks and bench in this competition and the only thing stopping this side from flourishing is failing to gel as a team and adapting to their new coach's tactical approach.

2. Rhein-Neckar Löwen

After four successive Last 16 eliminations, could this season provide a breakthrough for Löwen? Jannik Kohlbacher, Steffen Fäth, Ilija Abutovic and Jesper Nielsen are all quality additions to an already strong team, which has been marked as one of the best counterattacking units in the competition. A perfect start to the Bundesliga season, with four wins from as many matches, shows that the squad has settled well, but the big question will be whether they can finally mount a challenge on both domestic and European fronts this year.

1. Montpellier HB

After beating Nantes and Veszprém in the preparation, the reigning champions snatched the first trophy of the season in France, beating Nantes and EHF Cup finalists Saint-Raphaël to claim the 'Trophée des Champions'. With only one major change to the squad - Swedish line player Fredric Pettersson replacing Ludovic Fabregas - Patrice Canayer is going for the "if it ain't broke, don't fix it" approach and the defending champions appear ready for the battle in Group A.
Author: Chris O'Reilly / ew