German derby to launch "round of dreams"
The upcoming round of VELUX EHF Champions League matches (29 November – 3 December), which will be the last of 2017, has a special flavour thanks to a cooperation between the competition and its new charity partner Plan International.
In a very fitting pre-Christmas campaign, the Champions League clubs, partners, players and fans alike will share their wishes and dreams in a campaign called "My dream is …".
The first game to launch the campaign is the north German derby between SG Flensburg-Handewitt and THW Kiel and some of the players already promised to join the campaign.
Dreams are universal, no matter the background of people. Young sportsmen and sportswomen, seasoned handball veterans of Europe's top flight and children in the developing world all have certain dreams for the future.
For some it could be on-court success, for others the most coveted trophy in club handball. Meanwhile, girls and boys in third world countries dream of equal rights and the opportunity to to be able to self-determine their lives in a safe environment.
Just like Sandra Milena from Columbia, who dreams about becoming a doctor on one day to help people and save lives.
Like Sifa from Rwanda, whose biggest dream of all is to buy her family a house and a cow.
Or like Satu from Guinea Bissau, who would like to become a teacher one day.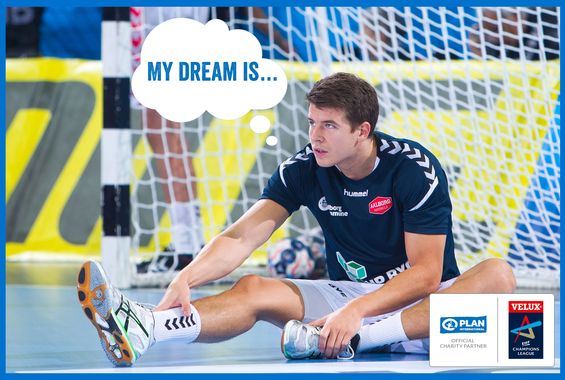 Clubs get involved
Playing arenas across the continent will see the joint effort of the VELUX EHF Champions League, its participating clubs and players to support various activities focused on the children rights and Plan International's mission.
The flagbearers during the opening ceremonies before the games will enter the courts in t-shirts of the children's charity and the work of Plan International will be spread through various platforms.
On social media channels, using #planinternational, clubs will reveal the dreams of their star players when it comes to handball, sport, families or humanity in general.
Furthermore, a special auction will take place on www.unitedcharity.de, where an exclusive VELUX EHF FINAL4 package for kids can be bid on.
VELUX EHF Champions League also sponsors a girl named Lays, who lives in Brazil.
About Plan International
Plan International became a partner of the VELUX EHF Champions League this season, it is an independent organisation, with no religious, political or governmental affiliations. Plan stands up for children's rights worldwide and strives to be open, accountable and honest.
Plan has been working for 80 years to tackle poverty, violence and injustice. In more than 70 countries, girls and boys are encouraged to shape actively their future.
The main objective is to achieve sustainable change and to enhance the living conditions of the people in the partner countries. When disasters or conflict threatens their lives and well-being, Plan is quick to respond. The United Nations Sustainable Development Goals encourages Plan to continue strengthening girls and women and promote gender equality. The global movement "Because I am a girl" is dedicated to ensuring justice and equality for all girls and young women.
Author: EHF / br