Hard-fought win for Elverum in Nordic derby as Dinamo go top
With a goal one minute and two seconds before the buzzer, left wing Jonas Burud secured Elverum Handball a hard-fought 28:27 win in the Nordic derby against Riihimäen Cocks. Elverum were leaning towards a defeat in the second half but managed to turn the tide.
However it is Dinamo Bucuresti who now sit top of the group after they secured a 24:21 win over Orlen Wisla Plock at home. Plock had a mediocre 50 per cent shot efficiency, gave away seven turnovers, missed three 7-metre throws and were too static in defence against an inspired Dinamo side, who were helped by some of the best fans in the competition.
Cocks were leading by three goals in the second half before Elverum overtook
Alexander Westby scored seven goals for Elverum
Nico Rönnberg scored seven for Cocks

Dinamo top the group with four wins in five games
GROUP D
Elverum Handball (NOR) vs Riihimäen Cocks (FIN) 28:27 (15:14)
Jonas Burud became the local hero in Elverum, as he scored what turned out to be the winning goal for the home team in the Nordic derby against Cocks.
With this goal, making it 28:27, Burud secured Elverum the win after the home team had their back against the wall most of the second half in Terningen Arena.
At the beginning, Elverum did not have much trouble with Cocks' aggressive defence, and the home team found the net relatively easily.
Through a fluent and inventive attacking play, however, the visitors managed to hang in, and even when Elverum got three goals up at 13:10, it did not take the Finnish champions long to come back and equalise.
After being one goal down at half time, Cocks got their first lead 10 minutes into the second half, and they were leading by three before Elverum managed to come back and win the match through Burud's goal with a good minute left.
Cocks had the chance to equalise in the last seconds but missed the opportunity when Morten Nergaard saved.
Elverum left wing Alexander Oerjevik Westby said he thought the game coud have gone either way.
"We showed great mentality in the end, and luckily Morten Nergaard saved us in this last second. We are happy about two points, and this was another hard game for us," Westby said.
Dinamo Bucuresti (ROU) vs Orlen Wisla Plock (POL) 24:21 (13:10)
Dinamo's rousing fans could not have asked for a more exciting start of the game, as the "Red Dogs" found their balance in defence and were stellar in attack. Wisla needed seven minutes to put their first goal on the scoreboard.
It went from bad to worse for the Polish side as Dinamo jumped to a 8:2 lead that was sending Wisla straight to their second defeat.
While Tunisian backs Kamel Alouini and Amine Bannour were superb in attack, the hosts started to suffer in defence when defensive staple Dan Savenco got a pair of two-minute suspensions. Therefore, it was no surprise that Plock started to mount a comeback, as the Polish side cut the gap to three goals at half-time.
But the Tunisian connection that also featured an inspired Makrem Missaoui between Dinamo's goalposts helped the Romanian side back into the game.
Dan Racotea was sent off after receiving three suspensions and that was the beginning of the end for Plock, whose misses in attack saw Dinamo take a decisive 21:14 lead with 15 minutes to go.
Desperation, helplessness and nervousness were there to be seen on the faces of Wisla's players who failed to score even without the open goal. Celebrations started early in Dinamo's arena, after the Romanian side climbed to the top of the table with the 24:21 win.
In three weeks, Wisla will try and avenge the result on home court and have a good chance of doing so, if Dinamo coach Constantin Stefan's assertion that Plock is the strongest team in the group is accurate.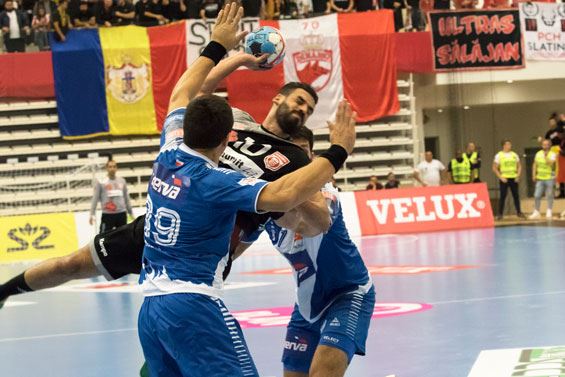 Author: Peter Bruun/jh