Charismatic legend's return among Plock's reshuffled pack
If you like changes, you will love this team. This summer, Orlen Wisla Płock surprised fans with significant changes throughout the squad.
With new faces, the return to handball from a charismatic Russian icon and symbolic confirmation of a long-term evolution in the goal.
Coach Sabate will not have an easy task this year, but he composed his team very carefully to do nothing short of winning Group D of the VELUX EHF Champions League and become a part of the European elite.
Three questions before the season:
- What the personnel revolution will bring?
A few new faces among the team is totally normal each season, but what Płock did this summer seems to extend even the frames of a personnel revolution. Nine new players and an almost brand new back line does make an impression. After the 2018/19 season, Tomasz Gębala, Ignacio Moya, Nemanja Obradovic, Dan Emil Racotea, Marko Tarabochia and Jose de Toledo were among the important players to depart the club.
The Oilers can still count on Ondrej Zdrahala and Ziga Mlakar in addition to reinforcements such as promising names Szita Zoltan, Alvaro Ruiz, Philip Stenmalm, but the biggest name to join is Konstantin Igropulo. The names were carefully chosen to match the tactics of coach Xavi Sabate and are expected to create a good team ready to make a huge step forward in both domestic and European contests.
"We were looking for players that can play both in attack and defence, understand the tactics of handball and can read the game fluently.
"All players who joined us have skills that match our system, we will be able to rotate the line-up more often and accelerate our game," explained coach Sabate at the beginning of the preparations to the new season.
- Will the goal be a strong support of Płock's defence?
Huge changes between the posts of Wisła draw quite a big question mark. Legend and club captain Marcin Wichary has retired, starting a new path of his career and becoming a goalkeeper coach. Adam Borbely also left, moving back to Hungary.
However, the Polish runners up prolonged the contract with one of their best investment of recent years, Adam Morawski, who is going to stay in Płock until 2022.
The 23-year-old goalkeeper first signed with Płock in 2013, going on loan at first and has been under the spotlight of coaches, journalists and fans in recent years.
In front of their eyes, Morawski became a solid, mature player, not only able to make miracles in the goal but also motivating his team as a true leader. His evolution got additionally underlined with the change of number as the 16 on Morawski's back will be replaced by 1.
"I always wanted to play with number one on my jersey, but not just like that, I wanted to deserve it," said Morawski after extending his contract.
"Last season showed that our investment brings profits, Adam's potential transformed into a real quality. He fully used his time here and now is a very strong of our team," added Wisła's sports director Adam Wiśniewski.
This season Morawski will be joined by experienced Croatian Ivan Stevanovic, so instead of three goalkeepers, Płock will have only two. The bronze medallist of the EHF EURO 2016 will definitely create an interesting duet with young Polish talent and the form of both of them will be crucial for Płock's performances this season.
- What does it mean for Płock to play in Groups C/D again?
After a nice performance in the season 2018/19, many fans expected the Oilers to return to Groups A/ B. However, the Polish runners-up will play their second year in a row in Group D.
The club remains humble and ready to fight for another appearance in the Last 16 and even further, which is the Oiler's aim for the season. European competition is extremely important for Płock and has been a great source of pride among fans for many years.
"Playing in the VELUX EHF Champions League is very important for Orlen Wisła Plock, it has great sport and marketing value for us. It is also an honour for us that we present the relevant work achievements, sporting and organisational levels in order to be among the best teams of European handball," says club president Robert Czwartek.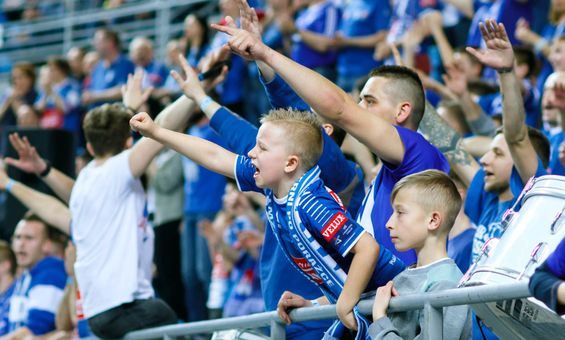 Under the spot-light: Konstantin Igropulo
This transfer definitely stole the headlines of Polish and international handball news for a significant time. Skill, quality, experience, character and charisma – what else can you expect from a player? In order to let Jose de Toledo go, he club needed to find somebody, who can replace him with no loss for the team. And here he is: Konstantin Igropulo.
The Russian international with Greek origins is a legend of contemporary handball, having won many trophies, including the VELUX Champions League with Barca in 2011. For many years he has been known for his speed, jumping ability, hip-throw and good penalty efficiency.
Since 2018, however, due to serious knee injury, he has been on a long break and his shape remains a question mark. The expectations are very high but as for now it seems that due to recovery the back will be late for the season and will not play in the first matches with the rest of the team.
Self-esteem
In domestic contest the Oilers will do their best to threaten Kielce again on their way to Polish championship and cup. In Europe, they want to join the Last 16 phase again and go even further to the quarter-finals, although they remain humble.
"We have a really strong group, very equal one and every team can win against each other," says team captain Michał Daszek. "We want to win every next game and to improve ourselves over the course of the group."
Fun fact
For many years number one on the jersey in Płock was reserved for Andrzej Marszałek. Then, for two years the number was carried by Marin Sego, but when Croatian moved to Kielce nobody decided to take the number. Now, Adam Morawski will take the number for the first time since 2014.
What the numbers say
The Oilers will have their 14th appearance in Europe's top flight and second one in a row in Group D, fighting for their sixth progression to the Last 16 stage.
Qualification for VELUX EHF Champions League 2018/19 season: Polish runners-up

Newcomers: Konstantin Igropulo (free agent), Jerko Matulić (KS Azoty Puławy), Niko Mindegia (Chambery Savoie HB), Alvaro Ruiz (Fenix Toulouse HB), Philip Stenmalm (Pays D'Aix UC HB), Ivan Stevanovć (Kadetten Shaffhausen), Zoltan Szita (Telekom Veszprem/Balatonfueredi KSE), Leon Šušnja (HC PPD Zagreb), Mikołaj Czapliński (Plock youth team)
Left the club: Adam Borbely (Grundfos Tatabanya), Jose De Toledo (HC Vardar), Tomasz Gębala (PGE VIVE Kielce), Ignacio Moya (AEK Athens), Nemanja Obradović (HC Meskhov Brest), Dan Emil Racotea (Telekom Veszprém), Marko Tarabochia (unknown), Marcin Wichary (retired)
Coach: Xavier Sabate (since 01.07.2018.)
Team captain: Michał Daszek
VELUX EHF Champions League records:
Participations (including 2019/20 season): 14
Last 16 (5): 2011/12, 2013/14, 2014/15, 2015/16, 2018/19
Group phase (7): 2002/03, 2004/05, 2005/06, 2006/07, 2008/09, 2016/17, 2017/18
Last 32 (1): 1995/96
Qualification (1): 2012/13
Other EC records:
EHF Cup:
Quarter-finals: 1993/96
Group Phase: 2012/13
Cup Winners' Cup:
Quarter-finals: 1996/97
National champion:
7 times: 1995, 2002, 2004, 2005, 2006, 2008, 2011
National cup winners:
10 times: 1992, 1995, 1996, 1997, 1998, 1999, 2001, 2005, 2006, 2008
Author: Magda Pluszewska / cor