Dinamo Bucuresti book play-off berth and top group after win in Thun
Dinamo Bucuresti secured the second play-off berth in group D as they did not leave anything for granted and grabbed a vital win at bottom-placed Thun. For Dinamo, the win marks a historic milestone as this is the first time they have made it past the group phase in the most elite club competition.
Wacker Thun finish winless in Group D
Dinamo Bucuresti top the group with a better head-to-head record against Wisla Plock
Amine Bannour returns to action for Dinamo with 6 goals
Wacker Thun (SUI) vs Dinamo Bucuresti (ROU) 29:33 (13:14)
The return of the Dinamo´s top scorer Amine Bannour was a real boost for the Romanian side as they crossed paths with a determined, well organised side in Wacker Thun. The Swiss club had one last chance to earn their first win of the campaign and they fought hard, but had a tough task against a motivated opponent.
First half was rather balanced, with neither side able to take the edge. Fast break goals and lots of aggressive defence worked well for the hosts, but quality prevailed shortly after the break.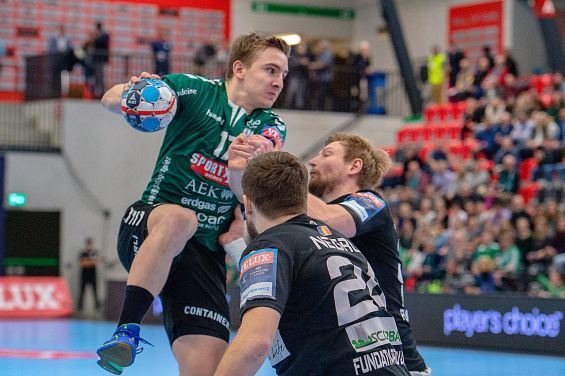 With fantastic support behind their backs and reliable Saeid Heidarirad in goal, Dinamo put the hosts under pressure with their improved back court performance and quick transitions forward. A compact performance with the involvement of large numbers of players (11 Dinamo players scored in the match) meant Dinamo were able to keep playing at a high tempo for the whole sixty minutes.
Razvan Gavriloaia stretched the lead with his goals from the wing, only adding to those of the likes of dangerous back court names Kamel Alouini, Vitaly Komogorov and co.
Similarly to the reverse fixture in Bucuresti in late September, Amine Bannour finished on top of the scoreboard, this time with his six first half goals.
For Dinamo Bucuresti, securing a play-off berth and winning Group D is the biggest European success the club has had! With the defeat, Wacker Thun have had a repeat of their 2013/14 season by not recording a single win, but with four of their defeats by a single goal, and two by two goals, they have definitely left a positive mark on the group phase.
After the match Razvan Gavriloaia, of Dinamo Bucuresti commended his opposition and was pleased with finishing on top of the group, "Wacker Thun gave everything, even though for them it wasn't really about anything anymore. It was a tough game for us and we're overjoyed that we can finish the group in first place. That's more than we could have expected."
Dinamo head coach Stefan Constantin was full of praise for his team's supporters, "We wanted to qualify for the next phase and we managed that. We had a great support from our fans who travelled with us."
On the other hand Martin Rubin, head coach of Wacker Thun, sportingly wished the Romanian team well in the competition, but was ultimately disappointed with yet another narrow defeat for his side, "As always, it was tight, but we lost. But today we just weren't good enough. Congratulations to Dinamo, I hope they make it far."
Author: Tomas Cuncik/at