Joy and positive prospect dominate quotes of the week
So, that's it for this year. The VELUX EHF Champions League has concluded on Sunday with the last matches from Round 10. It's a wrap up for Group C/D, while Group A/B will of course continue in early February.

Over the weekend, there have been moments of joy and celebrations but also sadness and disappointment. They all feature in our selection of the best quotes.

5. Nico Rönnberg, Riihimäen Cocks left back

"I would not have believed five months ago – or two or three months ago – I could be the best goal scorer. A huge credit to my team mates, they have helped me a lot. This kind of things cannot be achieved alone."

Rönnberg ends the year on a high as he has become the best scorer of the group phase so far. With 72 goals, it's the best European season of the young Finnish left back's career. While Cocks were already out of the race for the play-off, they concluded the group phase with a dramatic win over Orlen Wisla Plock, with Rönnberg scoring eight goals.

4. Peter Bredsdorff-Larsen, Bjerringbro-Silkeborg coach

"We could proceed with a draw, and it made a huge different in the end, because it helped the team that we were a little comfortable in the last minutes. We look very much forward to the next round, but now we just want to celebrate and be happy."

Bjerringro-Silkeborg coach Bredsdorff-Larsen commented on the dramatic way the Danish side reached the play-off, with a 29:28 win over Sporting CP. The Portuguese visitors were leading by five goals in the first half, but could not keep it up. The atmosphere and joy in the hall shortly after the final whistle reflected the words of Bredsdorff-Larsen.

3. David Davis, Telekom Veszprém HC coach

"The players made a great effort and they were really motivated. They played a fantastic game. There is not better word for that. They were excellent."

Veszprém coach Davis spoke after winning the MOTW against last season's champions, Montpellier HB. The Hungarian powerhouse won the last three Champions League matches to share third place in Group A with Rhein-Neckar Loewen and PGE Vive Kielce, all on 12 points.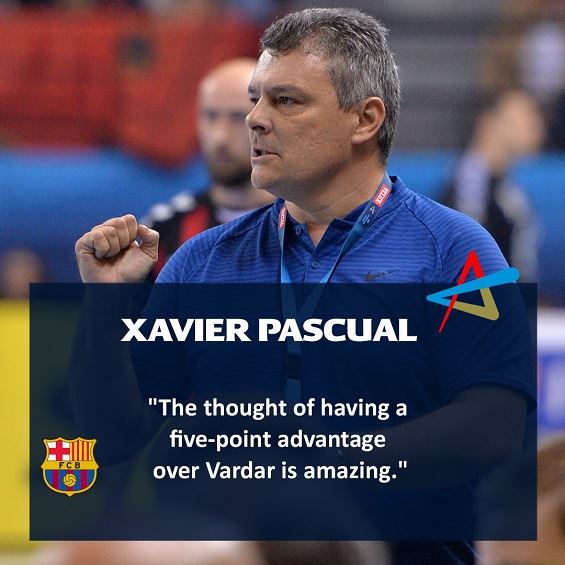 2. Juan Pastor, MOL-Pick Szeged coach

"This is handball. Three days ago we were on high spirits after a great win [against PSG] and now we are disappointed from our performance in the attack."

Pick Szeged coach Pastor commented on his team's midweek defeat to Flensburg-Handewitt. Szeged wasted the opportunity to put more pressure on current Group B leaders PSG. With PSG's win over Skjern, the French powerhouse built a three-point advantage over Szeged with four matches to play in 2019.

1. Xavier Pascual, Barça Lassa coach

"The thought of having a five-point advantage over Vardar is amazing. Now we have a break and play four, five games in the Spanish league and cup, but we know that this is the way we have to follow."

Nine straight wins in Group A, no wonder Barça Lassa coach Pascual is upbeat. After their 41:32 win over HC Meshkov Brest, Barça are only three victories short of their longest winning run, in 2011/12. With a five-point lead over Vardar and four games remaining, Barça are firmly on track to win Group A and leapfrog the Last 16 for a direct quarter-final spot.
Author: Tomas Cuncik / ew