Rivalry and friendship: Szeged's Stepancic to face PSG
With the start of the VELUX EHF Champions League season, MOL-Pick Szeged welcomed a few new faces to the team. One of them is Croatian international Luka Stepancic, a reinforcement for the Hungarian team alongside right wing Bogdan Radivojevic and goalkeeper Roland Mikler.
Coach Juan Carlos Pastor has a clear vision for 2019/20 after Szeged missed the Hungarian title last season. Szeged are aiming for a place at the VELUX EHF FINAL4 in Cologne as well as to be in front of domestic rivals Telekom Veszprém HC and win at least one title in Hungary.
If the morning shows the day, maybe the first round shows the rest of the season and Szeged's wishes might come true. Last Saturday, Szeged defeated Barça 31:28 with right back Stepancic contributing three goals, and the team has started with four straight wins into the Hungarian league season.
"It is easier to go to Paris with two points"
Barça, a candidate to make it to the VELUX EHF FINAL4 every season, came to Hungary as recent Super Globe winners, and while many expected the Spanish champions to take home the two points, Stepancic and his teammates showed a great match, especially in the first half.
"Starting the new season with a victory is a great thing. Our next opponents are Paris Saint-Germain and it is easier to go there with two points," Stepancic says.
"The most important thing is that we showed ourselves how much we are worth at this moment," he adds. "It doesn't matter that it is still the beginning of the season and we are not at the peak of our form. It is a great feeling when you defeat such strong opponents. It filled us with confidence."
The result stretched Szeged's unbeaten streak in Champions League home games to 16.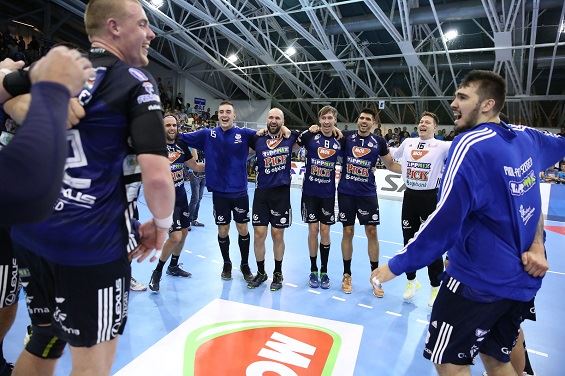 Not so long ago Paris was the home for the Stepancic family. The city has a special place in his heart, just as returning to Zagreb, where he started his career, is always memorable to him.
Matches against friends and former teammates are blood-pumping, says Stepancic, who is looking forward to the match against PSG on Sunday at 19:00 CET (live on ehfTV.com).
"Of course it is a special game. I am friend with most of them and we have stayed in touch. Lately we talk to each other more often so there is good teasing between us," Stepancic says. "It was the same feeling when I came back to Zagreb with PSG. On Sunday, we will see 60 minutes of good fight and rivalry, after the game just friendship and friendly teasing."
Stepancic is not sure whether it is as advantage or a disadvantage to play good friends and former teammates.
"We all know each other very well and you have to put extra effort into that match," he says. "It will be very interesting but also fun this weekend."
"For now everything is good"
Stepancic had three great seasons with PSG after playing for Croatian champions HC PPD Zagreb. In 2019 his new destination is Szeged. Changing surroundings is never easy, but Stepancic seems to have done just fine.
"For now everything is good and according to plans. The team has accepted me very well. I know most of the teammates from before. I talk a lot with the coach and that is helping me adjusting to the playing system. It is a special feeling," Stepancic says.
Another help for the new step in his career comes from the stands: the supporters in Szeged.
"The city lives for handball and in every corner you can feel the support of the fans, their love and passion for the sport," he adds.
Stepancic first played on European level with Zagreb and the Croatian national team. Since his Champions League debut in 2010, he has scored 278 goals in Europe's premium club competition.
Does he experience any differences in playing style between Szeged now and PSG in the past seasons?
"The playing system is similar in the basics, but every coach has different ideas. For Pastor, the main focus is on the details and there are a lot of small things he is looking for," Stepancis says. "It takes time to learn everything. I think when you are listening and then give 100 percent what you are asked for, improvement is guaranteed."
Szeged signed Stepancic to add international experience to their squad, both in national team and in club competitions.
"They gave me an opportunity to show what I am capable off," the Croatian international says. "We all have high expectations."
Author: Danijela Lemaić / ew