Learned lessons and repeated history make quotes of the week
Round 10 of the VELUX EHF Champions League Group Phase provided us with a lot of exciting thrillers. No wonder coaches and players didn't struggle to find the right words after their matches last week.

Here are the five best quotes:

5. Lars Olsson, IFK Kristianstad coach

"Congratulations to Barça Lassa. Thank you for the lesson."

Hard to argue that the opposing team was only lucky when you get defeated by 17 goals. That's what happened to Swedish side Kristianstad in Barcelona. After losing 43:26, they remain bottom of Group A - with the hopes that they have learnt something for the future.

4. Branko Tamse, HC PPD Zagreb coach

"I said that five months ago when I came with another team and I will say that again: I wish all the best to Paris Saint-Germain, one of the best teams in Europe."

After losing with Celje in Paris a few months ago, Branko Tamse had to suffer the same fate on Sunday with his new club, Zagreb. But this was no reason for him to be bitter, as he wished Paris the best of luck in the competition.

3. Anders Eggert, Skjern Handbold left wing

"Our situation right now in Group B is not surprising for us. As I see it, we still have every reason for maintaining our belief in reaching the next stage."

Skjern missed a second opportunity Sunday to take a step towards the Last 16 of the VELUX EHF Champions League by losing 34:32 at home against Nantes (32:34). But with all his experience, Anders Eggert thinks there is a silver lining in every sky and that his team will make it through.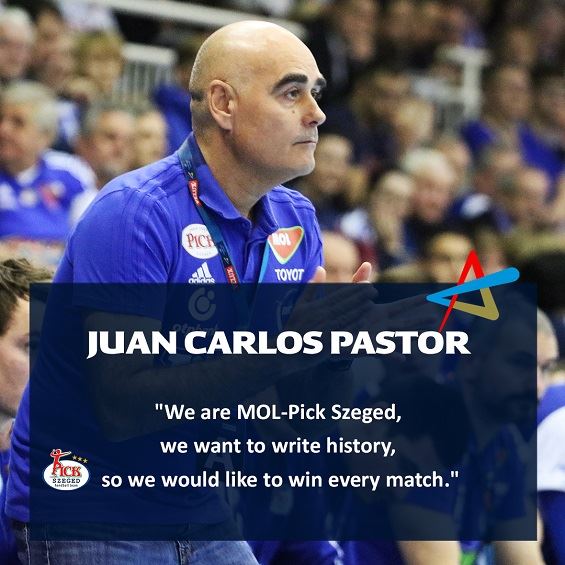 2. Manolo Cadenas, HC Meshkov Brest coach

"We enjoyed the good performance of both keepers today. Both Ivans showed the high level of their skills. Matskevich managed to enter the game in the right way and deliver in the second half."

After losing in Montpellier last weekend, Belarus side Meshkov Brest had its back against the wall, but delivered at home against Rhein-Neckar Löwen (27:24). Both Ivan Pesic and Ivan Matskevich, the goalkeepers, played a huge part in this success.

1. Juan Carlos Pastor, MOL-Pick Szeged coach

"We showed our character with this victory. We are MOL-Pick Szeged, we want to write history, so we would like to win every match."

Despite trailing Motor Zaporozhye for most of their game Sunday, Szeged ultimately grabbed the two points at home (30:29) to remain in the race for the first spot in Group B. And coach Juan Carlos Pastor couldn't be any happier, even though he probably prefers less stressful games.
Author: Kevin Domas / ew