Can anyone stop Metz from conquering France for the third-time straight?
The biggest question of the summer amongst the French teams in the Ligue Féminine de Handball is if Brest, following an impressive first year in the top division last season, can master the winning habit which Metz have developed over recent years as since 2004, the 2016/17 Women's EHF Champions League quarter-final participants have only let their national crown slip away from them three times.

Big clubs, big new names

To continue their reign, Metz persuaded two French national players to join them this summer. After a one-season exile in Germany, left-winger Manon Houette will replace Camille Aoustin, while Béatrice Edwige will come back to her home country after playing two seasons in Craiova, Romania.

Edwige gives the opportunity to Metz coach Emmanuel Mayonnade to reunite the French national team pair of line players and with a team consisting of six national French players, it quickly became obvious that Ana Gros, the Slovenian superstar, would stay for another year but it was not necessarily a foregone conclusion.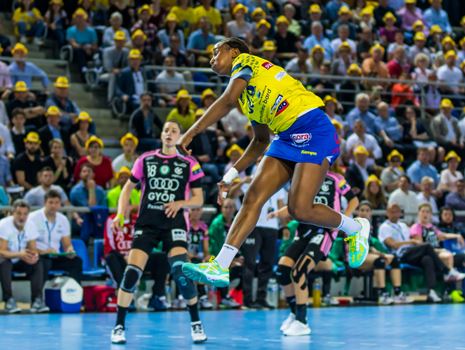 Rivals Brest had tried to convince Gros to move to Brittany to join their ever-growing galaxy of stars who stepped onto the big stage with a bang last season. With former IHF World Handball Player of the Year Allison Pineau's arrival, Brest have convinced two important Swedish players to join them.
#LFH🤾‍♀️- L'effectif du @BBH_Officiel pour la saison 2017-18 en @LFHOfficiel !

➡️ https://t.co/vCBR0rxF3B#Handball pic.twitter.com/KJyy4kcxLw

— LFH (@LFHOfficiel) August 20, 2017
Filippa Idehn will form an impressive goalkeeper pairing with Cléopatre Darleux while Louise Sand will bring her Women's EHF Champions League experience to a team that will play in the main club competition for the first time in its history.

For this purpose, all positions in the Brest team are now doubled-up, with Sophie Herbrecht the last, surprise, signing to make up for Pineau's absence after the playmaker recovers from ankle surgery until December.
Opération terminée, cheville en mousse disparu enfin totalement dans 3mois💪🏾🏃🏽‍♀️👻@LFHOfficiel @BBH_Officiel @SBMhandball @LeTelegramme pic.twitter.com/ZsFMxIwuCY

— ALLISON PINEAU (@PineauAllison) July 10, 2017
But will Brest be able to keep up the pace in the French league, while playing the Champions League at the same time? This is one of the major questions being asked ahead of the 2017/18 season throw-off.

Issy-Paris condemned to the third place again?

Behind these two big names, Issy-Paris, who finished third for the past two seasons, appear a little bit behind especially since their roster has had some heavy transformations this summer.

A huge part of the Scandinavian colony has flown away, with Pernille Wibe and Frida Tegstedt retiring and Stine Oftedal, the team's playmaker and superstar, moved to Györ in Hungary with the ambition to win the Champions League.

Her sister, Hannah, and her friend Silje Solberg are still living next to the capital but they will have to adapt to their new partners. With Tamara Horacek and Chloé Bulleux moving in, Issy add two French national players to a team that has also lost one, with Coralie Lassource moving to Hungary.

Nantes, Besançon and Nice as European Cup qualification contenders

There is one team, though, that might question all which has been said before. Nantes might have finished seventh last season, lost key players Jovana Stoiljkovic and Pauline Coatanéa to neighbours Brest this summer, but they still look like they could become the surprise package not least because the signings look promising (Spanish line player Elizabeth Chavez, goalkeeper Armelle Attingré to name a few), but also because the team is coming to a potential turning point.

After five years in the Ligue Féminine de Handball, they now have to take another step and fulfil their promises.

Just like Besançon did last season, this time the eastern France club will have to cope with EHF Cup duties, a novelty for a club which last played a European cup 12 years ago.

And Nice, who welcome high-profile Swedish and Spanish national team players Linea Torstensson and Carmen Martin respectively, will clearly have some role to play too with the two former CSM Bucuresti players helping the team in its rebuilding process.
Author: Kevin Domas/amc