Greenlander coach breaking new ground with Nykøbing
"We certainly won't just lie down and let the others run over us.
"That said, however, we realise that we are up against some really strong opponents."
Those words come from Jakob Larsen, the new head coach at Danish women's champions NFH – Nykøbing Falster Håndboldklub.
The 43-year-old former Greenland international joined NFH from a job as men's coach at traditional Danish league club GOG this summer, succeeding Niels Agesen, who led the team from the far south of Denmark to their first Danish championship last season.
"Training the opposite gender has not been a big change to me.
"It has more been a question of getting to know the players and the teams we are playing against.
"Of course, there are some differences between male and female handball players, especially in the physical area and the way you treat your team, but apart from that I have not experienced any big difference.
"In fact, the biggest change is the fact that I work pretty far away from home now," explains Jakob Larsen who still lives on the island of Funen, the base of GOG.
"It is also new that we train in Brøndby, near Copenhagen, some days, in Nykøbing some other days and that we stay at a hotel between some training sessions.
"This gives me a great opportunity to prepare and evaluate training, though," he says.
First coach from Greenland
He is the first Champions League coach who comes from Greenland, where his career as a player and as coach has been followed closely.
"I receive plenty of feedback from Greenland, where the interest in handball is immense and where people are proud of having a countryman at this level.
"Being the first Greenlander in the EHF Champions League as a player and now a coach has made me very well-known there.
"Already when I played for GOG and later as coach at the club, I received a lot of support from Greenland and this has continued after I joined Nykøbing," Jakob Larsen tells ehfCL.com.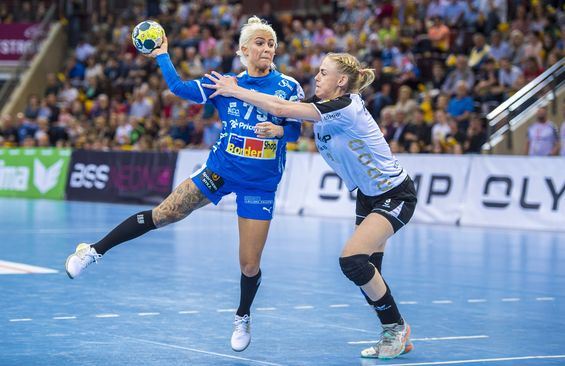 A completely new experience
Larsen's job coaching women may be new to him, but his team have a new experience of their own as this is their first Women's EHF Champions League season.
NFH had their European debut last season, when they reached the semi-final of the EHF Cup, but after winning their first Danish championship in history, they are ready for their first go at the Champions League.
"Just like it is new to the team and to the club, it is also new to me as a coach.
"However, I did play the Champions League as a player with GOG and I am happy to know a bit about what awaits us," he says.
Compared to the team which became Danish champions back in May, NFH have had to say goodbye to Swedish international right back Nathalie Hagman, who moved to CSM Bucuresti, while line player Mette Gravholt and defensive specialist Pernille Holmsgaard have both retired.
"However, I find that we have got fine replacements in Celine Lundbye Kristiansen (youth team) Anna Lagerquist (Lugi HF) and Tiril Merg (Glassverket).
"Celine may not be as versatile as Hagman, but she definitely has a great shot.
"Tiril Merg does not have the experience Holmsgaard had, but she is a great defender already and with plenty of physical strength.
"Anna Lagerquist has been ill (glandular fever) ever since she joined us, but she has started training with the rest of the team now, and I expect her to be fit for the first match," says Larsen, who can look forward to meeting 2016 champions CSM Bucuresti, RK Krim Mercator and Vistal Gdynia in Group A.
Hoping to defeat Gdynia
"I realise CSM are probably in a league of their own in our group, and I also find Krim to be extremely strong, but I hope we can defeat Vistal Gdynia.
"Finishing third and proceeding to the main round would be just great, progressing from the group matches would be a success criteria to us.
"What I would find most annoying would be if we spill an obvious chance to proceed, but if we only finish fourth after performing to our own satisfaction, it will also be acceptable and we will still have the EHF Cup waiting for us."
"We will then have to accept that the EHF Cup is our level, and it will mean that we will have European matches after new year anyway. European matches are what we need to develop our players and give them valuable experience," concludes Larsen.
NFH face Vistal Gdynia in their opening match on Saturday 7 October at 14:30 CEST on ehfTV.com.
Photo credit: NFH - Peter Larsen
Author: Peter Bruun / cor