Adzic: "We need to remain authentic to be competitive"
Things have changed drastically for Buducnost since they made it to their fourth consecutive Women's EHF FINAL4 last May.
From title contenders to one of the youngest squads in the competition, the two-time champions came into the 2017/18 season with a completely reconstructed squad and different priorities.
Blessed with an impressive amount of talent is their youth, the Podgorica-based team kick-started an exciting and ambitious project this season. But working with youth is a long and often unpredictable process. While it is never easy staying competitive in times of change, the season is going well so far for the new-look Buducnost.
"I'm not too concerned about the results right now, as long as we can grow - both individually and as a whole.
"If you want to move forward, there is always going to be a lot of work ahead. For us, it is the only way," says the long-serving Buducnost coach Dragan Adzic, going through his eighth season at the helm of Podgorica-based team.
However, Buducnost youngsters are not bereft of any ambition, having gone past the group matches of the Women's EHF Champions League for ninth consecutive season.
Undefeated at home, and with six points in their main round group, a quarter-final berth is also on the cards for this young team, as the far-sighted tactician Adzic shares his thoughts, plans and vision, revealing the project of new Buducnost for the readers of ehfCL.com
How happy are you with the team's level of performance at this point, in comparison to the beginning of the season?
Dragan Adzic: We had to make big changes last season, in accordance to our long-term strategy, and the team responded well.
Looking back at August, and the beginning of the season, there are signs of great progress, both individually and as a team.
Every day there is a new and important breakthrough for us, and I am very happy that everything is going according to plan.
Regarding match performance, we are currently experiencing some difficulties with the line player position. Ema Ramusovic will be sidelined until the end of the season, and her absence will be felt in attack, as well as at the core of out defence.
However, competitive ambitions are simply not our highest priority this season. I understand people will always expect a lot from Buducnost, as they should, but need a little bit of patience at this point. The team is firmly focused on improvement and growing from each match.
Can you tell us more about the project of making the new Buducnost, as well as your long-term strategy and goals?
Dragan Adzic: The project is based around the four-year period, having begun with the latest Olympic cycle. In a nutshell, I want this team to reach optimum performance by the 2020 Olympic Games.
We needed to move forward, and improve our levels of work. We have come to a conclusion the cycle is complete, and it was the right time for our generation of players born in 1996 and younger to take over.
Our strategy is to make the young, homegrown players the pillars of the team for time to come. Our job is to provide them with quality work and match experience in the following two seasons.
This process is going to take time, and we will go at our own pace. Next season is going to be another step of the way. We will raise the bar, gauge the improvements, and a lot of things will become clearer, until we can set realistic expectations. We are working towards reaching the point when our players can reap the benefits of their hard work.
But it is not just me here. Our coaches Bojana Popovic, Marko Mrak, Novak Ristovic (as well as Vlatko Djonovic before him), are integral part of any success we are making together as a team.
The support of the more experienced players like Milena Raicevic also makes the whole process easier.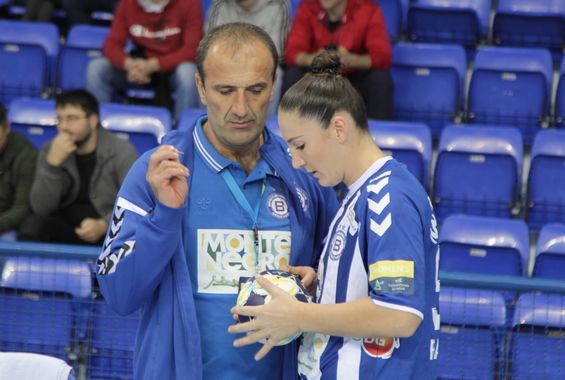 Where are Buducnost standing right now in realisation of that long-term strategy?
Dragan Adzic: This season, we chose to play with a smaller squad, so that everyone can make progress. I am not concerned about the results as much as with the performance, at this point.
I am also happy we have already fulfilled our goal for the season. The main round is where we wanted to be.
Our ambition now is to qualify for the quarter-finals, where we will be outsiders, regardless of the opposition. However, we will do our utmost to give the players ample game time and experience in the Champions League, which will serve them well going forward.
For some players, it will take longer than others, but they all have the quality to reach desired levels of performance, if they put in the work.
We could perhaps have a realistic talk about goals, expectations and results in two seasons' time.
Your signature playing style has stood out as one of the most authentic in women's handball over the past decade. However, this season has seen the evolution of the tried and true method. How much did the intake of young players influence the change?
Dragan Adzic: We are always looking for ways to improve and evolve. The youngsters have certainly inspired a lot of new ideas.
They are learning very fast, and this new squad gave us more options to explore.
The players we have now in the team require more variety in our game plan, and we still try to find what works best. For instance, the 6-0 defence is what we are known for, but, in out last match we predominately played 5-1, and with good results.
The ability to alternate game plans will give us a big advantage going forward. But we still need to stick to our basics.
We nurture our distinct playing style as part of our identity. We need to be ourselves and remain authentic in order to be competitive.
Meanwhile, several youngsters have already identified themselves as leaders of this new generation. The likes of Djurdjina Jaukovic and Itana Grbic stand out - are they successors of the legendary Bojana Popovic and Majda Mehmedovic?
Dragan Adzic: We have a lot of talent in our team, and I do not think anyone should be singled out.
However, I am glad to see them (Jaukovic and Grbic) well on their way to live up to their potential. They most certainly are worthy of being considered successors (to Bojana Popovic and Majda Mehmedovic).
Jaukovic has been the leader of her generation ever since the youth level, while Grbic is doing well for us, on her way to succeed Majda Mehmedovic on the left wing.
Both of them made good progress, becoming important players for the team.
These are still the early days, and there is a lot to learn; but they have a big role to play for Buducnost and Montenegro - both now and in the future.
Djurdjina Jaukovic and Itana Grbic are seen as key players in Dragan Adzic's new-look Buducnost side this season, but right now they are simply enjoying the #ehfcl ride!
Read more about the Buducnost team in transition here: https://t.co/5UAOmZFAms pic.twitter.com/WqdMyl5XBY

— EHF Champions League (@ehfcl) February 10, 2018
There is no strong Montenegro without a strong Buducnost. But how does Buducnost manage to extract such an impressive amount of talent from such a small pool of players?
Dragan Adzic: I agree with the above statement. It is what we do. We are predisposed for handball as a nation. We have all the genetic and morphological potential for the game. Being a small country, it is our responsibility to do whatever we can to put all the potential we have into good use.
We see Buducnost as a hub for domestic women's handball. We give a huge support for the domestic clubs, educate coaches, and provide quality work for the players of all categories.
The generations of players we selected over the year went through the youth ranks to make the core of Buducnost and the national team.
It is the foundation of everything we do as a club. We put a lot of effort into selection and work with the youth. Looking at the progress our players have made over the years, it makes us proud of what we have accomplished here.
It takes a lot of work, but in the end, it is a rewarding process.
Your seven-year tenure with Montenegro has ended last year. How much of an influence will it have on your work, developing young players at Buducnost?
Dragan Adzic: I do not think it makes any difference at all. We all do our best at our jobs, and make, what we consider the best decisions.
My mission for the past 18 years has been to develop Montenegrin handball, and as long as I am good at it, I will never stop.
The core of our team is homegrown, and Buducnost are always going to provide the vast majority of players for the national team.
I love my country, I am loyal to Montenegro, and the national team is always going to have all my support. I celebrate all their success, regardless of whether I am a coach or a fan.
Author: Nemanja Savic / cor