Craiova hopeful after 'miracle' season
"The miracle of Craiova." That is how the unforeseen success of SCM in last year's Women's EHF Cup was dubbed by Romanian media.

The team, regarded clear outsiders, shocked Norwegian champions Vipers Kristiansand in the two-leg final and set off a two-week celebration by ecstatic fans in the city centre. Several players and the staff were named honorary citizens of Craiova.

But that was four months ago. Now, Craiova face a whole new challenge: their first qualification tournament for the Women's EHF Champions League. The maths are easy: win two games and you write history for your country in Europe's top flight.

However, that is exactly where Craiova's challenge lies.
"We need to give 120% on the court"

The club had no easy summer with initially a lack of options to move on the transfer market. Six players left, including stalwart left wing Valentina Elisei and emerging goalkeeper Yuliya Dumanska, their hero from the final against Kristiansand.

Craiova still found six substitutions, including Bulgarian goalkeeper Ekaterina Dzhukeva, Croatian line player Andrea Seric and Macedonian right back Elena Gjeorgjievska.

"We are now operating at 50-60% of what we can do. We need at least eight to 10 games to become a proper team. We have to be better than what we did in the first round of the Romanian league and give 120% on the court," coach Bogdan Burcea said.

The team's hallmark is the same: an elite defensive unit

Irrespective of the six roster changes, the team's hallmark will stay the same: an elite defensive unit, capable to keep their opponents at bay. It worked wonders both in the Women's EHF Cup last season and in the Romanian league, where Craiova was the only team to beat CSM Bucuresti.

However, the strong defence lost both its goalkeeper, Yuliya Dumanska, and one of the best central defenders in Romania, Nicoleta Tudor. The time to integrate new players has been short and this could become a problem for the Romanian side.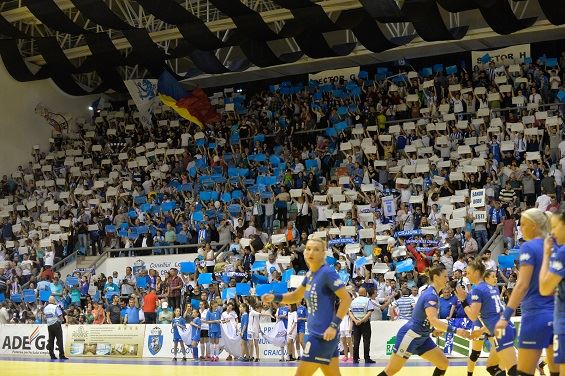 Another strength of the Romanian team has been their fans. Renowned for the passion and grit they put in while cheering their team, hundreds of them will flock to Croatia for the qualification tournament. Yet the electrifying atmosphere from the Craiova arena is impossible to replicate and Bogdan Burcea's team will need to focus better in crucial moments without the full support of 5,000 fans.

But in attack, Craiova persuaded coveted Florina Cristina Zamfir to stay, the second-best goal scorer of last season's EHF Cup competition, with 69 goals. Several teams were battling for her this summer.

Reaching the group matches would be no miracle anymore

First, Craiova will have to beat Serbian champions ZORK Jagodina on Saturday at 16:30 hrs local time (live on ehfTV.com). In the other match, hosts Podravka Koprivnica take on Muratpasa Belediyesi at 19:30 hrs local time (live on ehfTV.com). The two winners will face off for a ticket to the group matches of the Women's EHF Champions League 2018/19.

Despite the difficult summer, reaching the group matches would not be seen as a second miracle for Craiova.

"We are facing a big challenge, but I think we can win against Jagodina in the first game and then the final is anybody's to win," said Serbian defensive mainstay Jelena Trifunovic, who played for Podravka between 2013 and 2015.

The challenge is tough, but probably not as tough as winning a European Cup with a team that could not believe what was happening round after round.

And this time the ambitions are, of course, higher.

"If we manage to progress to the group matches, I promise I will take the team to the main round. I think we are strong enough and it would be a huge step forward for this team," Burcea said.
Author: Adrian Costeiu / ew