Noémi Háfra: "If not now, when?"
History repeats itself, they say. Well, there are certain similarities in this season's Women's EHF Champions League Quarter-finals compared to previous years, but Hungarian side FTC-Rail Cargo Hungaria are aiming to break the cycle which has seen them fall at the quarter-final stage in each of the last three seasons.
In 2018, they looked strong, but were swept aside in the second leg against Rostov-Don. Many things have changed in the past 12 months and that will be put to the test as 'Fradi' finished third in Group 2 of the main round to set up a quarter-final date with the Russian club once again.
If you cannot spot any differences, look again. For instance, FTC have the fourth best scorer of the competition so far in 20-year-old Noémi Háfra, who has a total of 66 goals in Europe this season.
The young left back is making a name for herself in Europe's top flight and speaks to ehfCL.com about her rapid rise this season and the upcoming challenges.
ehfCL.com: Quarter-finals again, Rostov-Don again. You start with a home game, then travel to Russia. Do you think last year's clash will affect the team in any way?
Noémi Háfra: It is funny, because I did not realise that we played against them until you said it. I do not think it left a deep scar in us. Rostov were really strong and they are the same this season, but we improved a lot. In the main round it was obvious that anyone can beat anyone. We will prepare for both legs and try to do our best.
ehfCL.com: What do you think of Rostov-Don and what will be the difference in the tie?
Noémi Háfra: There are no big differences at this level but for me the Russian side is the best in their group. The key will be our home game. If we can make it like a hell in Hungary, just like they did last year in Russia, we have a good chance. So the question is whether we can play as well at home as they can?
ehfCL.com: You were named among the 3 Stars of the last round. How does that make you feel?
Noémi Háfra: I am really proud, finally everything went well for me against Krim and I scored eight goals. But that is nowhere near my peak, I am far from a complete player yet. My form is not as balanced as I would expect, there are dips and turns and also my position on the court is changing. Defence became more important and this takes a lot of energy physically and mentally, but I am trying really hard to cope with all of my tasks.
ehfCL.com: Before the Quarter-finals, there is an international break where you got a call-up for Hungary. Does that affect your season or it is just business as usual?
Noémi Háfra: It is good to experience a bit of change in the conditions. With the national team we have different trainings with different faces. In June we face Austria in the World Championship qualifiers, so we have to prepare for that clash, but I try not to think too much ahead. Focus is on the short-term goals first and then everything else.
ehfCL.com: You play a more important role this year for both club and country, this means more playing time. Have you felt the physical effects?
Noémi Háfra: I feel that I am a bit more tired this year, I felt almost the same at this stage last season, but the Junior World Championship in the summer did not give me too much time to rest. Additionally, there are some injuries this season in the club, so everybody has to play more and this takes a lot out of us.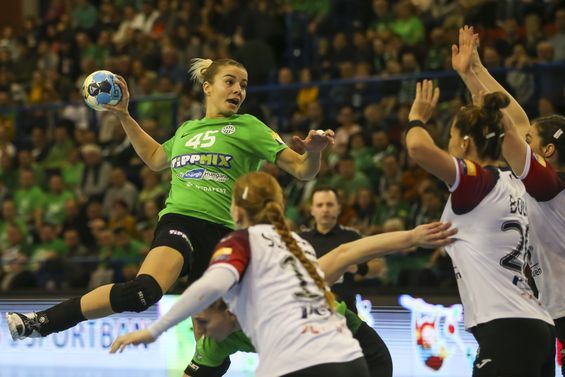 ehfCL.com: What was the key to staying unbeaten in the main round? Do you notice the difference compared to last year?
Noémi Háfra: Our squad is very young this season. Our attack is stronger than ever and I think that this is our main strength. Someone always stands out with a great performance. We must improve in defence and we did in the last couple of months. Our goalkeepers are doing an excellent job and we would not make it without them but I think our defence in general is also getting better and better.
ehfCL.com: Your coach, Gábor Elek trusts the young players, what is his role in this fine performance?
Noémi Háfra: Well, he just builds the team like that. This year was a big step for the youngsters and for me as well. I would say last season was about learning as much as possible. Luckily, I was able to find my rhythm and I am happy to be at this level today. Sometimes, I am my own biggest enemy, if something goes wrong at training or a match I always doubt myself, but I think that is what pushes me.
ehfCL.com: Can you imagine what it would be like to play in front of a home crowd at the DELO WOMEN'S EHF FINAL4?
Noémi Háfra: Simply fantastic. I feel that we can do it. Last year, we played the Hungarian cup final there and our fans were amazing, I want to experience it again. If not now, when? I am not stressed, I am not anxious, I just try do my very best in each game and each training and never give up, so hopefully we can make it this season.
Author: Bela Müller / cor