Bietigheim's star keeps rising
On their way to becoming a household name in European handball, SG BBM Bietigheim are trying to reach the Women's EHF Champions League Group Matches for a second straight season.

The runners-up from the German Bundesliga 2017/18 will need to win two matches at the qualification tournament in Lublin this weekend, firstly the semi-final against Super Amara Bera Bera of Spain on Saturday at 16:00 hrs (live on ehfTV.com).

Rapid rise to the top

Bietigheim have made a rapid rise to the top. In its current constellation, the club exists only since 2007 when SpVgg Bissingen joined TSV Bietigheim and TV Metterzimmern, who merged 10 years earlier. The club's chronology resembles a constant rise. Started in the national league, about 10 years later they had already made their way to the 2. Bundesliga. They finished fourth in 2012 before winning the league and being promoted to the Bundesliga the following year.

The arrival in 2014 of coach Martin Albertsen, who had won league and cup with HC Leipzig before, gave the team another boost. They won their maiden German championship in 2017 - without dropping a single point all season - and advanced to the Women's EHF Cup Final in the same year, their first season in any European Cup competition.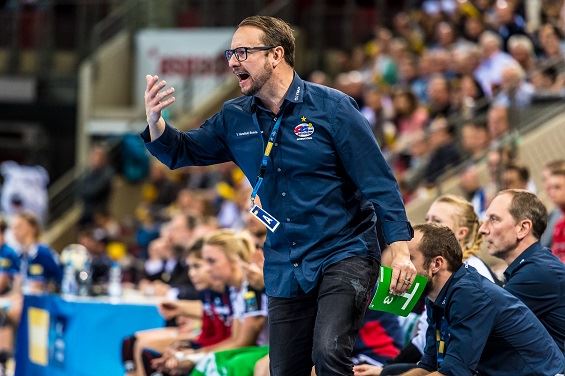 Bietigheim failed to defend their domestic title in the 2017/18 season, but impressed in Europe again as their maiden Women's EHF Champions League campaign only ended in the main round. Coach Albertsen meanwhile extended his contract until 2019, and the club's sport director, Gerit Winnen, said the coach "takes a significant part in this story of success of SG BBM Bietigheim Women these last years."

For Albertsen himself it is "so much fun to work with this team and this club" as they have had an excellent development in many departments.

Four new and three returned players

Bietigheim have started with four new and three returned players in the new season. Albertsen is especially pleased with Maura Visser's return, as the coach has called the Dutch player "maybe the very best back player in the tournament". Also, Bietigheim signed Dinah Eckerle, who left champions Thüringer HC to replace Dutch goalkeeper Tess Wester.

Also new is another Dutch player, right back Laura van der Heijden, who previously played in the Bundesliga for VfL Oldenburg. She has very clear goals regarding her time with Bietigheim: "We can achieve a lot with this team. I would love to play Champions League and win the German championship, that's the one missing on my list."

Coach Albertsen is satisfied with his team's preseason preparations, which should set them up for winning the qualification tournament in Poland this weekend. "We want to play Champions League, therefore we have to put in our best possible performance," Albertsen said. Bietigheim have to get past Bera Bera (a team which plays "extremely fast handball," according to Albertsen) in order to set up an all-deciding match against either hosts MKS Perla Lublin or Jomi Salerno.

Bietigheim could be just two matches away from adding a new chapter to the club's still short but already exciting history.
Author: Carina Schmidt / ew