Györ earn hard-fought win in Brest, Midtjylland upset Rostov
In their maiden season in the European top flight, Brest show no fear of powerhouses. A week ago, the French side fought hard in Rostov, and now they did their best to snatch points from Györ — but ultimately the title-holders won 26:23.
Meanwhile despite Rostov's ambitions in the EHF Champions League, the Russian team so far have not been impressive. Following their hard-fought opening home win against Brest, they were unable to claim any points in Denmark.
The teams met for the first time in EC club competitions
Györ have a 100% record after two matches
Brest played their first ever home game in the Champions League
Midtjylland earned a home victory against Rostov-Don for the second year
GROUP B
Brest Bretagne Handball (FRA) vs Györ Audi ETO KC (HUN) 23:26 (10:13)
Playing their debut home match in the European top flight, Brest hoped to upset the current title holders from Györ, and they showed a solid game despite losing.
The visitors enjoyed a better start and were in the lead by four goals after seven minutes. But the time-out taken by Laurent Bezeau had a beneficial effect on Brest, who went on to have an impressive 5:0 run during the next 11 minutes.
However, the trend was then totally reversed as Györ dominated for the next 10 minutes, moving the score from 7:6 to 11:7. Following that spell, their half-time edge (13:10) looked fully deserved.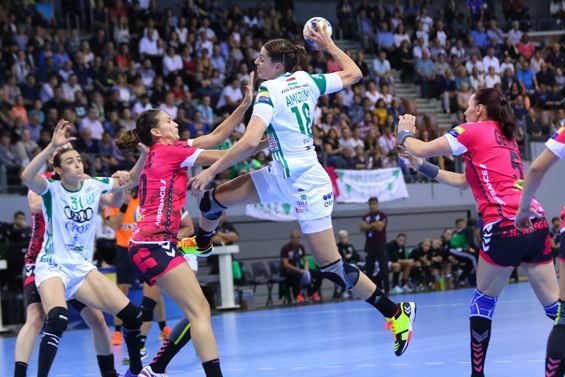 After the break, the hosts did not give up and had good patches. They drew level at 14:14 and kept the game tight for a while, but ultimately Györ's quality played a key role.
Five minutes from the final buzzer, the Hungarian team had a five-goal advantage and although Brest slashed the gap to 25:23 by the 58th minute, Györ did not panic and claimed another two points.
Györ head coach Ambros Martin said after the match: "We were warned about how Brest was playing at home and the level of their team. Brest pushed us into our limits and it was a very tough game.
"It is in any case important to have won this game. In difficult moments, we were able to calm down and do a good job," he added.
Brest head coach Laurent Bezeau congratulated Györ for their win.
"We knew it would be a very complicated game," he said. "We still lack experience to compete with a team like that. We had some very nice defensive sequences but the calmness of Györ made the difference."
FC Midtjylland (DEN) vs Rostov-Don (RUS) 24:21 (11:10)
The first half featured an extremely close game. Rostov tried to dominate on the court, but their attack lacked cohesion, and their leaders Katarina Bulatovic, Anna Vyakhireva and Alexandrina Cabral Barbosa did not show their best handball.
Midtjylland's goalkeeper Sabine Englert had a solid game, and her regular saves gave the home team a slight edge at half-time with a one-goal lead.
Early in the second half, Rostov seemed to improve. Their game became more dynamic, and at some point, the Russian side were 18:15 up.
Yet the hosts kept their successful experience from the past season in mind and fought hard. Supported by a lively home crowd, Midtjylland needed just a couple of minutes to draw level at 18:18, and they kept the momentum.
In the 59th minute, the hosts led 23:21, and their success became inevitable when Sabine Englert blocked Cabral Barbosa's shot 47 seconds from time.
Mie Augustesen then scored her fifth goal in the closing seconds, becoming joint top scorer of the game with her teammates Veronica Kristiansen and Tonje Loeseth.
Midtjylland assistant coach Mathias Madsen praised his team and the fans' support.
"We had a rough start in the second half, but we succeeded with several fast breaks and caught up with them thanks to great support from the spectators," he said. "Especially in the last 15 minutes the spectators put serious pressure on Rostov-Don. It definitely had an impact and was really nice to feel."
Author: Sergey Nikolaev/jh