20 nations on court; Vardar boast best statistics
Two former winners, last years' finalists and a debutant comprise the contestants for the Women's EHF FINAL4 in Budapest on May 12 and 13. According to the numbers, the four teams were clearly the best of the best in the Women's EHF Champions League this season. After defending champions Györ topped nearly all rankings in previous years, Vardar are the squad to do so this season.

Here are the main Facts and Figures before the semi-final pairings are drawn on Tuesday in Budapest:

0 times since the implementation of the VELUX EHF FINAL4 in Cologne (in 2010) to end the Men's Champions League season and the Women's EHF FINAL4 (in 2014) has any team defended its title. Györ are the most recent club to defend a Women's EHF Champions League title, winning the last trophy in the old format in 2013 and the first in the new setup in 2014. Now, they aim to be the first to defend a trophy won at the FINAL4.

0 nation is represented in the squad of every Women's EHF FINAL4 2018 team. Three of the four (apart from Györ) count on players from both France and Montenegro.

0 times since the implementation of the Women's EHF FINAL4 has a nation been represented by two clubs. The series continues this season.

1 person – Vardar's Irina Dibirova – can become the first women to win the Champions League as a player (2005 with Slagelse, 2008 with Zvezda) and as a coach. In the Men's EHF Champions League, Talant Dujshebaev has taken this record (1994 as a player for Santander; 2006, 2008 and 2009 as coach of Ciudad Real, and 2016 with Kielce).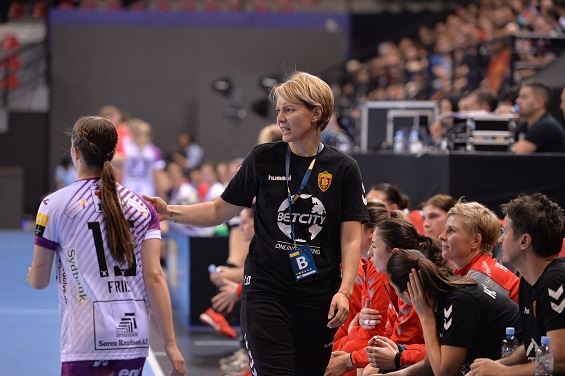 1 team – Vardar – have been part of all five FINAL4 tournaments, including the 2018 edition, but have never won the trophy.

1 team are debutants at the FINAL4: 2017 EHF Cup winners Rostov-Don have made their way into the top four for the first time.

1 EHF FINAL4 participant is aiming for her fifth individual Champions League trophy: Katarina Bulatovic won the title with Slagelse (2007), Buducnost (2012, 2015) and Györ (2014). This season, she is playing for Rostov-Don.

1 coach – Ambros Martin – will switch from one FINAL4 participant (Györ) to another after this season, as he will succeed Frederic Bougeant at Rostov-Don.

1 former Women's EHF Champions League winner – Buducnost – was eliminated in the 2017/18 quarter-finals.

1 FINAL4 participant – Bucuresti – (like in 2016/17) changed their coach during the season: Helle Thomsen took the helm at the start of the season, but was replaced by Per Johansson before the quarter-finals. Johansson was also CSM's interim coach at the EHF FINAL4 2017.

2 former or current Champions League winners made it to the FINAL4: Györ (2013, 2014, 2017) and Bucuresti (2016).

2 of the four EHF FINAL4 team coaches currently lead a national squad in parallel with their club responsibilities: Ambros Martin (Györ and Romania) and Per Johansson (Bucuresti and Montenegro).

3 FINAL4 participants won both quarter-final matches: Rostov (against FTC), Vardar (against Midtjylland) and Györ (against Buducnost).

3 times, CSM Bucuresti played in the Champions League, including the current season. Three times, they went all the way to Budapest.

3 of 100 matches in the Women's EHF Champions League 2017/18 season ended in a draw – all in main round Group I.

4 different nationalities are represented by the four FINAL4 coaches: Sweden (Bucuresti/Per Johansson), Spain (Györ/Ambros Martin), Russia (Vardar/Irina Dibirova) and France (Rostov/Frederic Bougeant).

4 current or former IHF World Handball Players of the Year will be on court at the EHF FINAL4 2018: Cristina Neagu (Buducnost/2010, 2015, 2016), Eduarda Amorim (Györ/2014), Andrea Lekic (Vardar/2013) and Anita Görbicz (Györ/2005).

5 top scorers of the six previous seasons will be on court in Budapest: Isabelle Gullden (2015/16: 108 goals for Bucuresti), Cristina Neagu (2014/15: 102 goals for Buducnost) and Andrea Penezic (2014/15: 102 goals for Vardar, 2016/17: 98 goals for Vardar), Anita Görbicz (2013/14: 87 goals for Györ and 2011/12: 133 goals for Györ) and Zsuzsanna Tomori (2012/13: 95 goals for FTC, now playing for Györ).

6 goals were the closest aggregate margin in the quarter-finals (Bucuresti vs Metz, 54:48).

8 multiple Women's EHF Champions League winners will be on court in Budapest. Five of them play for Györ.

8 different clubs from seven different nations have qualified for the five FINAL4 tournaments in Budapest: Vardar (five times), Buducnost (four), Györ (four), Bucuresti (three), FC Midtjylland, Larvik, Volgograd, Rostov (each one).

9 different nations have been represented by the 23 winners of the Women's EHF Champions League: Austria (four trophies), Croatia (one), Spain (one), Hungary (four), Slovenia (two), Macedonia (one), Denmark (six), Russia (one), Norway (one), Montenegro (two), Romania (one).

11 times (including 2018) in 12 years, Györ made it to at least the semi-finals of the Women's EHF Champions League. The three-time winners only missed the 2014/15 edition after being eliminated by Vardar in the quarter-finals. Vardar will play their fifth straight semi, Bucuresti their third, Rostov their first ever.

12 players that are part of the FINAL4 were on court for the 2016 Olympic final in Rio – seven victorious Russians from Rostov and Polina Kuznetsova (Vardar), and four French silver medallists: Alexandra Lacrabere, Amandine Leynaud (both Vardar), Camille Ayglon-Saurina and Gnonsiane Niombla (both Bucuresti).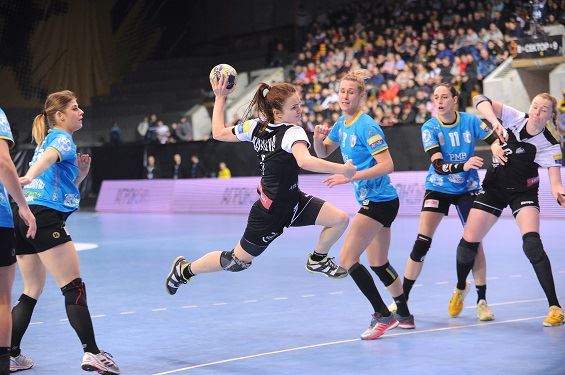 12 goals were the aggregate margin in the quarter-final Rostov vs FTC (63:51).

15 goals were scored by Swede Isabelle Gullden for Bucuresti in the 2016 final against Györ, earning her the single-match top scorer record in Women's EHF FINAL4 tournaments.

17 different nations were represented by the 22 clubs that were, or still are, part of the current Women's EHF Champions League season.

20 different nations are represented by the squads of the four FINAL4 participants: MKD, MNE, RUS, FRA, SLO, CRO, SRB, UKR, ESP, BRA, HUN, DEN, CZE, NOR, GER, NED, ROU, SWE, BLR, MNE.

23 of the 92 matches since the start of the group phase were attended by 3,000 fans or more, including five of the quarter-finals.

26 (of 28 possible) points in 14 matches were collected by Vardar to top this ranking.

57 times since the start of the group phase, the home side was victorious, compared to 32 away wins in those 92 matches.

+79 goals after 14 matches is Vardar's impressive goal difference.

105 goals were scored by Czech Iveta Luzumova (Thüringer HC) to place her on top of the current top scorer list. The highest scorer still in the competition is second-ranked Cristina Neagu (Bucuresti/101), who looks set to pass Luzumova at the FINAL4 and claim her second top scorer crown.

330 goals had been conceded by Rostov, making theirs the most effective defence of all four FINAL4 participants.

418 goals were scored by Vardar in 14 matches, making theirs the most effective attack of the four FINAL4 participants.

424 goals were scored in the eight quarter-final matches, which means an average of 53 per game. Last season, 438 goals were scored in the quarter-finals.

910 Champions League goals is the cumulative tally of Györ playmaker Anita Görbicz.

5,237 goals have been scored in the Women's EHF Champions League 2017/18 so far, which means an average of 52.3 in each of the 100 matches played so far. 429 goals (average of 53.6) were scored in the qualification, 2,481 (51.7) in the group matches, 1,903 (54,2) in the main round and 424 (53.0) in the quarter-finals. Last season, the record at the same point in the season was 5,524 goals.

9,709 fans in total saw the two quarter-finals between Metz and Bucuresti, in two sold-out arenas.

30,244 fans in total attended the eight quarter-final matches, which means an average of 3,780 spectators. Last season, 29,108 fans attended the eight quarter-final matches.

Top lists of the four Women's EHF FINAL4 participants:
Best attack after 14 matches each:
418 goals: Vardar
404 goals: Bucuresti
389 goals: Györ
384 goals: Rostov

Best defence after 14 matches each:
330 goals conceded: Rostov
339 goals conceded: Vardar
339 goals conceded: Bucuresti
343 goals conceded: Györ

Best goal difference after 14 matches each:
+79: Vardar
+65: Bucuresti
+54: Rostov
+46: Györ

Biggest number of points after 14 matches each:
26: Vardar 13 wins – 0 draw – 1 defeat
24: Györ 12 wins – 0 draw – 2 defeats
23: Rostov 11 wins – 1 draw – 2 defeats
19: Bucuresti 9 wins – 1 draw – 4 defeats

Number of different nations in official squad lists:
8: Bucuresti (ROU, FRA, NOR, CRO, SWE, DEN, BLR, MNE)
7: Vardar (MKD, MNE, RUS, FRA, SLO, CRO, SRB)
7: Györ (HUN, DEN, CZE, NOR, GER, NED, ESP)
6: Rostov (RUS, UKR, MNE, ESP, BRA, FRA)
Season records:

Top scorer:
105 goals: Iveta Luzumova (CZE/Thüringer HC)
101 goals: Cristina Neagu (ROU/Bucuresti)
91 goals: Veronica Kristiansen (NOR/Midtjylland)
82 goals: Andrea Penezic (CRO/Vardar)
76 goals: Johanna Westberg (SWE/Nykøbing)

Top scorer still in competition:
101 goals: Cristina Neagu (ROU/Bucuresti)
82 goals: Andrea Penezic (CRO/Vardar)
63 goals: Anna Vyakhireva (RUS/Rostov)
62 goals: Anita Görbicz (HUN/Györ)
59 goals: Isabelle Gullden (SWE/Bucuresti)
Author: Björn Pazen / cg