CSM take first main round win; stalemate with FTC helps Györ progress
CSM Bucuresti recovered after their toughest loss ever in the Women's EHF Champions League and earned their first win of the main round, 32:26, against RK Krim Mercator when round two began on Saturday evening.
The second match of the day saw title holders Györi Audi ETO KC become the first team to proceed to the quarter-final phase, as they cannot be passed by fifth-placed Krim or Thüringer HC. However, Györ's winning streak this season has been snapped. Though they could not close the game, FTC were in control most often and the final whistle of the Hungarian derby saw a 32:32 stalemate.
In Norway, Vipers Kristiansand earned their fifth victory in a row, as they disposed of Thüringer, 31:24.
CSM right wing Jovanka Radicevic plays an incredible second half, finishing the game versus Krim with 10 goals

Györ's 15-game winning streak in the top European competition is ended by their domestic rivals FTC

19-year-old Katrin Klujber has a breakthrough game for FTC, scoring seven goals

Vipers left back Jeanett Kristiansen enjoys a superb outing, with 10 goals, as she powers the Norwegian side past Thüringer
GROUP 2
CSM Bucuresti (ROU) vs RK Krim Mercator (SLO) 32:26 (16:11)
A win was of the utmost importance for CSM – for their quarter-final challenge, but also mentally – after their painful nine-goal defeat against Györ in the opening main round match. For three minutes, it looked like the Romanian powerhouse were not recovered from their woes, as Krim took an early 2:0 lead while CSM's offence struggled to find cohesion.
Yet experienced playmaker Andrea Lekic reclaimed control and inspired a 3:1 run for the Romanian side, who took their first lead, 6:5, after 12 minutes. Krim stayed close behind until the 20th minute, before their former player now with CSM, Elizabeth Omoregie, helped the hosts to a 6:2 partial that saw the Romanian team earn a convincing 16:11 lead.
It was a total Krim collapse at the start of the second half that helped CSM jump to a comfortable 21:13 lead, which proved to be unassailable. Right wing Jovanka Radicevic scored four of the hosts' first five goals in the second 30 minutes and Krim could only cut the gap to five goals. Ultimately, CSM were too strong and healed their wounds with a straightforward 32:26 victory.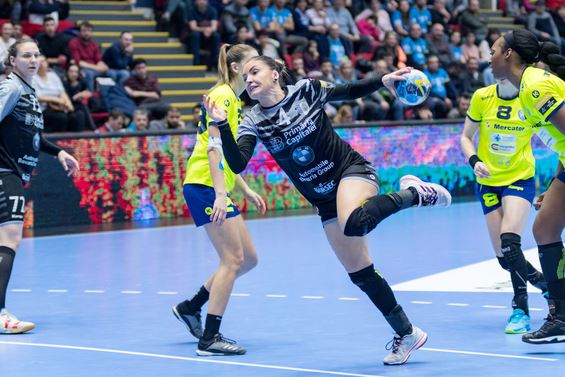 "It's very important that after losing against Györ, we stood up, we supported each other and we took two points. It was not easy. We had, in front of us, a young team and they showed from the beginning that in the future, they will be a really strong team," said Radicevic.
"In the end, I think the individual quality was on our side and that's why we won in this way. What's most important is that we kept a good atmosphere and we had our fans' support."
The Romanian side are now on eight points, with an away game against Thüringer on the cards next week. Krim, still in fifth with three points, will host FTC in a pivotal match for their future in the competition.
FTC-Rail Cargo Hungaria (HUN) vs Györi Audi ETO KC (HUN) 32:32 (16:15)
With two of the most effective attacks in the competition facing each other, there was always the chance of a high-octane game where the most efficient side would force its way to the win.
Surprisingly, it was FTC who started better. Hyper motivated by their raucous fans and a painful loss, 39:33, in the domestic league on January 2, the hosts went all-in to stop Györ's 100 per cent record in this season of the premium European competition.
"We played a fantastic match against the world's best team. I am really very proud. We had the chance to win, especially if we would have had one more healthy player, but it is fantastic even with this result," said FTC coach Gabor Elek after the match. "We are always working for this, to experience matches like this, in such a wonderful atmosphere. A really good game, with great pace."
It was an almost flawless first 20 minutes for coach Elek's side, who were behind for only 90 seconds, when Györ took two intermittent leads thanks to Stine Oftedal and Anne Mette Hansen.
With a collective effort, rather than an outburst from Aniko Kovacsics or Nerea Pena as might be usual, FTC jumped to an impressive 15:11 lead. But Györ came back with a 4:1 run to end the half and the hosts could only boast a one-goal difference after 30 minutes, 16:15.
Another impressive start brought back FTC to a four-goal lead, 22:18, yet there was nothing that could stop Györ from protecting their unbeaten streak. The back court ran at full steam, with Hansen and Nycke Groot combining for 13 goals, and the title holders managed to tie the game, 26:26, with 10 minutes to go.
The two Hungarian sides continued to trade goals, with a superb effort from 19-year-old back Katrin Klujber, who scored seven for FTC. However, it was not enough. Györ's 15-game winning streak was stopped, though the title holders managed to preserve their unique unbeaten status in the competition, as they held FTC to a 32:32 draw.
Györ secured their quarter-final berth with this draw, as they hold the tiebreaker over fifth-placed Krim. FTC are still fourth, with five points; three behind CSM.
"I think with reaching that one point we did the most that was possible today. Mainly, in the first half, Ferencvaros played in amazing rhythm and we could not score goals; we missed a lot of chances," said Gyor coach Gabor Danyi. "It was hard because we have not met with a situation like this before, where we have to run towards the result. But after all, I am satisfied with the game."
Vipers Kristiansand (NOR) vs Thüringer HC (GER) 31:24 (16:12)
It was definitely not the start Vipers envisioned when designing the game plan, as the German side took an impressive 6:2 lead after 10 minutes. With Iveta Luzumova and Emily Bölk in fine form, the guests continued to lead the way, but when Vipers started to deploy a better defence, the situation changed.
A 4:0 run spurred by playmaker Marta Tomac turned the game on its head, as Thüringer HC failed to find the proper solutions in attack. The visitors' efficiency dropped, as they scored only three times in the last 13 minutes, allowing the hosts to create a commanding 16:12 lead at the break.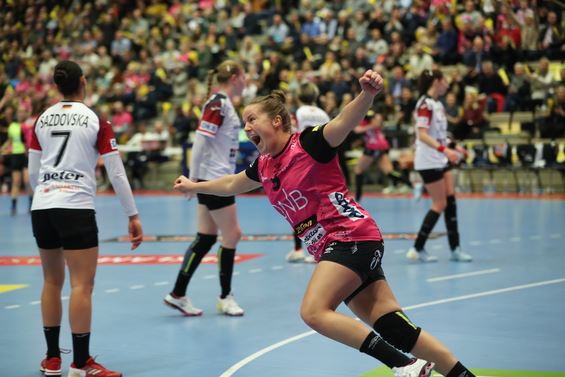 Yet it was no walk in the park for Vipers, as 20-year-old left back Emily Bölk proved to be an unstoppable force through the opening of the second half. She singlehandedly helped her side come back to a two-goal deficit, 18:16.
However, the experience and depth were enough for Vipers to close the game in the dying minutes.
Left back Jeanett Kristiansen had the best Champions League game in her career, scoring 10 goals. Fellow backs Tomac and Linn Sulland combined for 10 goals, as Vipers cruised to a 31:24 win.
With the victory, Vipers retain second place, level with CSM Bucuresti on eight points. An important clash against Györ is looming, while Thüringer HC's chances to proceed to the quarter-finals are slimmer game by game, as they are last with only a single-point tally.
Author: Adrian Costeiu / cg