CSM power past THC to earn quarter-final berth
CSM secured their fourth Women's EHF Champions League Quarter-final berth in a row on Sunday, following a dominating performance against Thüringer HC, 38:30.

The Romanian side climbed to the second place in Group 2 with 10 points, two points ahead of Vipers, as their home clash with Györ is looming.
Jovanka Radicevic scored 13 goals for CSM, a week after netting 10 times against Krim

CSM qualified for the Women's EHF FINAL 4 in each of the last three seasons

THC have been left with a must-win game against FTC
GROUP 2

Thüringer HC (GER) vs CSM Bucuresti (ROU) 30:38 (12:17)

A win against Thüringer HC would be enough to seal safe passage to the quarter-final phase for CSM Bucuresti - and that is just what the Romanian side got.
"It was a great and deserved victory for my team against the weakened team of Thüringer HC," CSM coach Dragan Djukic said. "We had to earn points today to get closer to our goal, the EHF FINAL4."

Yet the struggling Romanian champions were not the clear favourites against a German side playing for their lives, with Majda Mehmedovic, Cristina Neagu and Amanda Kurtovic all out injured. However, THC had their own share of troubles regarding injuries, as coach Herbert Müller could only count on 11 players for this game.

But the German side deployed an effective and aggressive 5-1 defence to start the game, as CSM found themselves waiting four minutes for their first goal of the game.

Slowly, but surely, CSM took control of the game, relying heavily on their two wings, Jovanka Radicevic and Iulia Curea, who scored five of the Romanian side's first six goals, as the guests took the lead for the first time, 6:5.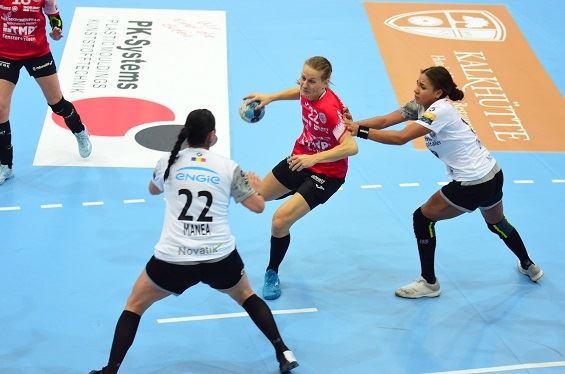 As Jelena Grubisic started to rack up saves for CSM, their line player and defensive lynchpin Dragana Cvijic earned her second suspension after only 14 minutes. But in attack, Jovanka Radicevic continued her superb form, scoring seven times in the first half, after scoring 10 goals in the win against Krim last week.

Therefore, it was no surprise that CSM jumped to a healthy 12:8 lead, and following a 3:0 run from the hosts, Radicevic scored another pair of goals to put CSM firmly in front at the break, 17:12.

With their weakened squad, the hosts had little chance to come back and CSM ran took their chances in defence and converted the fast breaks to seal a 38:30 win.

"CSM have won deservedly. We had a very bad defence today. They went past us like a Mercedes overtakes a Trabant," THC coach Herbert Müller said. "Scoring 30 goals against Bucuresti is OK and with a bit tighter defence, their win wouldn't have been seen so clear."

CSM are now second in the group, with 10 points, as they will face Györ in two weeks' time in Bucharest. Thüringer HC will be out of contention for a quarter-final berth if they lose against FTC next round.
Author: Adrian Costeiu / ew