Nantes take impressive win in Hungary
Nantes confirmed their status as a well-performing newcomer to Group A of the VELUX EHF Champions League with yet another fine display and victory, 33:30 at Wisla Plock. The win puts Nantes third in the group, four points behind Vardar, who looked in complete control in their 29:23 win over Zagreb.
In a match between two teams seeking their first win, IFK Kristianstad edged Wisla Plock 25:24.
Victory leaves Nantes in fourth place with nine points

Vardar produce another solid performance to maintain unbeaten run

Kristianstad keep hopes to advance alive with first win
GROUP A:
MOL-Pick Szeged (HUN) vs HBC Nantes (FRA) 30:33 (15:17)
Nantes continued their impressive debut season in the VELUX EHF Champions League upper tier with a flawless win on one of the most difficult away courts in Europe, having dominated their electrifying contest with Szeged.
The result left Nantes fourth in the section on nine points from seven games, two ahead of their more illustrious rivals Szeged whose vociferous home fans were left stunned by the French team's high-quality display.
The match got off to a balanced start as Sergei Gorbok stood out for Szeged while Senjanin Buric pulled the strings for Nantes, scoring three of the French side's opening four goals.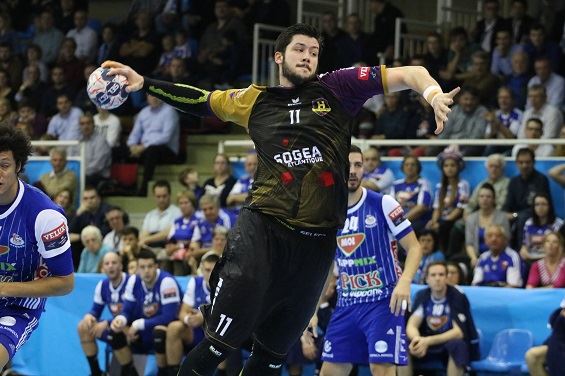 When Spaniard Eduardo Gurbindo Martinez joined the party for the visitors, Nantes pulled away to 9:6 halfway through the first half and firmly stayed in the driving seat.
The duo had racked up four goals each by the stage Nantes increased their lead to 15:11, before the home side roared back in the last 10 minutes of the opening period and slashed the deficit.
Nantes bounced back and engineered a 23:19 advantage early in the second half as Gurbindo got a helping hand from Hungarian Rudolf Faluvegi, who was in lethal form against his compatriots and scored seven goals by this stage of the contest.
Szeged struggled to match the French side's pace in attack and also found it difficult to break them down at the other end of the court, although they worked hard to stay afloat.
A wide range of scorers enabled Nantes to maintain their advantage, although Szeged showed plenty of fighting spirit to stay barely within touching distance (24:29) as the home straight beckoned.
It was clear, however, that the home side did not have enough left in the tank to turn the match around as goals were raining in all from all angles for Nantes, who showed no signs of letting up.
The visitors had 11 different scorers, led by Faluvegi who finished with seven goals while Buric added six and Gurbindo chipped in with five. Zsolt Balogh was Szeged's top scorer with six goals.
IFK Kristianstad (SWE) vs Orlen Wisla Plock (POL) 25:24 (15:10)
IFK Kristianstad rekindled their hopes of reaching the knockout rounds of Europe's elite club competition after a fast-paced performance gave the Swedish club their first VELUX EHF Champions League win of the season.
IFK prevailed in a rollercoaster as the group's bottom half dogfight thrilled from start to finish, with the home side leaping off the foot of the table into sixth position after coming out on top.
The outcome left Wisla propping the eight-team section with just one point from seven games halfway through the campaign, presenting a mountain to climb if they are to avoid an early exit.
The home side kept increasing the tempo in the first half and built their five-goal lead by exploiting every inch of space, allowing them to mount sharp counterattacks with a quick transition of the ball.
In the second half, a ferocious battle ensued as Wisla kept nosing ahead thanks to several long-range thunderbolts by Portuguese back Gilberto Duarte, allowing the visitors to take a 22:21 advantage into the last 10 minutes.
The home side then forced the final twist with four unreplied goals in quick succession, setting the tone for an inspired IFK finish after their goalkeeper Leo Larsson pulled of several superb saves.
HC PPD Zagreb (CRO) vs HC Vardar (MKD) 23:29 (10:15)
Reigning champions Vardar celebrated another convincing victory, beating regional rivals Zagreb emphatically to stay firmly in the group's driving seat halfway through the group phase.
It was an expectably lop-sided contest as the Macedonian giants raced away into a 10:5 lead, with Vuko Borozan and Ivan Cupic netting three goals each for the visitors in the opening exchanges.
Cupic was inspired against his Croatian compatriots and the towering Borozan was impeccable from long range, while Zagreb struggled to find solutions against Vardar's rugged defence at the other end. The visitors gave Zagreb no breathing space in the opening 20 minutes and kept going at full throttle, with Borozan rifling in long-range efforts almost at will.
Steadier defending enabled Zagreb to hold their own in the opening period's home stretch as they trailed 8:13 with five minutes left, but Vardar goalkeeper Arpad Sterbik foiled the Croatian side from cutting the deficit as he produced a string of majestic saves.
Jorge Maqueda snapped Vardar's six-minute scoreless streak with a pair of quick goals which handed the visitors a 15:9 advantage before Mario Vuglac scored on the buzzer for Zagreb, who were roared on by their perennially passionate crowd.
The pattern remained unchanged early in the second half as Vardar surged ahead 20:13, with Zagreb committing several costly turnovers which handed the visitors a barrage of fast breaks. Sterbik continued to frustrate Zagreb with his incredible athleticism between the posts, picking off sitters like cherries much to the delight of his team mates.
"We showed great quality, simply everything turned out to be right tonight, mostly due to amazing Arpad Sterbik and our defense," said Vardar's Igor Karacic.
It was plain sailing as Vardar maintained cruise control in the second period, stepping up a gear whenever Zagreb gave themselves a glimmer of hope of clawing their way back into the match. Cupic finished as the Macedonian outfit's top scorer with a perfect ratio of seven goals from as many shots, while Stipe Mandalinic led Zagreb with six from 12 attempts.
Author: Zoran Milosavljevic / ew, cor