Scandinavian derby will bring the answers
The battle for the play-off spots is heating up in Groups C and D of the VELUX EHF Champions League.
The Scandinavian derby between Skjern and Elverum could either complicate or simplify the math in Group C.
The Danish side are currently in the lead but face a hectic schedule which could see them land in trouble if they lose on Sunday.
In Group D, Montpellier are already through and they would secure the first place with an eighth straight win, which would be a record, against Chekhovskie Medvedi.
The battle for the second place could be over, too, if Motor win against Sporting CP.
Skjern have won their three home games by an average 9.6 goals

An Elverum win would create a four-team deadlock on the top of Group C

Motor have progressed to the play-offs in the last two seasons
GROUP C
Skjern Handbold (DEN) vs Elverum Håndball (NOR)
Sunday 19 November, 17:50 hrs local time, live on ehfTV.com
A loss would damage Elverum's chances of progression as the Norwegian side must keep up with the leading trio in the group.
Skjern have proven to be a powerhouse on their home court, after brushing off opponents by an average of 9.6 goals per game in the Skjern Bank Arena, the biggest average in the whole VELUX EHF Champions League.
It will be a question of how Elverum will succeed in stopping the powerful Skjern attack, which is the most productive in the first seven rounds, even outscoring PSG by eight goals.
After a three-match losing streak in October, Skjern have bounced back admirably and are now on a four-win streak in all competitions, tying GOG and Bjerringbro-Silkeborg on the top of the Danish League rankings.
A win is important for Skjern, who have the toughest schedule, as they prepare to face Leon and Velenje, direct opponents for a play-off berth, in the last two rounds.
On the other hand, Elverum disposed Kadetten last week in what proved to be an easy win for the Norwegian champions, who are now in a must-win situation.
The guests hope left wing Andre Lindboe will pick up where he left off against Kadetten, as his excellent game has made him the VELUX EHF Champions League Player of the Round last week.
The two sides met already in Norway in Round 2, with Skjern taking an easy 32:27 win after a commanding performance.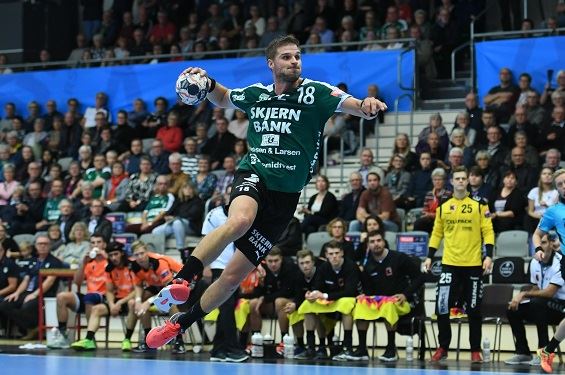 Midweek results from Group C:
Kadetten Schaffhausen (SUI) vs Abanca Ademar Leon (SPA) 23:24 (10:15)
Match report
Rk Gorenje Velenje (SLO) vs Dinamo Bucuresti (ROU) 33:29 (17:15)
Match report
GROUP D
HC Motor Zaporozhye (UKR) vs Sporting CP (POR)
Saturday 18 November, 18:00 hrs local time, live on ehfTV.com
As Montpellier are heading to an unprecedented 10-game winning streak in a group, the race for the second place is still open - but could over by Saturday evening.
If Motor win against Sporting, the Ukrainian side are through to the play-off phase for the third year in a row.
The two sides already met in Portugal in Round 2, with Motor coming off with an impeccable 31:23 win which could help the Ukrainian side if the two teams would end up in a tie.
Chances are, however, that the Ukrainian team will continue to protect their home court, where they have two wins and only one draw in three games.
However, Sporting impressed in their three away games, with a debut win against Besiktas (30:26), and two narrow one-goal losses against Montpellier (33:32) and Metalurg (28:27).
"We must not think about the math in the group. We need to be ready for the game and play at 100 percent. If we manage this, we will win and we will not think about the ranking anymore," Motor coach Patryk Rombel said.
The 34-year old Polish coach hopes that right wing Artem Kozakevych, who has scored 25 goals so far this season, will be ready to play after he missed the draw against Medvedi last week. Left back Evgeniy Buinenko is also doubtful.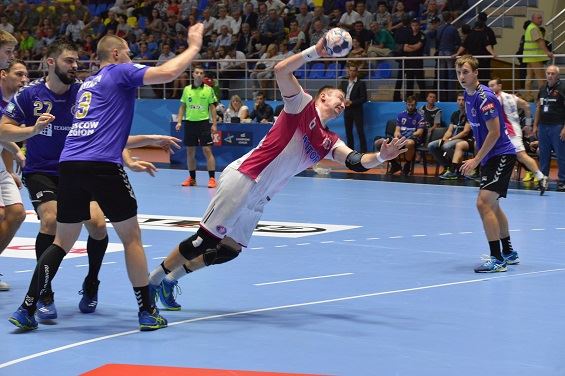 Other matches in Group D:
Besiktas Mogaz HT (TUR) vs HC Metalurg (MKD)
Saturday 18 November, 16:00 hrs local time, live on ehfTV.com
Montpellier HB (FRA) vs Chekhovskie Medvedi (RUS)
Sunday 19 November, 20:00 hrs local time, live on ehfTV.com
Author: Adrian Costeiu / ew