Scandinavian teams dreaming big
Scandinavian success in the Europe's top flight has usually been synonymous with Danish success in the past.
In the 2001/02 season, KIF Kolding reached the semi-final, and in 2011/12, AG Kobenhavn copied their achievement by qualifying for the VELUX EHF FINAL4 and finishing third.
In recent years, the Last 16 had usually been the end for Scandinavian teams, like last year, when Bjerringbro-Silkeborg reached that round.
This season, however, Swedish champions IFK Kristianstad seem to have the greatest chances to clinch a Last 16 berth, but in fact, three Scandinavian teams still have the chance in a season, which has been particularly good for Scandinavian handball so far.
Kristianstad – the talent factory
IFK Kristianstad are in the VELUX EHF Champions League for the third year in a row and the third time in history.
In their first two attempts, they did not make it from the group phase, although they were close on both occasions.
After their impressive 33:32 win at home against MOL-Pick Szeged last Sunday, however, their chances appear to be bigger than ever.
Kristianstad are currently sixth and sit on the last ticket to the Last 16.
Furthermore, however, they are two points ahead of HC Zagreb, who finally picked up a victory on Wednesday night at home to Rhein-Neckar Löwen.
The secret behind Kristianstad's success is great work in developing new talents and the great coaching qualities by former Swedish international Ola Lindgren, one of the legendary "Bengan Boys" of the 1990s.
Every year, IFK have to see some of their best players leave for foreign clubs, mainly in the Bundesliga, but Danish clubs have also been known for taking the greatest talents in Sweden.
The latest example is right back Albin Lagergren who scored 12 goals against Szeged on Sunday.
Lagergren will be leaving for Bundesliga club SC Magdeburg next season.
Still, IFK and Lindgren manage to come up with a competitive team year after year.
This season, the team from southern Sweden even have an outfit that may make it to the knockout rounds for the first time.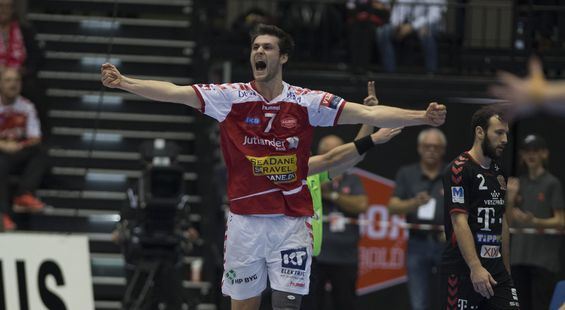 Aalborg - unimpressed Danes
On Sunday, Aalborg Handbold finally pulled off the surprise they have been striving for throughout the group phase.
In none of their away close away games against THW Kiel, SG Flensburg-Handewitt and PGE Vive Kielce were the Danish champions able to hold on to their lead until the end. However, at home against Telekom Veszprém HC, they finally succeeded.
Missing four players due to injury, Aalborg still managed to stun the Hungarian favourites by sticking to a seven against six attack in perfect combination with great fighting spirit.
The Aalborg players appeared unimpressed by the stars they were up against, and this approach has been characteristic for the Danish team this season.
Unlike Kristianstad, Aalborg are no strangers to the knockout stages of the competition.
In the 2013/14 season and the following year they reached the Last 16, but their chances may not be as good as the Swedish club this time.
Aalborg may only be one point behind RK Celje Pivovarna Lasko and HC Meshkov Brest who are sixth and seventh, but they are meeting both rivals away from home during the remaining five rounds of the group phase.
Skjern - a team with potential
In Group C, Skjern Handbold are already certain of progressing, but in their case, they will be in the play-offs for the Last 16.
However, the "group final" at home against Rk Gorenje Velenje on Sunday afternoon will decide whether Skjern win the group, which will mean that they meet HC Motor Zaporozhye and secure a home second leg.
A defeat will mean a meeting with Montpellier HB, who may be a more unpleasant task for the team from the far west of Denmark.
However, Skjern have a team with a lot of potential and an obviously ideal combination of experienced players and young talents.
Returnee left wing Anders Eggert, right back Kasper Søndergaard and Norwegian line player Bjarte Myrhol represent the experience, while 20-year-old rising star Emil Nielsen in goal and 23-year-old Swedish playmaker Jesper Konradsson represent the talented youth.
Skjern have a team which can go far, if not this season, then next time around, when Flensburg playmaker Thomas Mogensen and Norwegian right back Eivind Tangen join the club.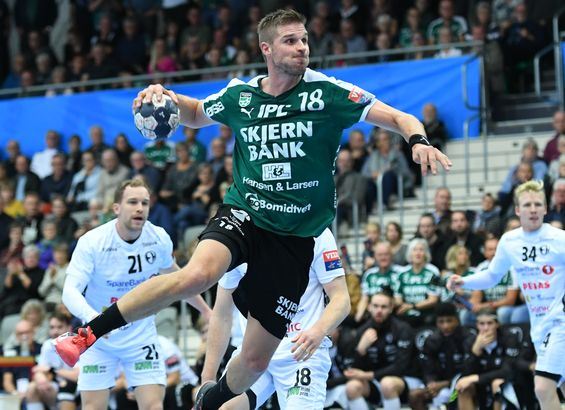 Elverum - beat their own record
Norwegian champions Elverum HH cannot proceed from the group phase anymore, but they were in the race until the penultimate round.
A home win against Abanca Ademar Leon Sunday will mean that Elverum finish third in Group C.
This will be their best result in the three years in succession they have been in the competition and having achieved 10 points so far, they have already beaten their own record of points achieved in a campaign.
A young and renewed Elverum team has surpassed the expectations of most experts and fans.
A Scandinavian success
With Elverum being the only team out of the four Scandinavian clubs in the Champions League who can no longer proceed, but who will still be going out on a high, the Scandinavian adventure this season already looks like a success, and success will be guaranteed if three teams make it to the Last 16.
The Scandinavians can allow themselves to dream big.
Author: Peter Bruun / cor