Hannah goes on a handball journey
As the VELUX EHF Champions League approaches its climax in Cologne, it is a fitting time to introduce the people who will guide the fans through the VELUX EHF FINAL4 at the LANXESS arena on 26/27 May.
Welcome, Hannah Jackson!
The British presenter hosted last year's premiere of the 'European Handball goes Tech' event in Cologne and also presented this season's group phase draw last June in Ljubljana, but the match experience will be brand new for Hannah.
She will have a very special role at the VELUX EHF FINAL4 2018, bringing to you exclusive behind-the-scenes content to fans in the arena and at home.
As the event will be a big challenge for Hannah and her handball knowledge, she is taking her preparation seriously and will visit several matches over the next weeks to discover what handball and the VELUX EHF Champions League are all about.
Do you know who @hannahrjacko is? 🤷‍♀️
Find out more in https://t.co/J795yc2cnq
Welcome to the handball family! #veluxehfcl pic.twitter.com/plgDQ4HFBp

— EHF Champions League (@ehfcl) March 29, 2018
She is bound to get a first-hand experience already this Saturday during Match of the Week in Veszprem where she will meet arguably one of the most devoted handball fan community in Europe as Telekom Veszprém take on Skjern Handbold. This will be followed already on the next day by a visit of Szeged, where another ferocious and loyal Hungarian fan group awaits THW Kiel.
Hannah will be accompanied by long-standing VELUX EHF FINAL4 presenter Markus Floth. The duo will provide all fans with a wide and colourful coverage of these travels not only near-live over the weekend, but also during the non-competition days with special features.
Insights into their travels can be seen on Twitter, Instagram and Snapchat as well as on ehfTV. Make sure you follow them!
Markus and Hannah will pop into downtowns, meet the fans before the match and will enjoy the matches with them in order to feel the emotions that handball conveys.
The fans are heartily encouraged to approach them anytime they bump into them and explain Hannah and Markus why handball and the VELUX EHF Champions League in particular are so special for them.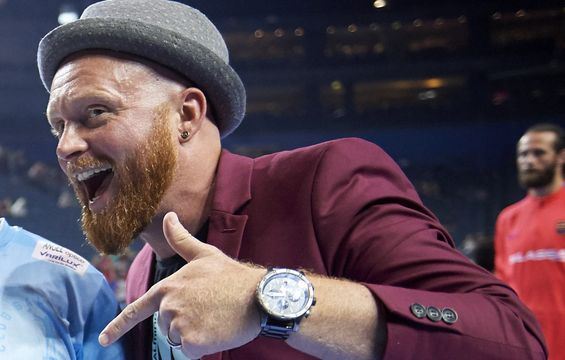 Photo: Markus Floth at the VELUX EHF FINAL4 2017 in Cologne.
Author: EHF / br / ts