Leon's 'Artist' wants more battles
When Wacker Thun and Dinamo Bucuresti throw off their final Group D match on Thursday at 20:00 hrs (live on ehfTV.com), Juanin Garcia will be coaching his under-16 team. With his fingers crossed and an eye on his mobile phone to follow what is happening in Switzerland.

This match will decide about Abanca Ademar Leon's chances to advance to the VELUX EHF Champions League Group Phase Knockout. Of course, Garcia will pray for a Wacker Thun win, for a Dinamo Bucuresti defeat.

"For Ademar, it's a big achievement to play the EHF Champions League, but it's a small goal to repeat what we did last season: going to the play-off and having the chance to enjoy it," says Garcia, at 41 an institution of Spanish handball.

Last season, Ademar had their fate in their own hands in the final round of the group phase. They advanced to the play-off, where they were eliminated by eventual champions Montpellier HB.

Stronger group and harder fight

Garcia says Leon have a stronger group this season and there is a harder fight. But he would really like to arrive at the Palacio de los Deportes for the match against Elverum Handball on Saturday at 20:00 hrs (live on ehfTV.com) with all options open.

That will only be the case if Dinamo, who are leading Leon by one point, get beaten in Switzerland. And that would be a major upset, as Thun have never won a match in the VELUX EHF Champions League match in 19 attempts.

Even a draw in that match would end Leon's hopes as Dinamo have the better head-to-head results against the Spanish side.

"Even if Bucuresti lose this Thursday, it's not going to be easy," Garcia says. "Elverum still have chances for the play-off and they have enough with a draw as they have one point more than us in the standings. But we will give everything on the court and we will have our fans cheering for us."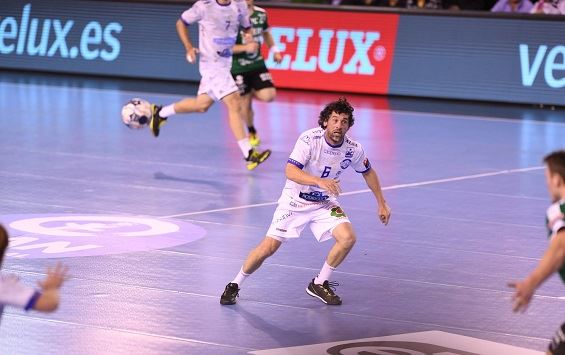 After three years of absence, Abanca Ademar Leon returned to VELUX EHF Champions League last season after ousting Logroño-La Rioja from the second position in the ASOBAL League.

"Going back to the best European competition is great for the club, the players and the city. For first time in club history, Ademar have been runners-up of the ASOBAL League for two years in a row. Being second in Spain is like being winners, Barça Lassa are unstoppable and far ahead of the other teams," says Garcia, who played in Barcelona for nine seasons (2005-2014).

On the other hand, playing in the VELUX EHF Champions League is physically tough and can affect performances in the domestic competition.

"It's true we're in Group D and we're not playing against the best teams in Europe, but it's still the Champions League: with the anthem, with the blue court," Garcia says. "The pressure is totally different compared with Barça, but Champions League games are always special."

41 years but he remains an 'Artist'

Garcia is known as the 'Artist'. It's easy to know why: he is playing his 24th season in the ASOBAL League, he has played 206 games with the Spanish national team and he holds two records which will be hard to beat: he is the all-time top scorer of the ASOBAL League with 2,640 goals, and of the national team with 822 goals.

Also, he has won five ASOBAL League titles, one VELUX EHF Champions League title (with Barcelona, in 2011), a gold (2005) and a bronze medal (2011) at World Championships, a silver medal at the EHF EURO 2006 and a silver medal at the 2008 Olympic Games.

"When I started, I couldn't imagine playing for so long, but I still have motivation and I feel fit enough to continue," Garcia says. "At the moment, I haven't decided yet what I'm going to do in the future. I will likely play another season, but it will depend on the circumstances, on what happens in the next months. Of course, my body knows I'm 41 years old."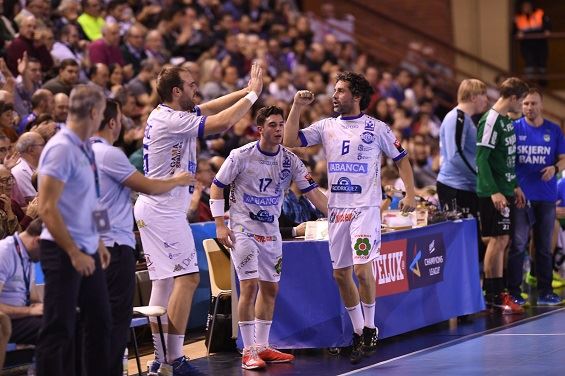 Born in Leon, the opportunity to play for his team is an extra motivation: "I'm lucky to play with my team. Maybe if I were playing for another team, I could easily have retired some years ago."

Garcia made his debut at the top level in 1995/96 with Ademar under coach Manolo Cadenas. He returned to the club in the summer of 2016, after nine years in Barcelona (2005-2014) and one in Logroño (2014/15).

The left wing missed the start of the season due to injury. But now he is fine again, and he is trying to help the team as much as he can. Last week, he was Leon's best scorer at Palau Blaugrana with seven goals.

He might be 41, but Garcia is still an 'Artist.' An artist who still wants more battles.
Author: Laia Coll / ew