Vardar move into second place with crucial win
In the battle for second position in the Group A, Macedonian powerhouse Vardar hosted Kielce in their last VELUX EHF Champions League match ahead of the winter break. The clash was everything expected between the old acquaintances and the home side won in front of their home crowd 28:27 to take second position. Elsewhere in Group A, Rhein-Neckar Löwen ended a two-match losing streak by defeating IFK Kristianstad 32:27 in Sweden.
With this victory, the Macedonian champions took second position in Group A
After six matches, Vardar finally won in the VELUX EHF Champions League
Andre Schmid scored ten goals for the Lions
Valter Chrintz was Kristianstad's top scorer with six goals
Group A
HC Vardar (MKD) vs PGE Vive Kielce (POL) 28:27 (14:11)
Prior to Saturday night's VELUX EHF Champions League match, Vardar and Kielce met back in October, when Kielce halted Vardar's four-match winning streak.
Due to injuries, Talant Dujshebaev could not count on Marko Mamic and Michal Jurecki, while on the other side, Roberto Garcia Parrondo had to organise Vardar's attacking game without one of their best shooters – left back Vuko Borozan and the Brazilian line player Rogerio Ferreira Moraes.
For 10 minutes, the two teams were side-by-side on the scoreboard. In the following minutes, Mateusz Jachlewski received a two-minute suspension for Kielce. Vardar took full advantage with a 3:0 run to take command 6:3.
Scoring three goals each, Skas Skube and Dainis Kristopans helped Vardar keep the advantage intact and several saves by Dejan Milosavljev ensured Vardar had a five-goal lead (12:7) in the 20th minute.
However, in the following minutes the Polish side cut the gap to trail 14:11 at the break.
At the beginning of the second half, Kulesh successfully found a way to reduce the deficit to 14:12. Yet the home team - who took advantage of Milosavljev's saves - needed several minutes to extend their lead to 21:16.
Kielce did not wave the white flag in Skopje, and thanks to a Jachlewski counter attack goal, they were trailing 23:21 with 12 minutes remaining.
Both teams entered the final 10 minutes playing at a high tempo, as Blaz Janc reduced the home team's advantage to one goal (26:25). Kielce had the chance to equalise, but a missed opportunity once more again meant for a two-goal advantage for Vardar during a decisive phase of the match.
In the final moments, Fernandez scored for Kielce, with the match ending 28:27 in Vardar's favour.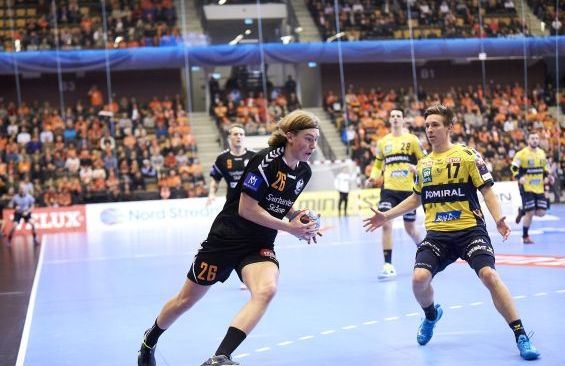 IFK Kristianstad (SWE) vs Rhein-Neckar Löwen (GER) 27:32 (13:18)

While the Lions had hoped to get back on track, IFK Kristanstad, who are in a desperate fight for a ticket to the Last 16, had also been yearning for two points. It promised to be a tight and entertaining battle, but the visitors took the upper hand during the opening minutes.

Andre Schmid was their best player, and the 35-year-old playmaker scored seven of his ten goals in the first half.

Kristianstad drew level at 6:6 in the 13th minute, but Löwen had a 4:0 run in the next two minutes, and they went on to lead 18:13 at the interval.

Early in the second half, the Lions' mistakes and a few good saves by goalkepeer Leo Larsson helped the Swedish team reduce the gap to 20:18 in the 40th minute.

Yet Rhein-Neckar Löwen quickly woke up and increased the tempo, removing all doubt long before the final buzzer to claim their sixth victory in Group A.
"We had the opportunities in this game, but we did not take them," said Kristianstad coach Ola Lindgren.
"We knew that we had a hard task ahead of us here in Kristianstad. They have shown that they can compete at the top if you aren't focused 100 percent. It was fun to see our team stand together and fight side by side all the way," said Rhein-Neckar Löwen goalkeeper Mikael Appelgren.
Author: Amina Idrizi /Sergey Nikolaev / jw