Attacking prowess powers Kadetten past Elverum
Despite a nervy start, an assured performance in front of goal saw Kadetten Schaffhausen open their VELUX EHF Champions League Group C campaign with a victory.
· The Swiss side took the lead in the 20th minute and never looked back to seal an impressive win
· Kevin Maageroe Gulliksen is the current top goal scorer in the VELUX EHF Champions League with eight goals
· Schaffhausen ended the game with an astonishing 75 per cent shot efficiency
Kadetten Schafhaussen (SWI) vs Elverum Handball (NOR) 36:30 (17:15)
In a tight group, in which every error will cost a team dearly, a home loss is a tough one to digest.
Therefore, as Elverum took a 5:3 lead, it would have been understandable if Kadetten began to feel a sense panic.
However, the experienced Swiss champions remained calm and turned the game on its head, thanks to the offensive prowess displayed with 75 per cent shot efficiency, which saw them take a 17:15 lead at half-time.
"We had a lot of respect for them at the beginning and played fearfully, but then we improved," said Schaffhausen coach Peter Kukucka.
Kadetten's backs turn up
A 4:2 start to the second half saw Schaffhausen power to a 21:17 lead as backs Michal Szyba and Vladyslav Ostroushko ran riot through Elverum's defence.
A 3:0 run between the 42nd and the 46th minute proved to be the final blow, which secured the points for the hosts.
There was no turning back for Elverum, whose high risk approach never paid off, as the hosts went on to win 36:30 in a performance which clearly outlines their attacking potential as seven players scored four goals or more - led by Luka Maros with six.
"Kadetten showed us they are better today. We have to improve our defense before the next game against Skjern. I should be polite and say Kadetten Schaffhausen are favourites in this group, but Skjern are very strong as well," said Michael Apelgren.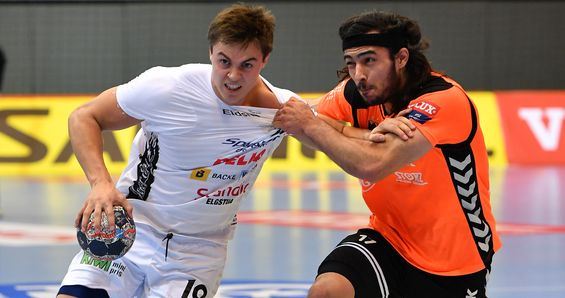 Author: Adrian Costeiu / cor