Homecomer Anders Eggert as ambitious as ever
"Coming home has been just great."
Anders Eggert reacts spontaneously to the question how he feels about having changed his Bundesliga life at SG Flensburg-Handewitt with Danish handball at Skjern Håndbold.
"I had 10 great years in Flensburg but I felt that the time was there to return to Denmark. This was the right thing to do for our entire family. My daughter is going to start in school in 18 months' time."
More time to relax and reload the batteries
Playing in Denmark again also means the physical and mental pressure for the experienced Danish national team player have reduced.
"The amount of matches is pretty much the same as in Germany," Eggert says. "But the journeys to away matches are considerably shorter, and that leaves more time to relax and reload the batteries between the matches."
However, exceptions occur. Last week, Skjern travelled to Romania to take on Dinamo Bucuresti in the VELUX EHF Champions League, followed by a Danish league match against KIF Kolding København only 48 hours later.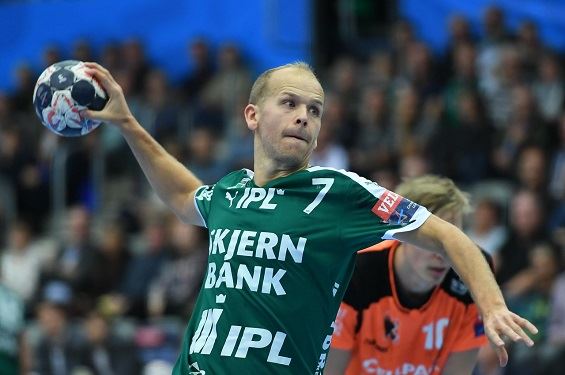 This summer Eggert arrived back at Skjern, where he had spent a year once before, in 2008-09.
"My ambitions are just as high as they have always been," the 35-year-old left wing says. "Since coming back to Denmark, I have discovered that the level in the Danish league is very high. Even though we are a top team, we have seen that we can get in trouble against any team in the league if we are not 100 percent focused."
Up and downs this season
Eggert calls Skjern "a really strong team" but acknowledges that they have had their ups and downs so far this season.
"After a fine start we had a slightly bad period, where we lost a couple of matches, but I feel that we are back on track again," he says. "In the Champions League, our objective is reaching the Last 16 by winning our group and the play-off against the number two from Group D."
Eggert believes that Skjern have "a really good chance to reach that goal." After seven rounds, they are leading Group C with 10 points, followed by three teams with eight points each.
"We may have suffered a couple of unnecessary away defeats but if we can go on winning our home games, as we have done this far, that should do," says Eggert, who can probably look forward to playing in an even stronger Skjern team next season.
His former teammate in Flensburg, Thomas Mogensen, will be joining the club in the far West of Denmark, and so will Norwegian international Eivind Tangen.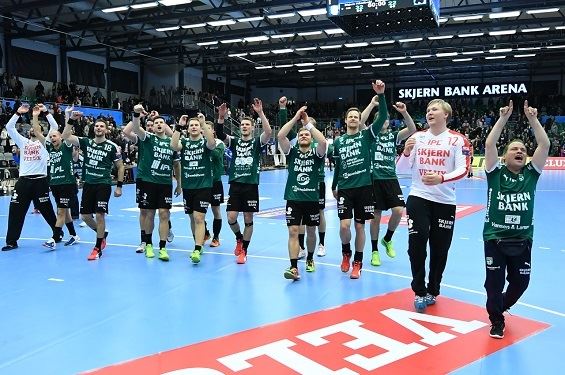 "Our Serbian goalkeeper Tibor Ivanisevic will be leaving (for HSG Wetzlar) but the rest of the team stay more or less together. There is no doubt that our team will at least not be any weaker next season," says Eggert, adding he hopes for Skjern to reach Group A or B in the VELUX EHF Champions League and qualify for the Last 16 once again.
"That is probably about as far as Danish teams can get. Competing with teams as Barcelona, Paris, Veszprém or Rhein-Neckar Löwen, who have much more money, will always be difficult," he says. "If a Danish team can reach the quarter-final once in a while, it will certainly be a bonus."
Crucial step towards the next stage
On Sunday, he and his teammates can take a crucial step towards the next stage in the VELUX EHF Champions League when the Norwegian champions Elverum Handball are visiting Skjern.
Elverum are one of these three teams in second place, two points behind Skjern.
"We won clearly in Norway (32:27) but Elverum have done really well ever since They play fast and they like to run, so they will definitely be a challenge to us. However, it is a challenge we have to master," Eggert says.
"We have to maintain our home court as a fortress, which no opponent can concur," he says. "There is simply no doubt about that."
Author: Peter Bruun / ew