Zagreb draw in Szeged as Paris and Skjern wrap up Group B with wins
Zagreb were close to stopping Szeged's superb form, but they could only take a draw, 26:26, against the Hungarian side, finishing sixth in the group. Meanwhile, despite a very good start to the game, Zaporozhye couldn't keep in touch with Paris, who won their 13th game in the Group Phase.

In the battle between the sides who were already out of contention, Skjern took a 35:32 win against Celje.
Zagreb could not leapfrog Motor Zaporozhye and will face Vardar in the Last 16, while the Ukrainian side meets Kielce for a place in the quarter-finals
In Paris, Luka Stepancic scored nine for the hosts, while Maxim Babichev netted 6.
Skjern snapped a ten-game winless streak to finish the season on a high, 35:32, against Celje, that saw them leapfrog the Slovenian side in the seventh place
GROUP B
Paris Saint-Germain HB (FRA) vs HC Motor Zaporozhye (UKR) 31:25 (16:13)

Raul Gonzalez, Paris' coach, made the most of the fact that his team had already secured first place in the group to give playing time to some players that had had less in the past few weeks. Maybe that explained why the hosts took time to settle in to the game at the beginning, Zaporozhye taking the best part, 4:2. But the visitors lost Aidenas Malasinskas to an injury and were forced to play with two line players. In front of such a system, Paris' defence was more at ease, as Luka Stepancic was finding his feet offensively, allowing his team to stay in front and to go back to the dressing room leading by 3 (16:13).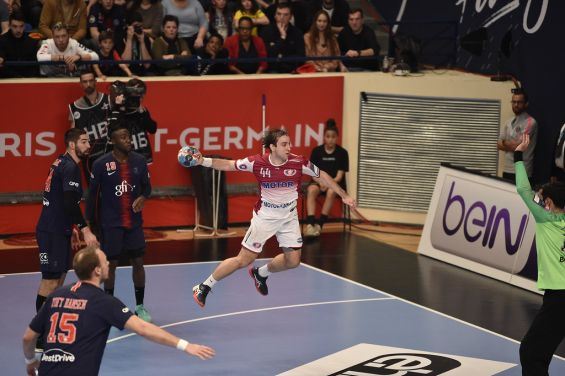 In the second half, Zaporozhye tried their best to come back, with Pawel Paczkowski and Barys Pukhouski showing form from long distance. But Paris never felt too theatened, thanks to Rodrigo Corrales' saves which gave the hosts the ability to remain three or four goals ahead most of the time. In the last ten minutes, PSG gave a final push, bringing some fresh blood onto the court with youngters Edouard Kempf and Adrien Chaudanson. The advantage went up to seven goals before showing six on the final buzzer.
Raul Gonzalez was pleased with how his Paris side finished the Group Stage, "Zaporozhye is playing very well now, we saw that on the tapes we watched to prepare the game. We play with a strong defence all game. In offense, we made some mistakes in the first half, but it was better in the second part of the game. I'm satisfied of the result and of the group phase, we almost won every game, except one in Szeged."

Motor Zaporozhye's Viktor Kireev had this to say, "It's difficult to play against Paris. They have a lot of good players. I wish them good luck for the rest of the season. Even if we lose today, I'm proud of my team and I want to congratulate my teammates for the qualification for the Round of 16."

Skjern Handbold (DEN) vs RK Celje Pivovarna Lasko (SLO) 35:32 (20:14)

There was nothing but pride to play for between the two sides, as another underwhelming campaign for Celje and an unexpected hit-and-miss season for Skjern saw both teams out of contention with one round to go.

On a seven-game winless streak, the Slovenian side only managed to lead once in the game, 2:1.

Skjern quickly came back and built their lead upon a 7:2 run that was pivotal for the game's fate. Superb outings from the pair of Danish wings, Rene Rasmussen and Anders Eggert, saw Skjern jump to their most commanding first half of the season, as they led Celje 20:14.

With an impressive shot efficiency of seventy per cent, Skjern were unstoppable in attack, as Rasmussen was joined by a pair of Norwegians, line player Bjarte Myrhol and right back Eivind Tangen, who scored eight times and six times respectively, to prevent Celje from cutting the gap to more than four goals.

Right wing Gal Marguc's nine goals were a game-high for Celje, but the Slovenian side could not prevent the 35:32 loss, their tenth of the season, which condemned them to last place.

Skjern leapfrogged their opponents with their first win in eleven games, but it was too little too late, as they finished seventh, three points behind Motor.
Skjern goalkeeper Emil Nielsen believes his team were unlucky over the course of the season, "It was important for us to end the tournament properly, so we went into the game with full power today, and that was sufficient. Our defence lacked a bit in some periods of the game, but our attack was supreme, and that was the reason that we could win the game.
"All in all, "unlucky" must be the best word to describe our season in Champions League 2018/2019. All the other teams in the lower end of group B stole points from some of the top teams, and we didn't expect that. However, that made it difficult for us to end in top six. We are very disappointed, but we still got 8 points, which I think is good in a difficult group. Of course, most of all I am sad that we did not reach the Last 16."
Despite not being able to progress, 2500 fans attended the game, and Nielsen appreciated the support, "We always have fantastic support in Skjern Bank Arena – also today. That means a lot to us and we are very grateful that we have a home ground like this, where our fans are always there to support us."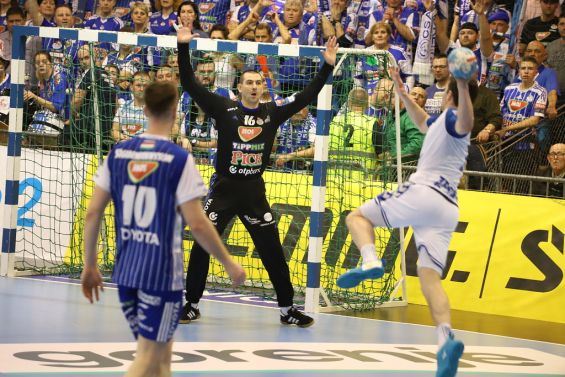 MOL-Pick Szeged (HUN) vs HC PPD Zagreb (CRO) 26:26 (14:14)

As Szeged already clinched the second place two rounds ago, there was everything for Zagreb to play for, as they needed to better Motor's result if they were to finish fifth in the group and set up a clash against Kielce and avoid Vardar in the Last 16 phase of the competition.

There was not much that Zagreb could do other than play catch-up in the first half, as Szeged tried to protect their home court, where they did not lose a game this season.

However, Szeged did not force their way for the win and Zagreb did not bow down, not even when the Croatian side was on a three-goal deficit, 10:7, as Slovenian playmaker Dean Bombac was superb, scoring four times in the first 15 minutes.

21-year old left wing David Mandic had his best outing for Zagreb this season, scoring seven times for the Croatian side, who tied the game, 14:14, at half-time.

With Mandic and right back Ivan Srsen almost unstoppable, Zagreb took the lead for the first time in the 31st minute and dictated the rhythm then on.

A two-goal lead for Zagreb was easily turned back by a 3:1 run from Szeged, inspired again by Bombac, 20:19, but the lead changed once again with Zagreb's own 4:1 sequence.

However, all looked to be over when a 4:0 Szeged run inspired by Bombac and line player Bence Banhidi took the hosts to a 25:23 lead.

Yet it was still not over. Zagreb managed to claw back, Mandic converted another two shots and the game finished in a tie, 26:26.

While Zagreb might have finished level with Motor, the Ukrainian side finished in fifth place, courtesy of holding the tiebreaker between the two sides, with the Croatian champions in sixth.
Juan Carlos Pastor, Szeged's coach, mentioned how both sides rotated their benches, "Both teams played with players who aren't any chance in past season. Bombac and Zhitnikov showed very good performance. It was very important for us, our goalkeepers able to save. We used those players who didnt have so many chances so far, we can see they should experiences."

Zagreb's Branko Tamse beleived a draw was fair, "Today's match was very good with extra speed. We knew we came a very hard place, but we had beautiful preparation. We were playing new system, we made some mistakes beacuse Szeged played well. Good luck for Szeged in Champions League and Hungarian League. Today's result was fair, because, Szeged and Zagreb had chance for a victory."
Author: Kevin Domas/at