One group, two tickets, four contenders: What you need to know
Out of the six Last 16 tickets at stake in VELUX EHF Champions League Group B, only four have been decided two rounds from the end. While Paris Saint-Germain HB and MOL-Pick Szeged have secured the top two spots and are battling for first, SG Flensburg-Handewitt and HBC Nantes grabbed their tickets to the next stage this past weekend. But that does not mean they are sure to finish third or fourth.
Behind these four sides, the battle rages. With two games to play each, Zagreb, Motor Zaporozhye, Celje and Skjern can all still hope to qualify for the knock-out phase.
Who has the favourable schedule?
For Skjern, currently bottom of the group with six points, the mission is pretty straightforward – but not easy. The Danes still have two games to play; both against direct opponents. They start in Zaporozhye on Sunday, before welcoming Celje at home.
Being three points behind the Ukrainian side at the moment, last year's quarter-finalists will need at least that number to have a chance to qualify. Any result other than a victory in Ukraine would drive them away from the Last 16.
"We have been expecting all the time that we would have to beat either Zagreb or Zaporozhye away and then beat Cejle on home ground in the last round. That scenario is still the same," said Skjern winger Anders Eggert after the defeat against Nantes on Sunday.
"Since we did not win in Zagreb, we will now have to win next weekend against Zaporozhye, while they have to lose in the last round against PSG. As I see it, we still have every reason for maintaining our belief in reaching the next stage."
For Celje, the mission looks equally tough. They need at least three points to leapfrog Zaporozhye, while hoping the Ukrainian side do not bag any points in the last two rounds. The Slovenian team will play against Paris at home on Sunday before travelling to Skjern. A loss to Paris, who are still in need of points to secure first place and a bye for the Last 16, would see Celje eliminated.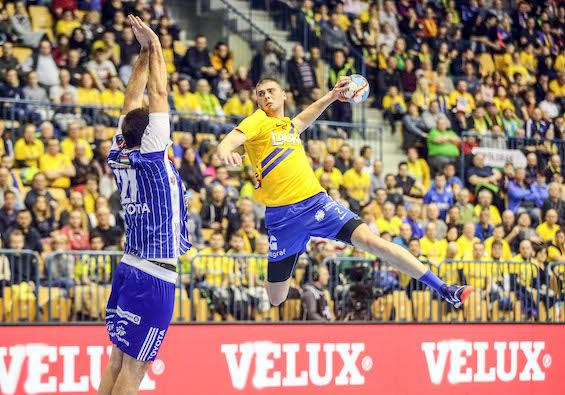 Zaporozhye, currently with nine points, and Zagreb, with 10, have far better chances to see the Last 16 of the VELUX EHF Champions League 2018/19. Both are among the top six at the moment and the Croatian side could be qualified as soon as next weekend if Celje lose to Paris, regardless of the other results.
For Zaporozhye, the situation looks a little bit different, but they have a positive goal-difference against Celje. To be sure of securing their Last 16 berth, Motor need to win one of their last two games, though they could also be lucky and qualify without taking any points from this point forward.
Who is in good form and who is not?
Skjern have not taken a point since round 8, when they drew in Szeged. Since then, the Danish side have had many occasions to bag points but failed. The most recent example is last weekend, when they led by five against Nantes before wasting too many opportunities in the second half.
Celje have been doing slightly better, as they last won in round 10, against Zaporozhye. They came close to collecting points against Szeged and Flensburg in the past weeks, but ultimately did not, despite displaying some great handball. Although taking points from Paris seems like a completely different matter, if Celje manage to do it, they could set themselves up with a final in Skjern in the last round of the group phase.
Again, it is Zagreb who are in the best position to qualify. Looking at their latest games, the Croatian side took points from the last four home outings. Given that they only need one point from the final two rounds, chances are they will already seal their fate at home against Flensburg on Sunday.
Who is the favourite to qualify?
Zagreb are almost there and only need two points in the last two rounds to be sure of making it through. They might not even need any, if Celje lose to Paris this weekend.
Zaporozhye seem in a good position too, as they will be qualified if they win this weekend against Skjern or if they draw and Celje do not win versus PSG.
Celje might be strong contenders to qualify, but the fact that they face PSG this weekend makes the path very tough.
For Danish side Skjern, it is now or never. Their last chance relies on their ability to win in Zaporozhye this weekend. Any other result would drive them out of the competition.
Author: Kevin Domas / cg